'Off the beaten track' is a phrase that often gets bandied around, but we've found that in the case of Laos it rings true. One of the least developed countries in Asia, Laos is touched by minimal Western influences. You need to forego a little luxury, and have the patience to travel slowly, but we'd argue it's worth it.
Our Indochina specialists Heidi and Chloe have recently returned from trips exploring some of the remotest regions of the country and share their finds.
Central and south Laos
By Heidi
Look at a map of Laos, and you'll notice a central region devoid of landmarks. The guidebooks devote limited pages to this area and few visitors head its way. I set out to investigate this remote region further, gradually winding south toward Cambodia.
Kong Lor Caves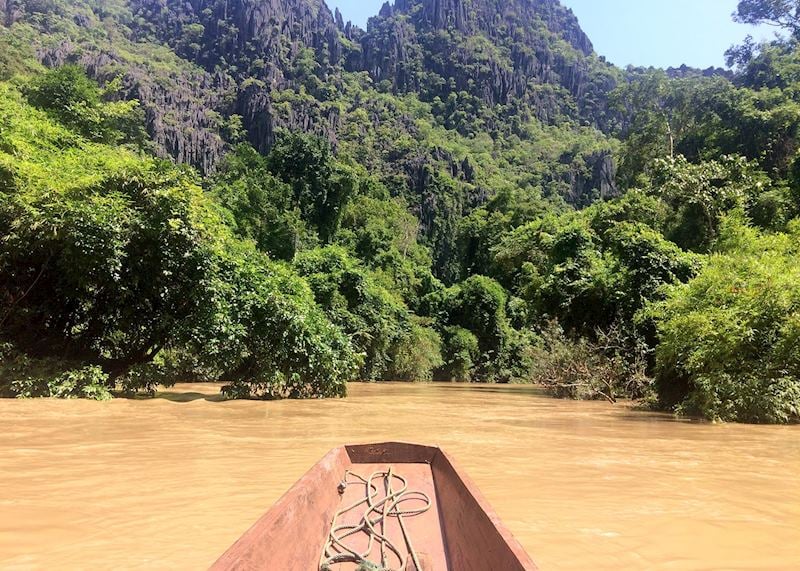 One of the reasons central Laos tends to get overlooked is its inaccessibility. I flew into the capital, Vientiane, and then made the seven-hour drive south to Kong Lor, accompanied by my guide and driver.
It's a long journey, but the roads are in relatively good condition, and you spend most of it staring at the crumpled, forested mountains that rise up on either side. We didn't pass another car all day.
The Kong Lor Caves, a 7 km (4.3 mile) cave system, stretches through Phu Hin Boun Conservation Area. The cave mouth overhangs the teal waters of the Nam Hinboun River which flows right through the caves. My guide and I boarded a héua hăhng nyáo (longtail boat with a motor) and were instructed to turn on our head torches.
All you can hear as you enter the caves is the sound of a few other motorboats passing by, then: silence. You're relying on the thin beam of the torch to explore in the darkness. As the boat navigates the river, the cave slowly begins to fill with light again as you head toward a second cave mouth where the river emerges back into daylight.
I stayed at Spring River Resort, a little lodge that overlooks the river. There's no air conditioning but its stilted bungalows are clean and comfortable. Complimentary boat rides take you out onto the river and to a natural spring-water pool for swimming.
Nam Theun National Biodiversity Conservation Area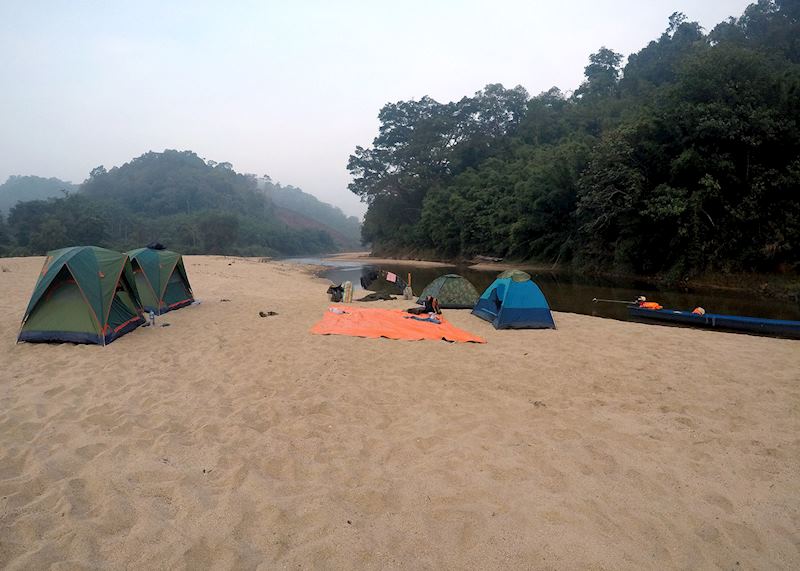 Unless you're a dedicated adventurer, it's difficult to be among the first outsiders to experience a place, but the Nam Theun National Biodiversity Conservation Area's visitor numbers have only just made double figures.
It was long off limits, until local entrepreneur Amphai Mookchantai started working to find a responsible way for visitors to go into the park without damaging its pristine environment. Our colleagues in Laos, assisted by park authorities, have been helping to develop a one-night park experience.
From Kong Lor, it's a three-hour drive to the edge of the park, where we met Amphai for our campout. Her family run a local homestay and restaurant, and she has been exploring the park since she was a child. She's eager for light-footed visitors to enjoy the tranquillity of the park, and improve the area's economy, which will support conservation efforts.
We boarded a longtail boat (you can only travel into the park by water) and floated past white shards of petrified trees poking up from the water as we entered the conservation area. As the river narrowed, the jungle began to dangle over the riverbanks, bathing everything in a soft green glow.
After a couple of hours, you pull up on a sandy riverbank to set up camp. So as to leave nothing behind, the tents are basic, with a toilet area assembled in the nearby trees. Dinner is a medley of rice, papaya salad, and fish grilled on a barbecue.
Unfamiliar with humans, the wildlife here is shy, but I did wake to the whoop of gibbon song in the morning. Six new gibbon conservation sites are scattered across the park, and there are hopes of creating a successful conservation programme over the next few years.
After taking the tents down and clearing the site, you trek into the rich mix of evergreen and deciduous forest that blankets most of the park without footpaths. Emerging out into daylight again, you then take the longtail boat back upriver.
Xe Bang Fai River Cave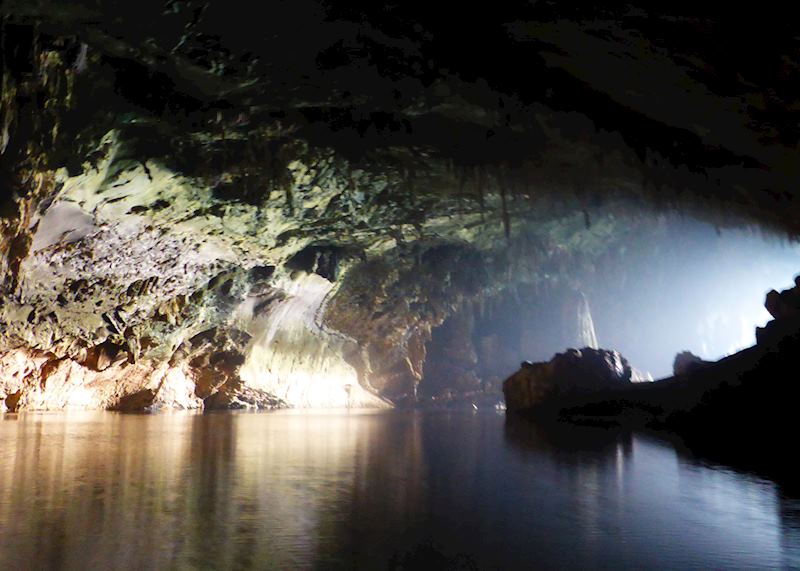 From Nam Theun, an hour's drive south brings you to the Xe Bang Fai River Cave. At 11 km (7 miles) long, and peaking at 76 m (249 ft) tall, the Xe Bang Fai is one of the largest sustained river passages in the world.
The current visitor count has just reached 300 (since records began in 2008), so you're unlikely to encounter anyone else as you arrive by longtail boat, weaving in-between bathing water buffalo.
At the cave entrance, you can choose to continue by boat or hop into a blow-up kayak that your guide brings along. It's pitch black inside. The ceiling was so tall my head torch beam didn't reach it: I felt like I was paddling outside at night.
The cave contains five sets of rapids, and you simply climb off your kayak and carry it over each time, depending on how far into the cave you'd like to go. (If you're in the longtail boat, you can only go as far as the first.)
I recommend the Saiphouluong Resort as a base nearby. Like most accommodation in the region, it's basic but clean and comfortable.
Champasak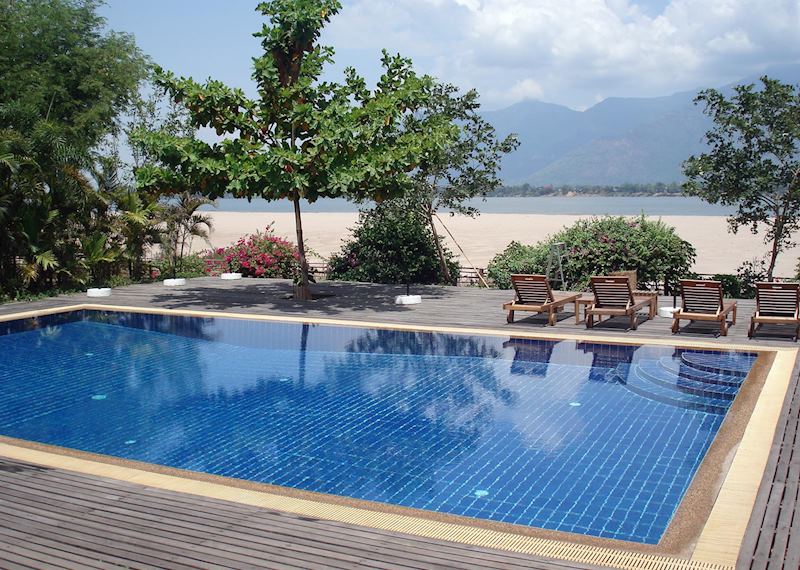 Perched on the banks of the Mekong, Champasak was once the royal seat of the Kingdom of Champasak, until the French abolished it in 1945. It's now a collection of guesthouses, French-colonial buildings and traditional stilted homes. The town is too far away from Xe Bang Fai to tackle the drive in one day, but you can stay the night in Savannakhet, a tiny riverside town overlooking Thailand on the opposite bank.
In Champasak, I stayed at La Folie Lodge, a refreshing slice of luxury with a pool and bar that overlooks the Mekong.
My local guide collected me from the hotel to explore Champasak on foot. Women sat under wooden porches, weaving rice bamboo baskets to sell at the market. Children cycled past on their way to school, scattering wandering chickens across the road. Walking alongside the muddy Mekong waters, fishermen tended their nets.
The tour ends in a family home (in my case, my guide's sister's house), where you're welcomed to join the family for lunch. I tucked into jeow mak khua (smoked eggplant dip) and mounds of tam mak hung (papaya salad).
Onward from Champasak
You can cross the border into Cambodia by land to continue on a longer tour. Otherwise, fly from nearby Pakse airport to Siem Reap, or back to Vientiane, before catching an onward flight home.
Northern Laos
By Chloe
Luang Prabang in the north has long been drawing foreign visitors with its gilded temples and saffron-robed monks, but few venture into the surrounding haze of green mountains.
After flying into Luang Prabang International Airport (there are good connections with Bangkok), you can set off along the empty roads north with your driver, working your way through rural Laos to Vietnam.
Muang La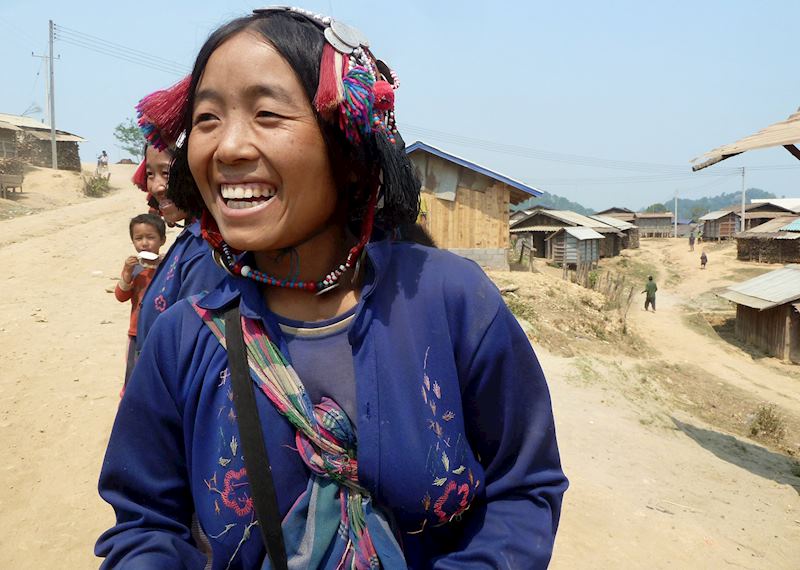 The roads from Luang Prabang are built on old riverbeds, which have carved gullies between the limestone hills. It's difficult to spot the occasional homes that line the route among the thick vegetation. Periodically, you see patches of rice crops, often planted on almost-sheer hillsides, or a farmer hacking away at the undergrowth with the agility of a mountain goat.
Muang La is a four-hour drive away. By necessity, it's a small town — built onto a small patch of flat land tucked into a river bend flanked by cliffs.
In general, accommodation in Laos is basic, but at Muang La Resort there's the chance to luxuriate before journeying onward. I spent a languid afternoon bobbing in the infinity pool, watching water buffalo cross the river opposite.
Laotians typically shun car travel, and it's possible to follow suit by taking a guided walk into the hills surrounding Muang La. I cheated slightly and clambered into a 4x4 for part the journey, with an aim to reach some of the remoter villages.
Visiting a few settlements, some just half an hour's walk apart, you'll notice some of the subtle differences between tribes. The Akha were particularly shy, and asked that no photographs were taken in their village (locals beliefs deem it harmful). At a Lahu community nearby, children were sledding down the hillside on sheets of cardboard. We were swiftly taken by the hand and welcomed into a home for a cup of homemade rice wine.
Nong Khiaw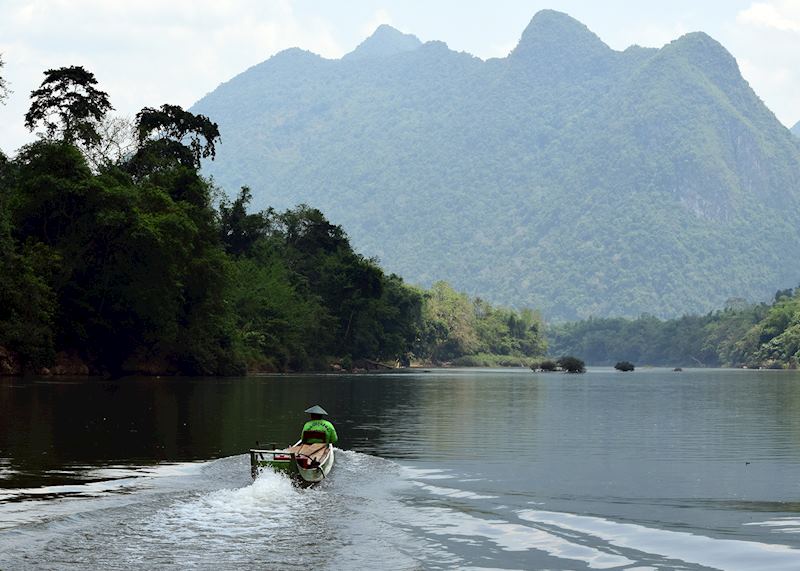 Nong Khiaw isn't a standout town. For me, it's the journey rather than the destination that's important here. From Muang La, after an hour's drive, you and your guide step on board a héua dooan (covered wooden boat with a small engine) and journey for four hours down the Nam Ou River.
You pass fishermen unfurling their nets and children playing in the shallows. The further we went, the more shades of green we saw, in everything from the shadowy jungle to patches of bright-green rice growing. As we reached Nong Khiaw, the limestone hills grew steeper, sticking up from the forest like the serrated teeth of a monster.
Nong Khiaw is, perhaps, best viewed from a clifftop viewpoint above the town. It took me about an hour to climb up a steep pathway etched into the red-faced cliff. Look one way, and you see nothing but green mountains. Look the other, and below the town clings to the banks of the river, which cuts through the valley stretching out beyond.
I spent a comfortable night in Mandala Ou (I can recommend the traditional herbal sauna).
Nam Et-Phou Louey National Protected Area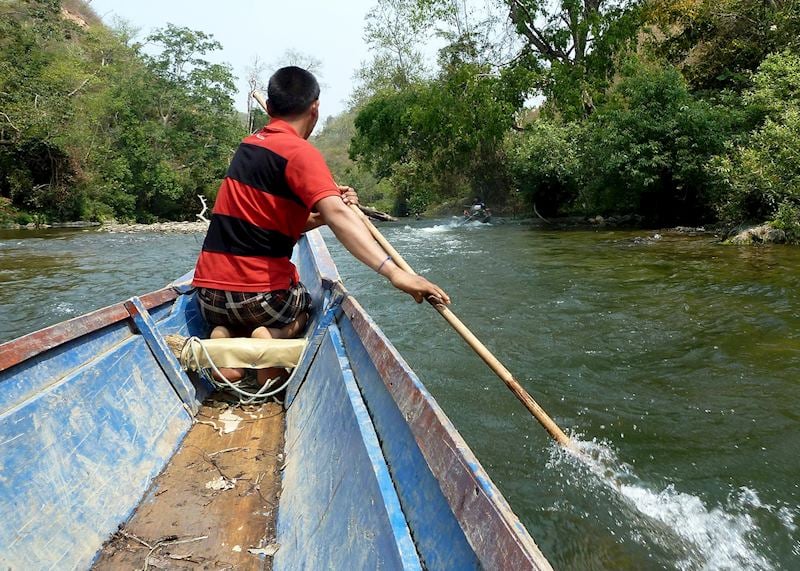 Five hours' drive farther east, Nam Et-Phou Louey National Protected Area is a habitat of open forest and shrubland where there's a chance to spot Laos' wildlife. With no hotels near the park, the best option is to spend the night before in a simple hotel in either Vieng Tong (Muang Hiem) or Sam Neua.
A longtail boat ride takes you up the Nern River, which intersects the park. Stopping on a riverbank, I helped to build a fire as dinner was prepared. The resulting dishes of sticky rice and larb (spicy marinated fish and chicken) were laid out on an elaborate platter of banana leaves.
As it grew dark, we climbed back into the boat and journeyed farther upriver. We stopped, turning the engine off. The immediate silence was short-lived as my ears became attuned to the rustling around us. In torchlight we glimpsed an Asian golden cat and sambar deer coming down to drink at the waterside. A surprisingly fluffy greater hairy-winged bat circled the boat, making wet raspberry sounds as it caught insects.
You can spend the night in a converted ranger station built by the local community. It's furnished with a comfortable bed, mosquito net, and a Western toilet and (sporadic) shower.
The park rangers, who live on site, often set up camera traps, and you can join them on their daily checks to see what has been spotted. It's possible that Nam Et-Phou Louey still shields a small tiger population (a couple have been seen on camera traps in recent years), but there's currently little data to confirm how many.
As I left the bungalow the next morning, I was asked to write down each animal I'd seen during my stay. For each animal sighting, a personal bonus is given to the villagers who work in the park, as an incentive to support the conservation efforts rather than poach.
Vieng Xai Caves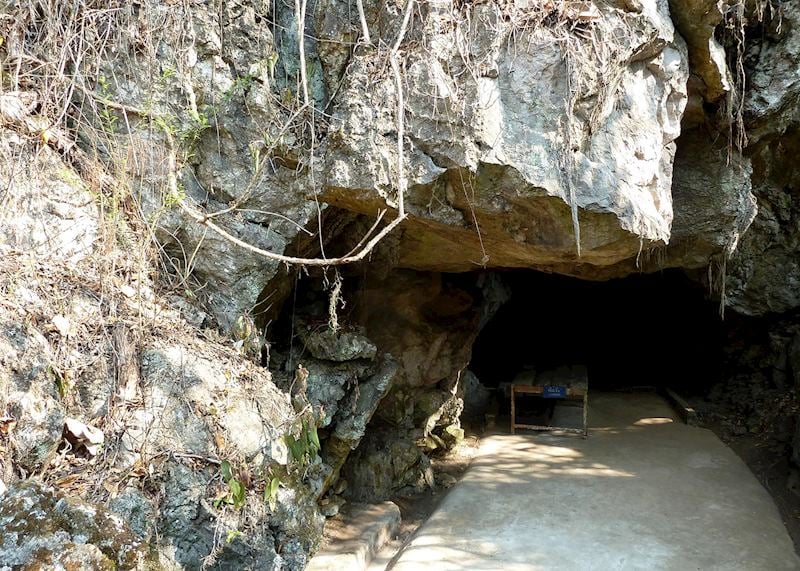 Right on the border with Vietnam, the Vieng Xai Caves are a fitting endpoint to a trip in northern Laos. The caves hid the communist Pathet Lao leadership while it struggled against the US-supported Royal Lao Government. During intense bombing, the caves became home to more than 20,000 people until the ceasefire in 1973.
Originally natural caves, huge caverns have been hand-chipped and dynamited away to create a warren of rooms and halls. On a timed tour, you're given an audio guide and ushered between caves by a local guide.
Inhabited for almost ten years, the caves contained a hospital, school and celebration hall, where weddings were held. We were taken up to a viewing area where guards would watch for bombs: you can still see the craters scarring the skyline.
Onward from Vieng Xai
A small border crossing into Vietnam (and its smooth, well-built roads) is a few hours' drive away. I headed to Hanoi (with an overnight stop in Mai Chau en route), but you can extend your trip with more rural Vietnamese stops along the way.
Start planning your trip to Laos

Start thinking about your experience. These itineraries are simply suggestions for how you could enjoy some of the same experiences as our specialists. They're just for inspiration, because your trip will be created around your particular tastes.
View All Tours in Laos