By Peru specialist Fiona
I'm the first person to sing Machu Picchu's praises, but it's really only part of a much greater whole. Regulations around visiting the alleged 'lost city' (a misnomer, by the way: it was always known to local farmers, one of whom took Hiram Bingham there in 1911) are getting ever tighter. This means there has never been a better time to branch out and explore some of Peru's lesser-known Inca sites in the Sacred and Southern Valleys.
I called this area home for nigh on 20 years, and I can tell you it's brimming with unsung yet aesthetically arresting Inca sites — from water gardens to deep circular terracing — that receive a fraction of Machu Picchu's crowds. And they often combine with a visit to a characterful nearby town, offering you more glimpses into Quechua and Andean life.
Inca sites in the Sacred and Southern Valleys: my highlights
Tipón
The well-preserved terraces and enclosures of Tipón, a 45-minute drive from Cuzco, present an optical illusion. When you first approach the site, having taken the winding road uphill from the small town of the same name, you look down over a grassy sprawl intersected by stone walls. It looks like it's all on one level but in fact it covers seven, though the height differences aren't immediately apparent. It's almost like a giant series of ha-has.
It has long been one of my preferred Inca sites, a marvel of aquatic engineering with an intact canal and some of the best examples of Inca fountains you'll see. Water pours through irrigation channels, which take a ziggurat-like course down one side of the terraces, gushing through a trio of waterspouts. In turn, they feed into two spouts, then into one.
On the other side, the site is crossed by a rocky trail that's actually part of a vast Inca footpath, which itself links into the Capaq Ñan, a network of Inca roads criss-crossing South America. It threads its way through the back of the ruins and you can walk a portion of it with your guide (it's almost always beautifully deserted), taking you a little way into the Southern Valley. Less familiar than the Sacred Valley, this valley links Cuzco with Lake Titicaca, from whose depths the great Inca god Viracocha is believed to have risen.
I love the fact that no one has managed to discover the exact location of Tipón's water source: it's believed to come from an underground lake somewhere in the area. Similarly, no one knows the exact function of the site — theories range from a water temple to an experimental agricultural laboratory — but I think that's part of its allure.
There's something mesmeric yet relaxing about being here, absorbing its soundtrack of gently flowing water and its stillness. On weekdays, you may find that you're the only person there. It's a different story on Sundays, the day when Peruvian citizens get free entry to all archaeological sites. You'll see families clustered around picnic baskets and children kicking a ball about the terraces.
Pickillaqta and Andahuaylillas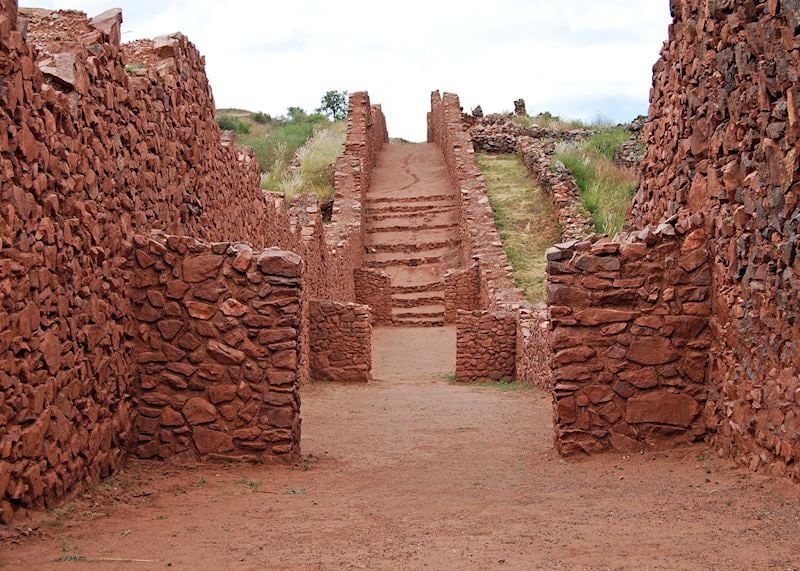 The settlement of Tipón is known for its signature dish of cuy (guinea pig), and forms part of a route of small towns that have each perfected various Peruvian dishes. Before you reach Tipón, there's Saylla, a modest-seeming town that serves excellent chicharrones (fried pork). You can complete the gourmet route in Oropesa, aka 'bread town'.
I'm technically cheating by including Pickillaqta in this article, as it's a pre-Inca village and ceremonial hub built by the Wari people (who were dying out as the Inca started to flourish). But it's a good one to visit, if you can, as it's only a 15-minute drive south from Tipón. Also, its adobe structures are the only ones of their type in the Cuzco area. You'd normally have to travel farther north to see architecturally similar sites, such as the Moche ruins of Chan Chan.
A huge site, Pickillaqta is arranged in straight, geometrical lines and contains the remains of a large central patio. A mass of guinea pig bones excavated there has given rise to the theory that the site once hosted large ceremonial feasts. The local Quechua translation for it ('flea' [piki] and 'town/market' [llaqta]), suggests a different function.
Before or after visiting Pickillaqta, I'd make a detour to Andahuaylillas' central square to visit the church of San Pedro Apóstol. From the outside it looks like a fairly unremarkable whitewashed colonial church. Inside, it's an ostentatious Baroque jewel, so much so it has earned the inflated nickname, 'the Sistine Chapel of the Andes'.
Its altar drips in gold leaf and there's an organ festooned with musical-instrument-playing angels: if you're lucky, you'll hear it being played. The decor, which includes grandiose wall murals, was intended as a way of converting and educating the Quechua-speaking population. If you look closely, you'll notice that the murals depicting biblical stories are stuffed with indigenous symbols such as native animals in order to help translate Christianity into the local idiom (much like Cuzco's cathedral has a picture of The Last Supper with the apostles dining on cuy.)
Today, entry fees to the church support a variety of community projects.
Moray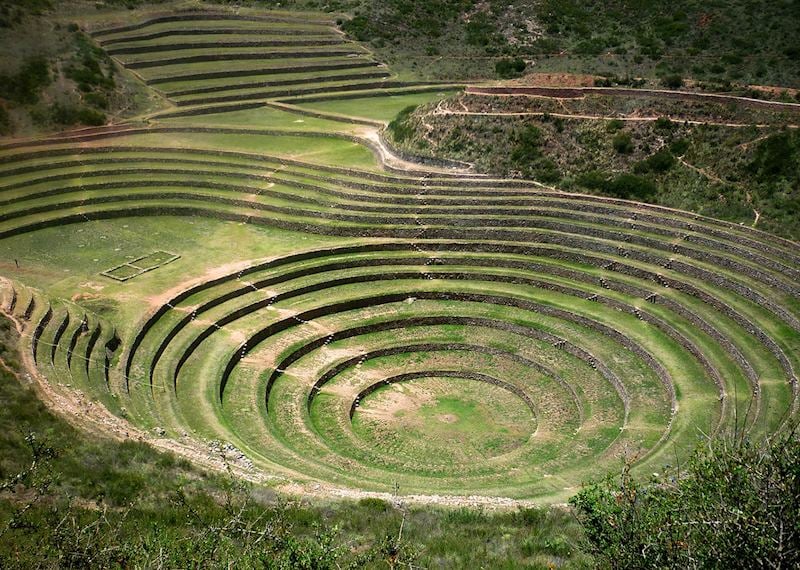 Visually impactful in a completely different way from Machu Picchu, Moray consists of three depressions, each made up of seven circular terraces. Located on a high plateau about an hour from Cuzco, they look like vast green whirlpools or giant gyres burrowing down into the earth.
Archaeologists speculate that the site was once a greenhouse, with the Incas using the terraces to control different temperatures for growing crops that were normally suited to different climates, including corn and quinoa.
I remember visiting several years' ago and seeing lots of people meditating in the middle of the lowest circle. You can no longer walk into the site, but no matter — I think it's best appreciated by looking down from the top. Only then can you get a sense of the terraces' scale.
Maras is the small town attached to the ruins and responsible for their upkeep, and you pass through it to reach the archaeological site. Look out for the buildings' door lintels decorated with bas-relief sculptures dating back to the Conquistador era and depicting a range of imagery, including animals and flowers.
You can also visit nearby Salineras, a complex of mirror-like salt pools that glow bright white on a sunny day. They've been mined by Maras's villagers since Inca times, and on some days you can still see donkeys plodding their way to and fro, transporting the salt.
Písac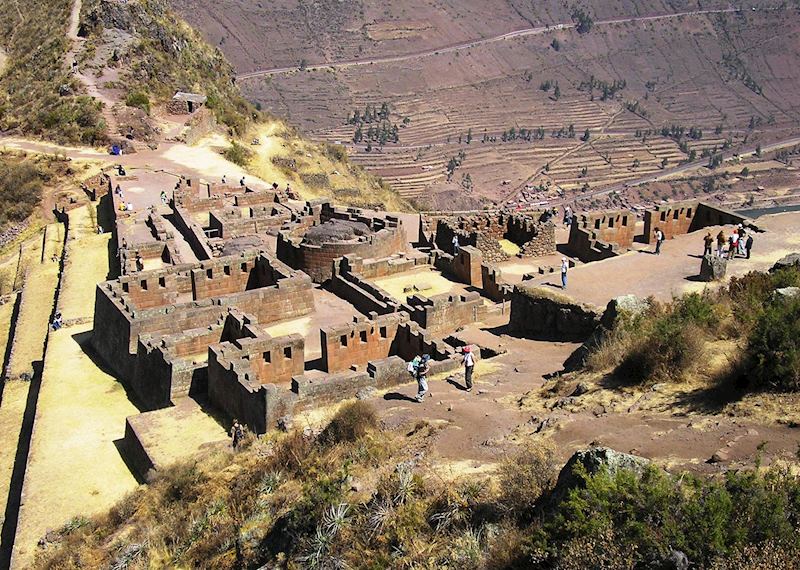 An Inca fortress-come-citadel-and-temple complex, Písac, for me, is right up there with Machu Picchu in terms of grandeur. Located about an hour's drive from Cuzco at the eastern end of the Sacred Valley, it's similar in surface area to its much-celebrated cousin and sits at the end of a valley on a mountain spur overlooking the Urubamba River. And, as at Machu Picchu, there's an Intihuatana stone used for marking equinoxes, which sits in the middle of a sun temple.
Its terraces spill down the hillside in a great wave. You can hike all the way to the crest of the complex on foot (be warned: it's a scenic route, but it's a killer), passing temple structures and wells hewn from pink granite as well as a crop-growing area.
As you near the top, you'll see ceremonial baths, but turn your attention to the holes in the adjacent mountainside. Although long since plundered, these are some of the best existing remains of an Inca cemetery. The dead would have been mummified and buried in walls sometimes 300 m (984 ft) high.
If you have the time and the inclination, you can stroll around the adjoining town of Písac. It has been somewhat overrun by expatriate would-be bohemians and New Age lifestyle proponents, but on Tuesdays, Thursdays and Sundays its celebrated artisan market sells trinkets and decorative Andean pottery.
Huchuy Qosqo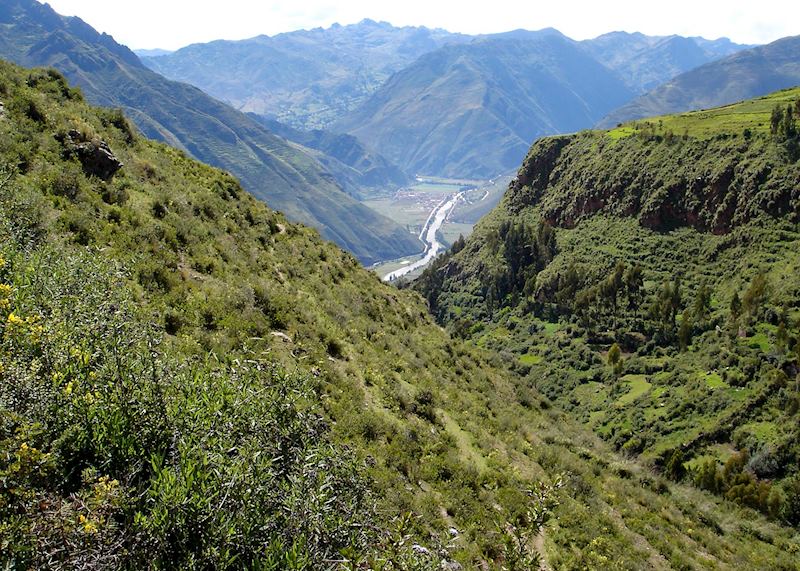 The skeleton of this clifftop Inca stronghold and former royal estate differs from the other sites I've mentioned in that it's so far-flung, and there's no town immediately nearby.
Getting there entails a two-day guided trek (or a very strenuous one-day trek) from Cuzco or Chinchero, a nearby town, with a gradual ascent to the site. The next day, you make a vertiginous descent into the Sacred Valley. The downhill section can be tough-going, but all your equipment and camping gear are carried by packhorses, so all you need to do is concentrate on putting one foot in front of the other.
It's only once you get much closer that the site's walls, terraces, irrigation channels and its kallanka (long hall) become apparent, some made of adobe, some of intricately, precisely tessellated stones. Of all the sites I've visited, it's here the stonework stood out the most, with some lintels being made up of three layers (known as 'triple jambas'). The site has also benefited from extensive restoration work.
Best of all, it's one of the few Inca sites I know of where you can camp in close proximity to the grounds. You can wake up early, wander in as dawn is breaking, and have the ruins all to yourself.
How to get to Peru's Inca sites beyond Machu Picchu
All the sites I've mentioned, with the exception of Huchuy Qosqo, can be visited during the course of a day from Cuzco. If you're interested in Huchuy Qosqo, speak to your specialist, who'll be able to explain the arrangements.
Start planning your trip to Peru

Start thinking about your experience. These itineraries are simply suggestions for how you could enjoy some of the same experiences as our specialists. They're just for inspiration, because your trip will be created around your particular tastes.
View All Tours in Peru