By Argentina specialist Nick
Argentina is perhaps not the first place you'd turn to for wildlife-watching. Admittedly, the country is probably more readily associated with arid Patagonian steppe, or Buenos Aires' after-dark tango scene. But, Argentina comprises a veritable cocktail of habitats ― and each of these landscapes is teeming with wildlife.
From subtropical jungles and expansive freshwater wetlands to vast stretches of undulating coastline, I'll walk you through some of my preferred places for observing Argentina's celebrated species. They include penguins, caimans, giant river otters, whales and even the elusive jaguar ― and you'll potentially spot several of them with this trip suggestion for a wildlife-fuelled adventure in Argentina.
Península Valdés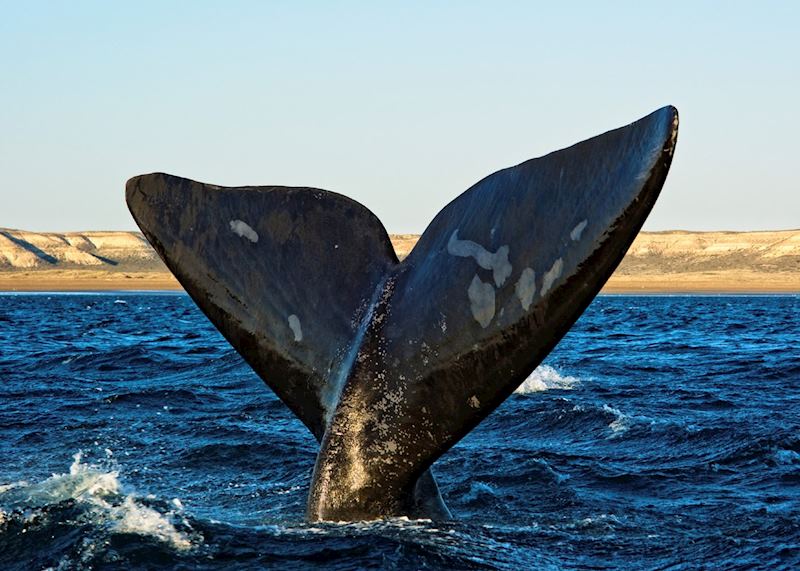 What can you see?
Tucked in the furthest northern reaches of Argentinian Patagonia, Península Valdés is arguably the best wildlife destination in the country. You can often see Magellanic penguins setting up camp on the peninsula's beaches, while black–browed albatrosses streak across the sky and Commerson's dolphins play in the water.
What stands out about Península Valdés is that nearly all the fauna can be spotted from the coastline. With many of the region's lodges scattered along the shore, you can spy huddling penguins and hear barking sea lions on your doorstep.
Península Valdés' main draw is its whale-watching boat trips. The peninsula houses two natural inlets which provide a sanctuary for breeding southern right whales and orcas, protected from the thrashing waves. Orcas are a lot trickier to track down due to their unpredictable nature, but southern right whales can often be spotted between September and December and orcas have been sighted as late as April.
I like that the peninsula is a year-round destination. Although I'd recommend you go between September and March to catch sight of the widest range of wildlife, different animals are more active at different times of year, and many can be seen all year round.
Where to stay: Estancia Rincón Chico
Overlooking 10 km (6 miles) of private coastline and surrounded by secluded pampas, Estancia Rincón Chico has a truly isolated setting. You'll get the chance to experience the undisturbed silence of the steppe, which shelters guanacos and Patagonian foxes. While staying in the estancia's converted farmhouse, you can access its private beach with its resident elephant seals.
I recommend spending some time exploring the estancia's grounds with a guide. From the coastline, whales can be seen between June and November. Or, you can go on game drives where you might see the lesser rhea (a relative of the African ostrich), Patagonian hare and, the unusual looking, hairy armadillos. Plus, driving around the estancia's vast expanse of land allows you to really appreciate the remoteness of where you're staying.
A wilder alternative to Península Valdés: Bahía Bustamante

What can you see?
Although located around 400 km (250 miles) down the coast from Península Valdés, at Bahía Bustamante you'll find a similar revolving cast of flora and fauna. Yet, the landscapes here are even more rugged and remote. And, as a result, the place feels wilder.
Even the journey to reach Bahía Bustamante is a testament its remoteness. The four-hour drive along dirt roads, from Trelew's airport, takes you through barren wasteland. You'll twist through moon-like landscapes running alongside a fragmented coastline. Along the way, keep an eye out for Patagonian foxes and rheas.
Where to stay: Bahía Bustamante
Formerly a worker's village for a seaweed factory, Bahía Bustamante is a private eco-reserve. From your cabin, you'll overlook a splintered coastline framed by red rocks, crystal-clear water and white-sand beaches strewn with whale fossils and shellfish remains. Here, you can start spotting wildlife from the moment you set foot outside your front door.
I'd urge you to spend time exploring both the lodge's grounds and its shoreline. At your fingertips is Graviña peninsula, where you can swim in naturally formed crystalline rockpools, and visit tiny islands housing Magellanic penguins. You can also visit the nearby petrified forest, filled with 60-million-year-old fossilised trees and the sprawling dusty pampas littered with rhea and guanacos.
The Iberá Wetlands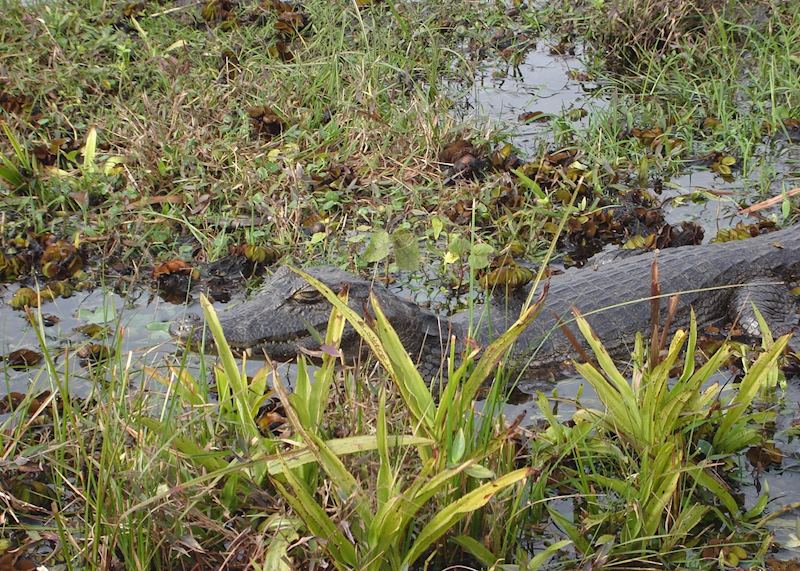 What can you see?
Birds, birds and more birds. The Iberá Wetlands, located in the northeast of Argentina, are a birdwatcher's haven, with over 300 species of avifauna inhabiting this vast network of swamps, lagoons and marshland. The wildlife doesn't stop there, though. Among all the kingfishers, snowy egrets, large-billed terns and golden-breasted woodpeckers are caimans, capybaras, giant river otters and anacondas.
The Iberá Wetlands are often regarded as the little brother of Brazil's Pantanal wetlands — and they're a much quieter alternative. Fewer visitors, coupled with the small, sparse human population surrounding Argentina's swathe of protected wetlands has allowed native flora and fauna to thrive.
You'll need a boat and a guide to take to the spongy green waterways and navigate through the densely packed reeds and irupé (waterlilies). Along the creeks and lagoons, vegetation shifts almost daily, blocking former channels and creating new passages.
As you peacefully drift through the water, your guide will help you pick out camouflaged wildlife ― perhaps homing in on the pricked ears of a timid marsh deer, or the leathery snout of a caiman.
Where to stay: Puerto Valle
At Puerto Valle you can enjoy the proximity of the wetlands coupled with a traditional Argentinian estancia experience. The lodge is only a one-hour drive from Posadas' airport, sitting on the northern edge of the Iberá Wetlands. Upon arrival, you're greeted with views of the Paraná River and private access to the wetlands.
While staying here, do try some of the local wetland delicacies. In particular, I recommend pacu (a river fish), chipa (Argentinian cheese bread) and mbeyú (a traditional northern Argentinian starch cake).
Iguazú Falls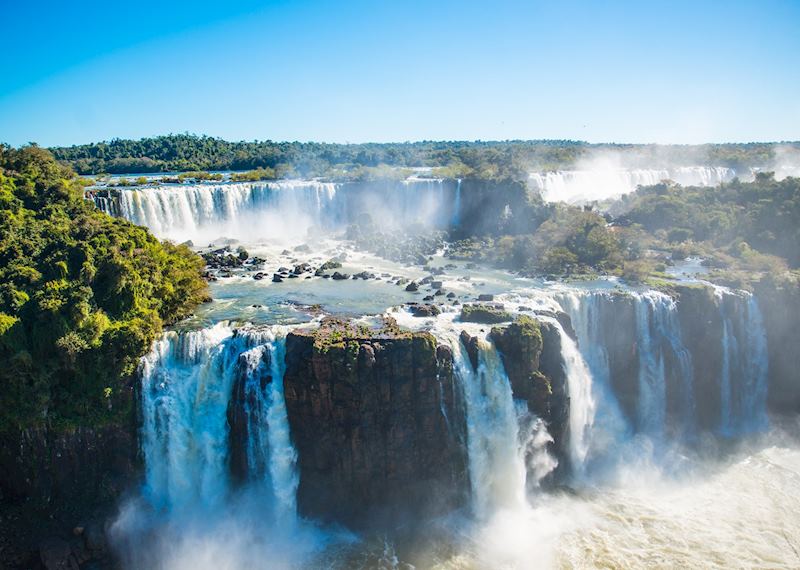 What can you see?
I don't think anything can quite prepare you for the performance of Iguazú Falls. Spanning nearly 3 km (1.9 miles), hundreds of waterfalls noisily tear their way through the landscape — some so large they plummet into a permanent cloud of mist.
I advise you to try and tear yourself away from the falls themselves — they're strangely hypnotic — and enter the thick jungle of the surrounding Atlantic Forest. This eco-region is bursting with over 2,000 species of thick, leafy plants, including several rare and endangered ones.
When exploring the trails on foot, it seems like the thunder of the falls is quickly replaced by the chaotic symphony of birds fighting to be heard above the watery din. You might find groups of howler monkeys, capybaras, ocelots, tapirs and giant anteaters lurking in the thick undercanopy. A few (very lucky) people have even reported sightings of a solitary jaguar hiding in the dense forest.
Where to stay: Awasi Iguazú
Hidden between Atlantic Forest, Awasi Iguazú is a collection of 14 private stilted villas, each paired with a private terrace and plunge pool, and built to blend into the forest. Situated only 20 minutes from the falls, this all-inclusive property sits on the periphery of Iguazú National Park.
Each villa is assigned a guide, a private driver and a 4x4. I love the excitement of the evening routine when your guide sits down with you to plan your activities for the following day. From the property, you can go on half- or full-day jungle treks, or head out birdwatching with expert guides. Upon your return each day, you'll be greeted with a cocktail before heading to the hotel's elegant treetop restaurant to dine on Argentinian fare, made using fresh produce from the jungle.
Read more about trips to Argentina

Start thinking about your experience. These itineraries are simply suggestions for how you could enjoy some of the same experiences as our specialists. They're just for inspiration, because your trip will be created around your particular tastes.
View All Tours in Argentina