Katie, New Zealand Specialist
After school, with no idea of what I wanted to do, I decided to take a gap year and complete a round-the-world trip. It was during this trip that I spent two months driving around New Zealand in an old campervan called Albert. After waking up to unbelievable views, such as the shores of Lake Wakatipu or the base of Mount Cook, I fell in love with this majestic country.
Unfortunately, I had to come home though. After completing a four-year degree in sport and exercise sciences (with a year living in California), I still longed to go back to New Zealand. It's a country that I believe should be on everyone's travel wish list: with the laid-back locals, snow-topped mountains and turquoise lakes, it's a place you'll never forget. I feel very lucky to be able to share my experiences of this amazing place.
Speak to Katie

Start planning your trip to New Zealand with Katie by calling 01993 838 689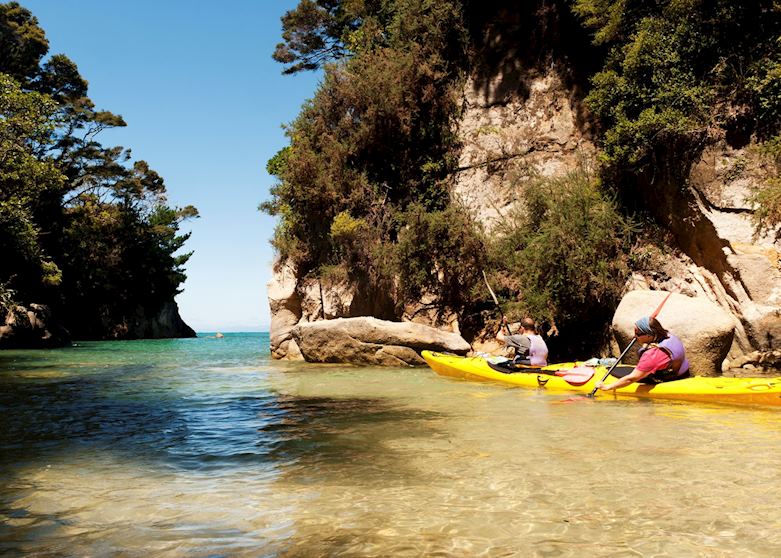 New Zealand
Abel Tasman National Park, an hour northwest of Nelson on New Zealand's South Island, is renowned for its coastal walking track. It's the smallest national park in New Zealand, but its crystalline turquoise waters are home to dolphins and seals, and the walking tracks within the forest lead to hidden coves and Maori forts. Only accessible by water or on foot, hiking and kayaking are common activities and the lack of motor vehicles means you're far more likely to encounter some of the native wildlife that inhabits this scenic part of New Zealand such as penguins, possums, wild pigs and deer.
New Zealand
An intimate property located just outside Wanaka, Maple Lodge has only seven rooms and a lovely, homely atmosphere. It's close enough to town to be able to enjoy all the amenities it has to offer, but the rural location gives guests a serene setting at the end of a busy day. There's a Jacuzzi where you can relax with views of the surrounding mountains and stargaze when the sun sets, and in the winter months, the large communal living room is warmed by a huge open fire which is great for relaxing with a glass of wine and a book.
I'll never forget when…
Lowering myself into ice-cold waters in the middle of a superpod of dusky dolphins off the coast of Kaikoura was a once-in-a-lifetime experience. It was so surreal to be swimming with wild dolphins I couldn't quite believe it was happening to me. After swimming with these beautiful animals for around 45 minutes, it was time to get back on the boat and watch the flipping and twisting dolphins leaping out of the water against a backdrop of snow-topped mountains. It was so serene and calming, I couldn't quite wipe the grin off my face.