Fiona has recently returned from a trip traveling through the Peruvian Amazon by boat. Here is a day-by-day account of her experience and the wildlife she encountered.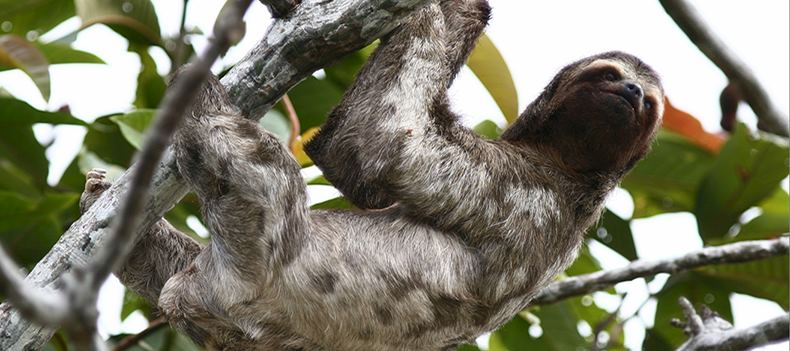 The Pacaya Samiria reserve in the northern Amazon jungle of Peru is one of the most biodiverse areas in Peru and also one of the largest protected areas in the country, covering over 20,000 square kilometers. The area is home to over 600 species of bird, two types of sloth and various monkeys including the large and noisy howler and the much smaller capuchin. One of the best ways to get to know this area more intimately is to take a river cruise which passes the confluence of both the Marañon and Ucayali where they form the Amazon River.
My visit began at Iquitos airport where we boarded a very comfortable air conditioned bus to the port of Nauta, 90 minutes from Iquitos airport. It was handy to have my mosquito repellent here as you arrive around dusk when the mozzies are coming out. We were given a welcome cocktail while we transferred on to the cruise ship the "Delfin II", our home for the next four nights. The ship is beautiful, four floors of wood with a stunning open air bar area and a closed-in dining room. I quickly make my way to my suite which had large panoramic windows and air conditioning.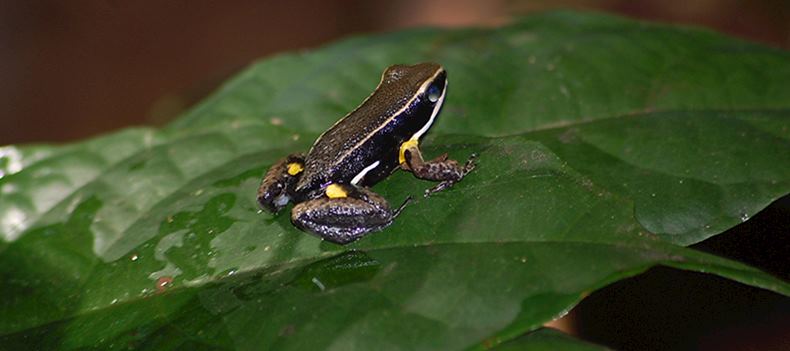 Day 2
Our early morning excursion took us out on a skiff to an area of the park where you can do a short hike. We saw a lot of wildlife in a short amount of time: hummingbirds, poison dart frogs, parrots and a very large anaconda that slithered by my foot. Fortunately they give you wellie boots on the boat! We then headed back to the boat for a rest before an afternoon swimming with pink river dolphins — a once in a lifetime experience. A three-course dinner of palm heart salad, beef stir fry and tropical jungle fruit ice-cream was enjoyed later — I could get used to this!
Day 3
Our next outing was on one of the small rivers called the Velludo Cañon, where a myriad of green and blue morphos jumped through the air as well as the ever present kingfishers that followed the boat. The wildlife was incredible. I saw two types of monkey, including owl and squirrel monkeys, iguanas and the brightly colored paradise tanager. It began to rain so we returned to the ship to watch an excellent documentary about life in Pacaya Samiria. After a delicious lunch of roast duck we headed back out for an enjoyable afternoon of piranha fishing and I was pleased to catch four!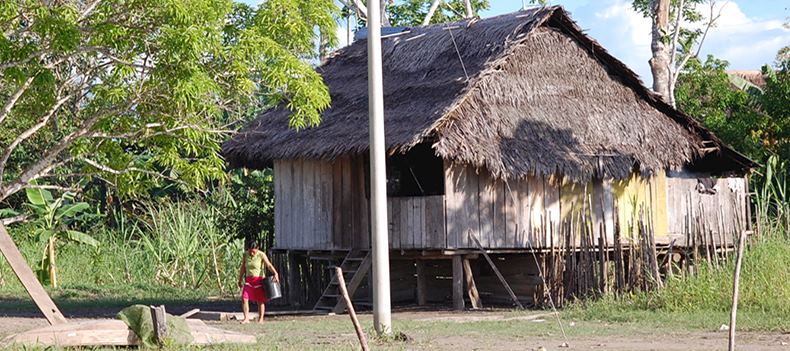 Day 4
This morning we started the day with breakfast on the skiff which was a lovely experience. It was then kayak time for those who wanted to. A lecture on jungle fruit was followed by an afternoon swim in a lake where we saw more wildlife, including sloths, howler monkeys, capuchins, jabirus and huge flocks of herons. In the evening we had another delicious meal of river fish made in the open kitchen and staff entertainment from a couple of talented singers and guitarists, a great way to wind down after the day's activities.
Day 5
On our final day we visited spider monkeys and a local community where I bought a couple of handicrafts. It was then time to head back to the airport at Iquitos via the Manatee center. You can feed them by hand which is such an amazing experience.
The trip is fabulous and a great way to see and experience the Peruvian rainforest. Don't forget your mosquito repellent and an adventurous spirit! All the activities are optional and most are by boat so the trip is suitable for anyone. The staff are also professional and include the captain, hospitality manager, bilingual guides, three chefs, paramedic and other support staff. I cannot praise the organization enough.