By Canada specialist Joe
I first visited British Columbia as a teenager and fell in love with it straight away. With its mix of mountains, forest, and island-strewn ocean, it's very easy to switch off from the modern world and find a renewed connection with nature. You can spot whales along the fragmented coastline. Stay at a remote bear-watching lodge on the edge of a sound to see grizzlies in the wild. Or, hike trails that wind through quieter corners of the Canadian Rockies, where soaring mountains meet jewel-like lakes.
You can also spend time exploring First Nations culture with guides who are passionate about sharing their heritage and traditions, and balance city life with relaxation and outdoor adventure in Vancouver and Victoria.
Vancouver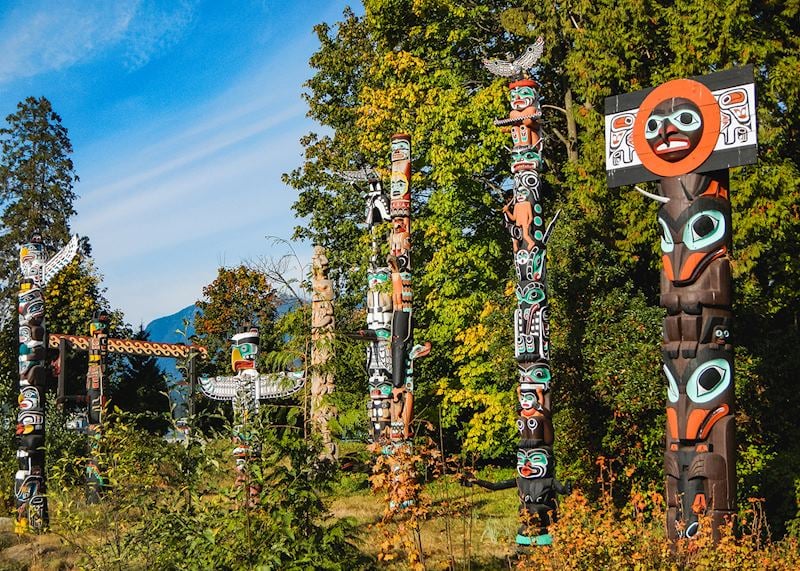 Despite being Canada's second-largest city, Vancouver still feels strongly connected to nature and the great outdoors. For a start, the city is surrounded by water, fringed with beaches, and watched over by distant mountains. There are also a healthy number of parks and gardens, from the Dr Sun Yat-Sen Classical Chinese Garden in Chinatown to the UBC Botanical Garden, which encompasses rainforest, alpine, Asian, and North American flora.
The best-known of Vancouver's green spaces is Stanley Park, which covers the tip of a peninsula surrounded by the glittering waters of Burrard Inlet, English Bay, and Vancouver Harbour. You can easily spend a whole day exploring the park on foot or by bike.
I cycled around it as part of a guided e-bike tour of the city, hugging the seawall path before heading inland to follow trails through hemlock, fir, and cedar trees. As you explore, you can pause at Beaver Lake to look for signs of beaver activity (I noticed a few trees had been gnawed through), or admire the park's nine replica totem poles, which are inspired by those carved by the indigenous Coast Salish people.
If you're interested in learning more about First Nations heritage, I suggest visiting the Museum of Anthropology. Housed in a striking concrete and glass structure, the museum holds thousands of archaeological objects, artworks, and textiles from the region and further afield.
Whenever I'm in Vancouver, I like to make the most of its waterfront location. Third Beach, English Bay Beach, and Sunset Beach are all easily reached from downtown if you're looking to relax, or you could join a sunset kayaking trip, looking out for seals and bald eagles.
Just outside of the city, you could hike or take the cable car to the top of Grouse Mountain for views over the city and its natural surroundings. Or, spend a day at Capilano Suspension Bridge Park — set within old-growth coastal rainforest, the park's network of bridges and walkways take you through the treetops, along granite cliffs, and over the Kia'palano River. As you walk through the forest, you'll learn about the park's flora, fauna, and history from interpretive signs, and can see a large collection of totem poles.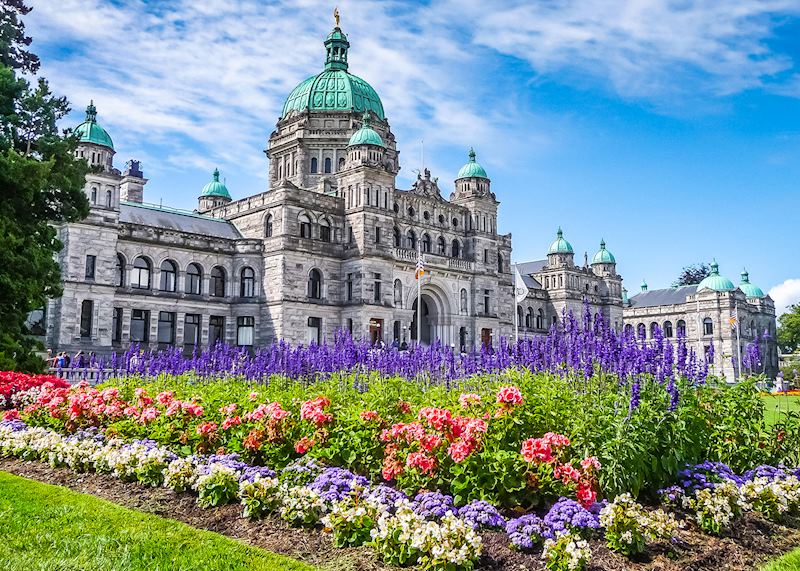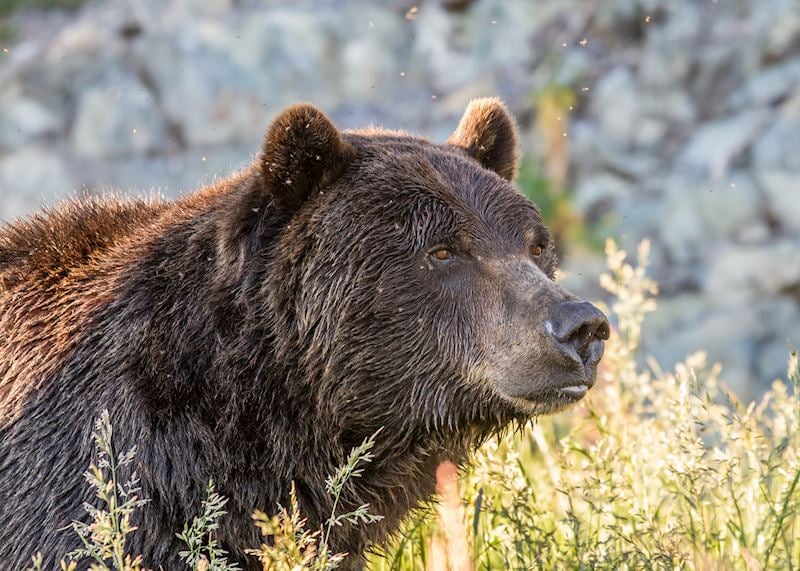 Vancouver Island
Vancouver Island is just a short journey from Vancouver by ferry or seaplane. The island's home to the provincial capital, Victoria, with its museums, parliament buildings, and manicured gardens. But, you'll also find large swathes of old-growth forest and a wildlife-rich coastline cut through with sheltered bays and glassy inlets.
There are lots of ways to spend your time here, from hiking to whale watching — read our guide to Vancouver Island for ideas.
Bear watching in British Columbia
In my view, British Columbia is unmatched for seeing black, grizzly, and spirit bears in their natural habitat. There's nothing quite like staying in a remote lodge deep in coastal rainforest or right on the edge of a secluded sound and heading out each day with guides who know everything there is to know about each species.
There are a variety of bear lodges to choose from — our blog article can help you decide which is right for you. You can also find out more about what it's like to experience a bear-watching trip in our guide to bear watching in Canada.
Haida Gwaii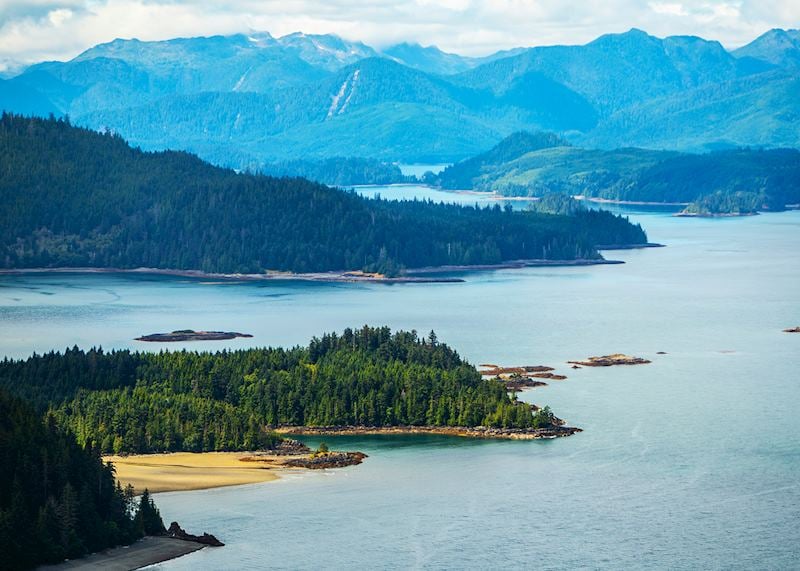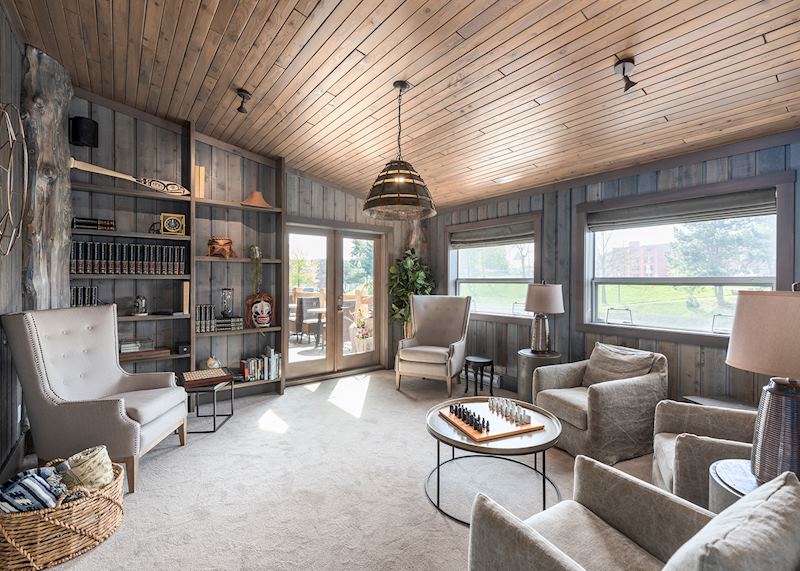 Formerly known as the Queen Charlotte Islands, Haida Gwaii is an archipelago off British Columbia's northwest coast. You'll find old-growth spruce and cedar forests circled by bald eagles, and a wild coastline where you might spot humpbacks offshore. But, the main draw of staying on these islands is having the chance to explore their rich First Nations heritage. The Haida people have lived here for millennia, their lives intertwined with the nature surrounding them.
You can either base yourself at one of just a handful of properties on the islands for a few nights, or explore by yacht, spending time ashore each day. I like Ocean House, a luxurious lodge set on a secluded strait that's owned by the Haida and reflects their culture in its design.
Throughout your time in Haida Gwaii, you'll have a First Nations guide who'll help shine a light on Haida traditions. You might visit craft studios to watch local artisans in action, wander around museums brimming with artwork and everyday items retrieved from nearby archaeological sites, or paddle a traditional Haida canoe around the shoreline.
You can also visit the abandoned Haida village of Skedans, now a UNESCO World Heritage Site. Guides who keep watch over the site will show you buildings and original totem poles that are gradually being reclaimed by the forest. As you explore, they'll explain what life would've been like there and share old Haida stories that help bring everything to life.
Afterwards, you could visit the home of local chef Keenawii, also known as Roberta, who'll cook a traditional Haida feast. Dishes might include dried smoked salmon (ts'ilji), venison with hand-picked cranberries, and a pie stuffed with blueberries, salmon berries, raspberries, and peaches.
Whistler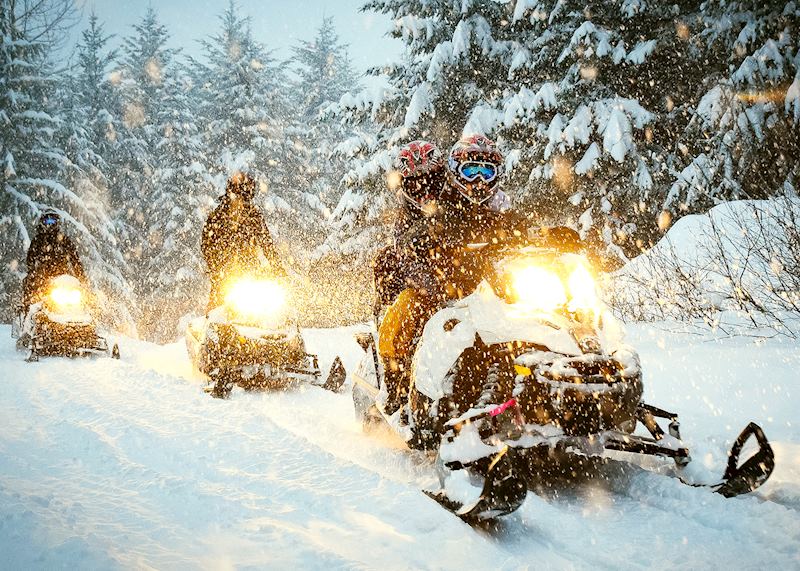 Zip-lining across a forested creek, kayaking along the River of Golden Dreams, taking a gondola to the summit of Blackcomb Mountain… it's hard to keep still when you're in Whistler (though there are plenty of spas to choose from when you do want to rest).
Surrounded by lakes, forests, rivers, and huge, crumpled peaks, this compact mountain town is primarily known for being Canada's premier ski resort. But, there's so much to do here in any season — you can read about just some of the activities you can do in Whistler in our blog article.
A highlight of mine was joining a snowmobile tour in the nearby Callahan Valley. After a brief demonstration on how the snowmobile works, we set off at a steady pace up the side of a mountain, taking it in turns to steer. At the top, our guide told us about the area's mining history as we took in far-reaching views over the dazzling-white peaks.
Wells Gray Provincial Park
More than 40 waterfalls crash, froth, and tumble into Wells Gray's deep canyons and turbulent rivers. Some form a tall, thin plume as they pour over water-smoothed cliffsides, others stretch wide like a curtain as they career over boulders.
Helmcken Falls is the best-known of them all, and the whole reason for the park's existence — it was established to protect the falls' natural beauty. You can easily access it just a short stroll from the road, where you'll find dedicated viewing platforms. I was equally impressed by Dawson Falls, a 90-m (295-ft) wide mass of white water — I could sense its power as I approached along the footpath, a deep rumble reverberating through the air.
Seeing how many waterfalls you can tick off your list is part of the appeal of visiting this relatively off-the-radar park, but I also suggest taking your time to appreciate your pristine surroundings. You'll find smooth lakes where you can paddle a canoe, alpine meadows and evergreen forests to hike through, and all around you is the great, slumping outline of the Cariboo Mountains.
For a touch of adrenaline, you could also go white-water rafting — there are a variety of grades along the river, from tranquil floats to roiling rapids.
A quieter side to the Canadian Rockies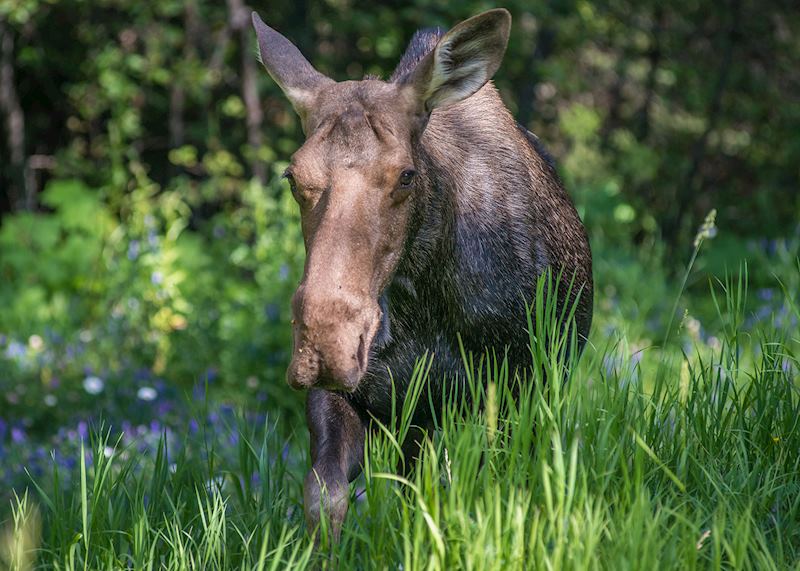 BC's side of the Rockies provides the same dose of mountain scenery, turquoise lakes, and dense pine forest as the likes of Banff and Jasper in Alberta, but with a fraction of the crowds.
Kootenay National Park fringes Banff National Park, but as I followed its well-marked hiking trails it often felt like I had the whole park to myself. Because it's quieter, you're more likely to encounter wildlife like elk, moose, and deer, while sightings of bears are also possible.
I suggest exploring with a guide who can take you along trails matched to your interests and fitness level and tell you more about the park's flora and fauna. You can read a bit more about Kootenay in our guide to the Canadian Rockies.
Also bordering Banff National Park, Yoho National Park is just a short drive from Lake Louise, the Rockies' best-known lake. Basing yourself in the traditional mountain town of Field, means you can easily visit the renowned lake as well as enjoying untouched scenery elsewhere. The spearmint-blue waters of Lake O'Hara and Emerald Lake are eye-catching enough to rival those of Lake Louise, but you'll find far fewer people to contend with for photographs. There's also Takakkaw Falls, the second-tallest waterfall in Canada, which cascades gracefully in three near-vertical drops down a sheer cliffside.
Read more about trips to British Columbia

Start thinking about your experience. These itineraries are simply suggestions for how you could enjoy some of the same experiences as our specialists. They're just for inspiration, because your trip will be created around your particular tastes.
View All Tours in Canada