I grew up dreaming of travel, and this draw only grew stronger as I got older and started to study French and art history at college. Inspired by my studies, I took my first trips abroad for a research trip, and a semester abroad to Spain and France. After that, I knew travel was one of my biggest passions, so I went again for my master's degree, moving to Rome for a 1.5-year course in cultural heritage studies.
I fell in love with Italy while I lived there. Nothing compares to the sound of church bells while you sit with a glass of wine on a quiet street, or the panoramic views from a Tuscan winery, or an Umbrian mountaintop town. I'm passionate about these experiences and the way they can affect you, and I'm excited to continue to create them for and with other travelers.
Speak to Shannon

Start planning your trip to Italy with Shannon
Q&A with Shannon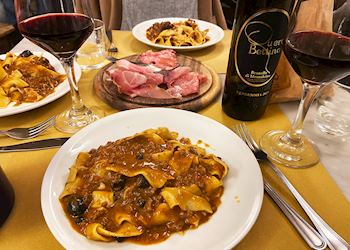 What's the best local dish you've tasted?
The best meal I've had is specific to Florence and the area around it, pappardelle al cinghiale. My parents and I wandered into an osteria after a long day of walking and had this pasta dish recommended to us by our waiter. Wild boar did not initially sound very tasty, but it simmers all day long, so it is incredibly tasty. Our waiter also paired it with a local red wine which absolutely made the meal.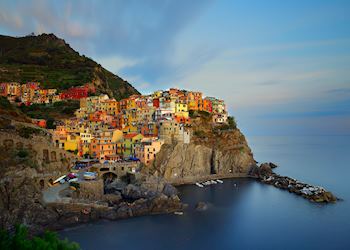 Whats your most vivid travel moment
My most vivid travel moment was in Cinque Terre with my family when they visited me while I was studying. After a day touring the towns, we headed back to our house up one of the mountains overlooking the beach. We were talking about our day on the deck, enjoying the feeling of relaxing after a busy day, when a shooting star flew across the sky. I had never seen one before and the sky was so clear it was amazing to see. What made it extra special was that it was a moment that I shared with my family, and it made that trip even more unforgettable.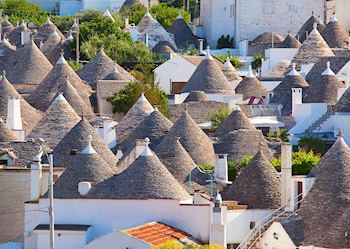 Where would you love to travel to next?
Next on my list is Puglia, and specifically the town of Alberobello. The region has beautiful beaches, cities, and regional food that I have not yet explored. I want to visit Alberobello because there is a type of architecture specific to this region called 'trulli'. They're all-white homes with conical roofs and celestial designs, and Alberobello is full of these distinct buildings.