Basking on beaches, candlelit dinners, lazing in an infinity pool: For many, this is the stuff of a quintessential honeymoon.
But what if you're the kind of couple who loves the great outdoors, or has trouble sitting still?
If you're planning your honeymoon, look no further than these five experiences for the most adventurous, out-of-the-ordinary newlyweds.
Hike the volcanoes of Bali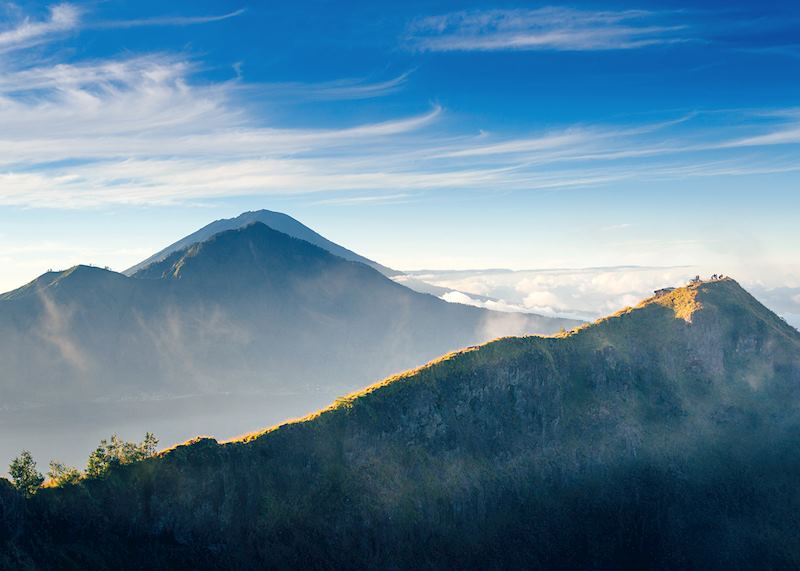 With its golden beaches, yoga classes, verdant paddy fields and the chance to potter around multiple ornate temples, Bali has all the ingredients for a laid-back honeymoon.
But it's also an ideal destination for more active honeymooners. Activities such as white-water rafting on the Ayung River get the adrenaline flowing, but Bali's volcanoes are worth exploring. Their craters can be circumnavigated on cycling tours, and offer challenging but condensed day hikes for sure-footed couples with a head for heights.
Aim to reach the cone of Mount Agung at sunrise. At 3,142 meters (10,308 feet) above sea level, it's Bali's highest and most sacred mountain.
The walk begins in early morning darkness at Pasar Agung temple, where your guides may follow the tradition of lighting incense and praying for a safe ascent. The steep trail then passes through pine forest and over a slippery, solidified lava field.
Once at the peak, you'll look out over a blanket of clouds and watch the shadows moving across the crater below as the sun pierces the horizon.
If summiting volcanoes appeals to you, there's the quirkier experience of climbing Mount Batur (a lesser beast at 1,717meters, or 5633 feet high) just in time for dinner. Your meal is cooked in the volcanic steam vents and served on the crater rim.
Live with a tribe in Borneo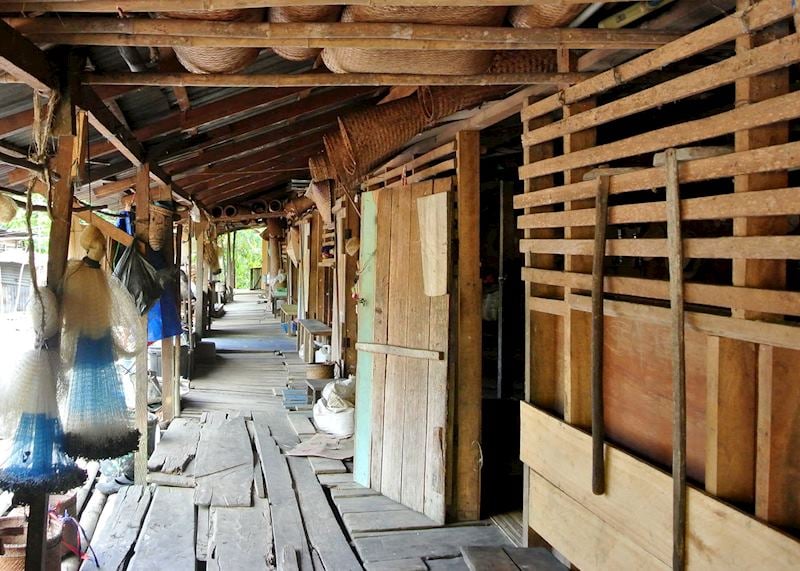 If volcanoes aren't adventurous enough for you, intrepid couples can venture off the beaten track by spending 24 hours with members of the Iban tribe.
The ancestors of headhunters (they beheaded their enemies to show their strength), the Iban still live in the traditional manner — several families grouped together in a wooden longhouse — growing rice and building crafts.
Their home can only be accessed by a 30-minute boat journey upriver from the nearest road.
Accommodation is basic — think mattresses on the floor with mosquito nets in a large communal space. Nor is there electricity, but gas lamps are lit as night falls and you can take part in some of the Iban's traditional dances over a glass of homemade rice wine.
The next day, tribe members will lead you on treks through the surrounding forest, showing you their traps and teaching you how to use a hunting blowpipe.
After an afternoon spent swimming in the Lemanak, you'll finish your experience with a farewell lunch cooked in bamboo tubes over an open fire.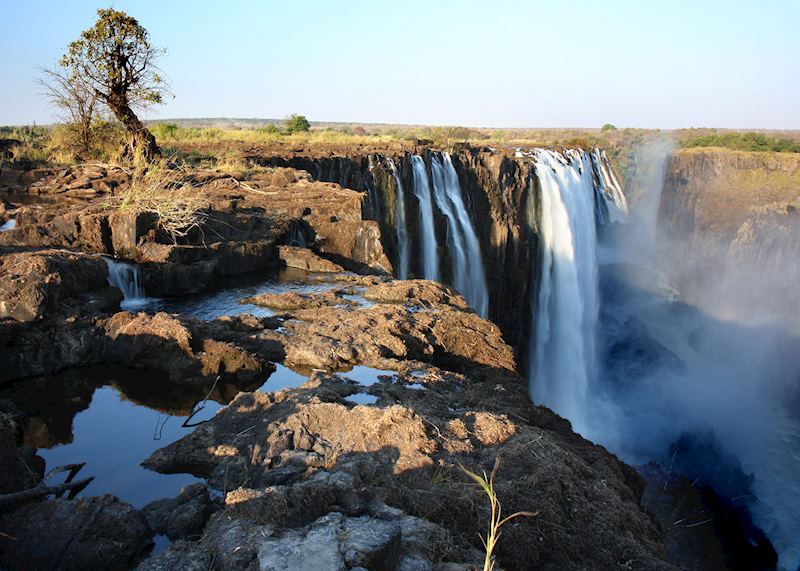 These two destinations offer very different activities, which can be easily combined for an energetic honeymoon.
You just got married, so why not?
At Victoria Falls, adrenaline-seeking couples can do more than just gaze at "The Smoke that Thunders" (as the falls are known locally).
Those looking for a more unusual experience should head out to Livingstone Island and make their way across to Devil's Pool at the edge of the waterfalls.
As soon as you jump in the pool, the power of the current whisks you away to the very edge of the falls, where a hidden underwater wall of natural rock miraculously stops you from plunging down the 100-meter-high drop (328 feet!).
Staying at a game lodge in the Kruger offers thrills of another kind. You might spot the Big Five while out on a game drive, but a more immersive option is the walking safari.
After a debriefing on how to behave when encountering animals, you'll head out in the bushveld with your qualified ranger. On foot, you'll see details that are easily missed from a vehicle, such as insects and smaller birdlife, and you'll also receive an introduction to the bushmen's art of tracking.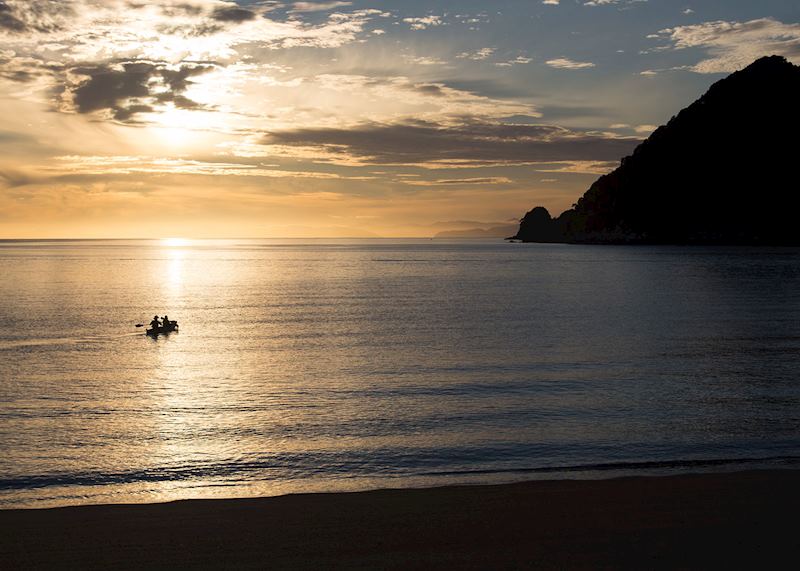 Skydiving in Lake Wanaka, white-water rafting in Hanmer Springs, hot air ballooning over Queenstown: New Zealand is a hub for adventure enthusiasts. But it's also honeymoon territory for couples who love the outdoors, rather than extreme sports — for New Zealand's true highlights are its diverse and dramatic landscapes.
With over 14 national parks, it can be hard to know where to start, but one unforgettable experience is spending a few days exploring Abel Tasman — New Zealand's smallest and only coastal park — by sea kayak.
Hugging the coastline, you'll paddle past limestone cliffs and wide, golden sand beaches that look virtually untouched. The pristine native forest extends right to the shoreline and the coast is peppered with small inlets and coves, which you can investigate at will — usually as the only visitors. The seawater in and around these coves is often bright turquoise and extremely clear.
Watch for seals frolicking nearby and dolphins swimming right underneath your kayak. Further south and inland, you can sea kayak or take a Zodiac cruise around the Tasman Glacier, New Zealand's longest glacier, in Aoraki/Mount Cook National Park. Zodiacs enable you to get up close to the glacier snout, while kayakers can enter the glacial bays and negotiate their way through icebergs and ice formations.
Plan Your Dream Honeymoon
Need more inspiration for your honeymoon? This is the perfect place to get started.
Further Reading