From the wilds of its mountains and forested coasts to the history-steeped city streets and wildlife-rich waters, Canada is a place where active adventure comes as default. Its landscapes make you itch to get out and explore, whether on foot, by boat, by bike, or even zip-line. So, it comes as no surprise that there are options aplenty if you're looking to stay active on your trip.
Below, we've highlighted just some of the active experiences we think are worth lacing up your hiking boots for, matched to different interests to help you decide which to include on your next Canada holiday.
Best active experiences for wildlife watching
Grizzly bear encounters in Bute Inlet, British Columbia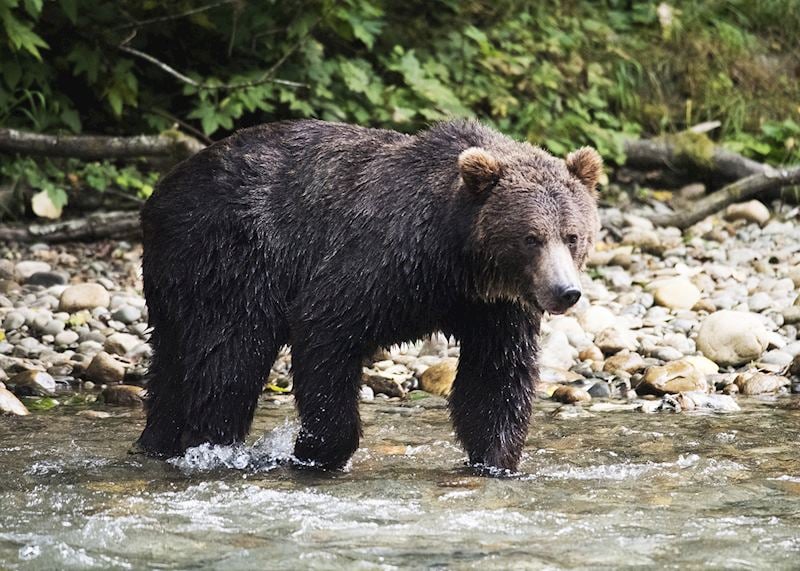 Squiggling into British Columbia 's fragmented coastline, Bute Inlet is a pristine waterway scattered with forested islands and lined with rocky shores where grizzlies roam. You can explore it by high-speed boat, setting off for the day from Campbell River on Vancouver Island. As you weave between tiny islands, your guide will help you look out for orcas, sea lions, and bald eagles.
You'll eventually land to meet Indigenous Homalco guides. They'll drive you through the wilderness their people have called home for centuries while sharing a little about their heritage and traditions, stopping at a series of covered viewing platforms set strategically along the river.
From here, you can watch grizzlies splashing the water to swipe their prey — salmon on their journey upstream to spawn. Your guides will tell you about the bears' hunting and foraging techniques and other aspects of their lives so you're left with a deeper understanding of the species — and hopefully some excellent photos.
Whale watching & more from Trinity Bay, Newfoundland & Labrador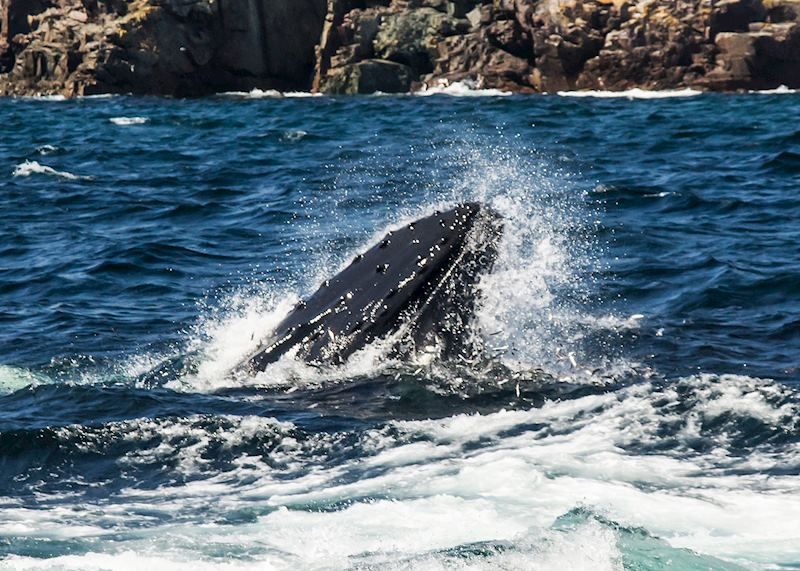 The Bonavista Peninsula juts into the Atlantic Ocean from Newfoundland 's east coast, and contains some of the oldest European settlements on the island. One of these is Trinity, a huddle of brightly painted clapboard houses that have barely changed in centuries. But it's not only history that captivates here — the coastline and waters of Trinity Bay are a haven for sea birds and marine life.
You can join a Zodiac boat trip from Trinity for a chance to spot fin, minke, humpback, and sperm whales, as well as seals, dolphins, porpoises, bald eagles, and puffins. The Zodiac's small size means you can navigate tiny coves, feeling the breeze on your face as you zip between islands. If your visit is in May or early June you're also likely to get close to icebergs drifting down from Greenland.
Guided wildlife walks in Jasper National Park, Alberta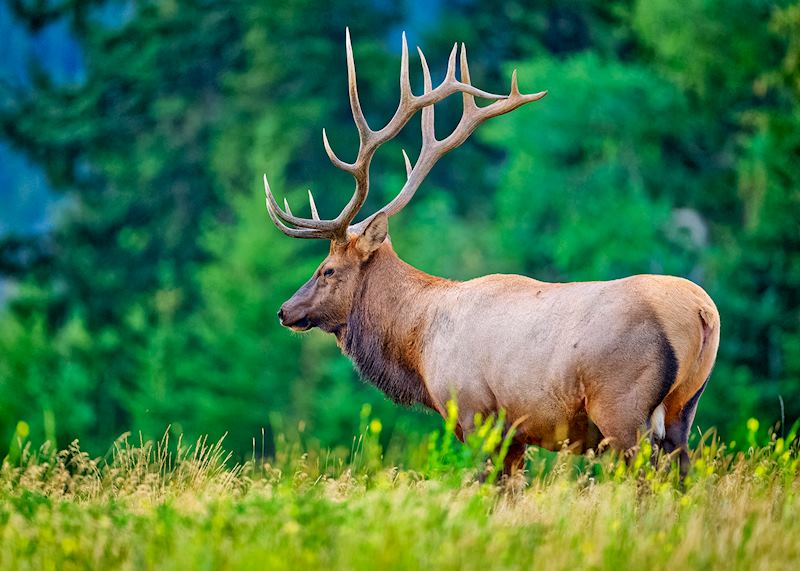 Tucked into the heart of the Canadian Rockies in Alberta, the town of Jasper and its eponymous national park top the lists of most visitors looking for active adventures among sweeping mountain scenery. But this does mean wildlife can be harder to come by.
Step forward husband-and-wife team Joe and Patti. They've lived in the region for over two decades and take pleasure in guiding visitors away from the busy, well-known spots. As well as giving you a chance to spot wildlife, they'll also talk about their Indigenous Metis culture, sharing stories and traditions, as well as the significance of this area to their people.
You'll mostly explore the Athabasca Valley and the Maligne and Miette tributary valleys, visiting corners few others know about. It means you'll have a better chance of seeing wildlife like bears, elk, coyotes, mountain sheep, moose, and even wolves. While Joe will drive you and your small group between his chosen spots, you'll have plenty of opportunity to stretch your legs as he tells you more about the ecosystem and the animals you encounter.
Polar-bear watching in Churchill, Manitoba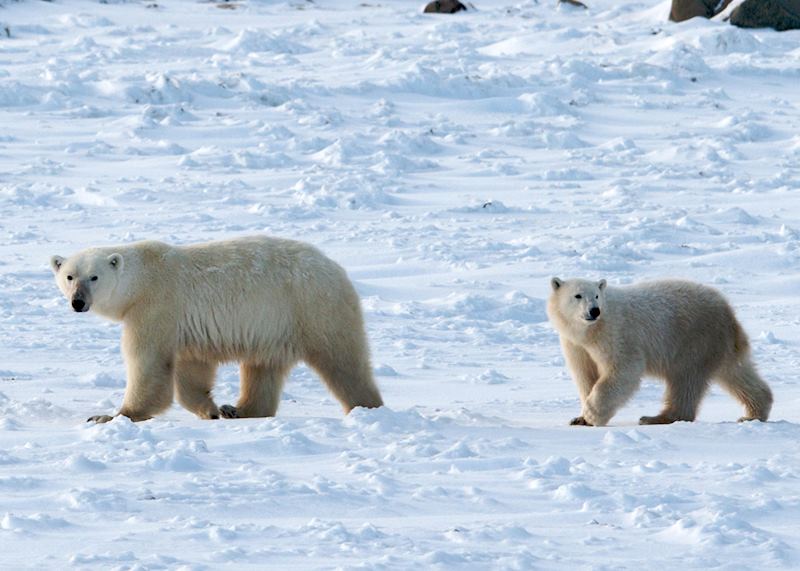 Known as the 'polar-bear capital of the world', the remote town of Churchill sits on the shores of Hudson Bay. Here, polar bears roam the tundra, pacing as they wait for the waters to freeze so they can head out in search of seals.
Depending on the lodge you stay at and the time of year, you can watch the bears in their natural habitat either from a sturdy tundra vehicle or, if staying in a wilderness lodge, on foot with expert guides. You can read more about these experiences in our guide to polar-bear watching in Canada.
In summer, you can also spend your time exploring Hudson Bay by boat or kayak for a chance to see beluga whales, which migrate here in their thousands each year. Or, if visiting later in the year, you can make the most of the dark evenings by looking out for the northern lights glowing above you.
Best active experiences for mountain scenery
Heli-hiking in the Canadian Rockies, Alberta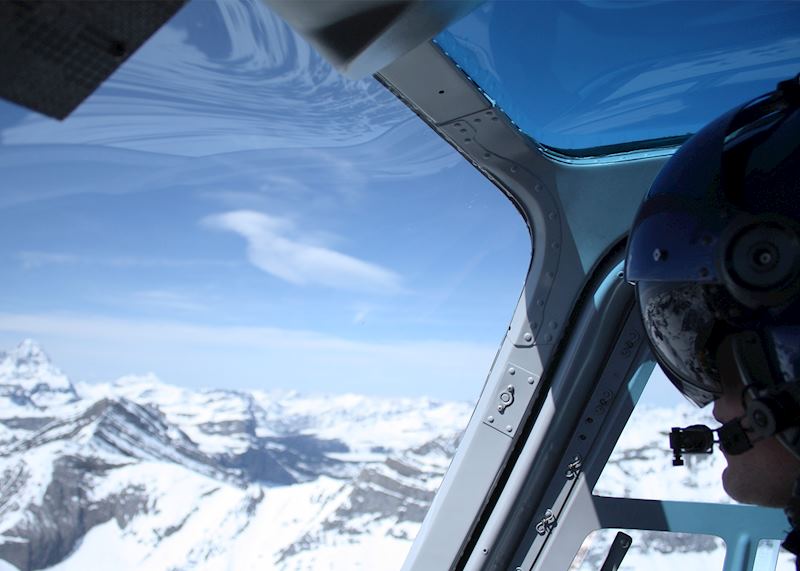 One of the best ways to appreciate the scale of the Canadian Rockies is to view them from above, soaring over chains of glacier-clad mountains and deep valleys filled with teal-blue lakes. While you can take short helicopter flights for a taster, a three-night heli-hiking trip gives you so much more.
You'll stay in a mountainside lodge that's barely accessible by any other vehicle, where roaring campfires, outdoor whirlpools, and restaurant-quality meals await you after each day of outdoor adventure.
In the mornings, you and a small group of others head out by helicopter to reach remote mountain trails. Your guides know the routes well having tested them out themselves, and will choose them according to your group's interests and fitness levels — you might trek to a summit, venture up to a glacier, or stick to gentler trails through untouched alpine meadows, all while learning more about the mountains' ecology.
Guided hiking in Banff National Park, Alberta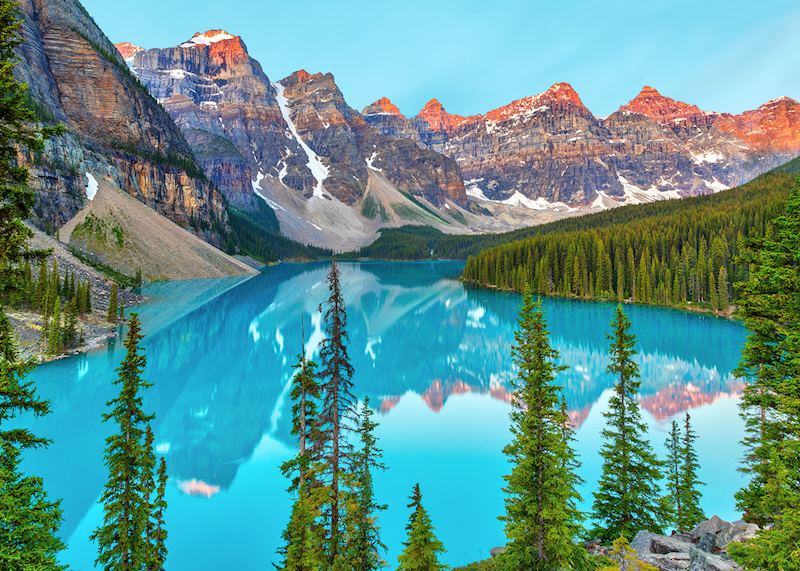 If you're staying in Banff or Lake Louise, we suggest beating the crowds by hiking with a local guide who knows the area well and can help you experience hidden corners of the Canadian Rockies. Over the course of four to six hours, you'll enjoy a backdrop of pine-smothered mountains and jewel-like lakes, with few other visitors to contend with.
The team of guides we've partnered with have carefully selected four routes designed to give you an authentic taste of the Rockies' backcountry. Which you do depends on the day of the week, but we particularly like the 8.6 km (5.4 mile) Larch Valley route, which takes you up along switchbacks for views over Moraine Lake below before branching into the valley, winding through a grove of larch trees — deciduous pines that turn golden yellow in autumn. You'll then reach an alpine meadow framed by the distinctive Ten Peaks.
As you walk, look out for some of the 20 alpine mushroom species found here as well as fiery-red prairie fire flowers and other alpine blooms. You might also come across wildlife like elk, bighorn sheep, marmots, chipmunks, and (if you're lucky) moose.
Best active experiences for city sights, history & food
Québec City history-focused walking tour, Québec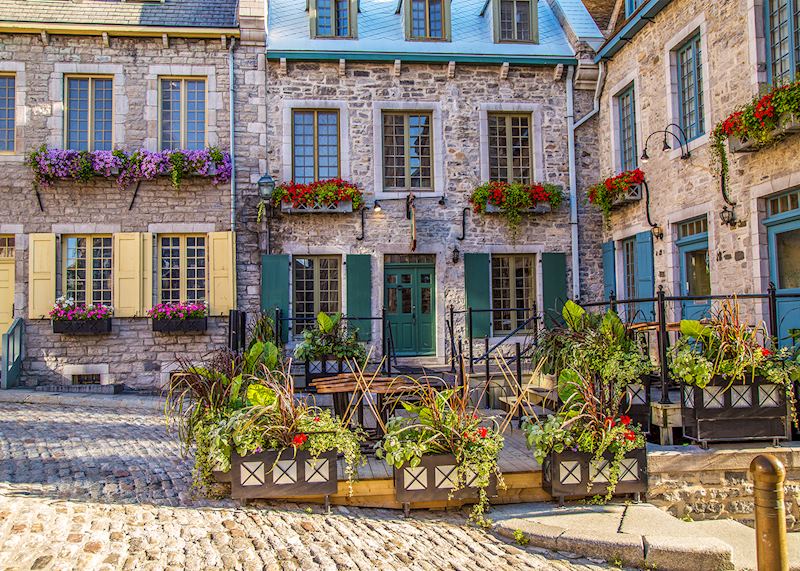 North America's only walled city is steeped in history, and its compact size, narrow cobbled streets, and well-preserved collection of 18th- and 19th-century buildings makes it ideal for a walking tour. With a local guide at your side, you'll walk through the heart of the old town — a UNESCO World Heritage Site — while hearing more about the city's eventful past.
You'll stroll onto Dufferin Terrace to get sweeping views over the Saint-Lawrence River, the Citadel, and the Château Frontenac, and walk through the Governors' Garden, home to the Wolfe-Montcalm Monument — built to mark the Battle of the Plains of Abraham in 1759, when Québec and other French-ruled provinces changed to British hands.
Your guide will tailor the route to your interests, but you might also see the courtyard of the Ursuline Sisters, City Hall, and St-Paul Street's Antique Dealers District. You'll eventually reach the oldest part of the city, Place Royale and Notre-Dame-des-Victoires, which was built in 1688.
Throughout the tour, your guide will share anecdotes about life in the city and tips for what to see and do while you're there.
Vancouver walking & tasting tour, British Columbia
You can taste your way through Vancouver 's oldest district, Gastown, on a three-hour small-group walking tour. The city's original settlement is a National Historic Site brimming with 19th-century landmarks, but its cobblestone streets are also lined with top-quality restaurants, characterful pubs, and local eateries.
With a local guide, you'll walk through the district while hearing tales about the city's past and present, passing sights like the Gastown steam clock. You'll also call in at three dining spots to sample dishes paired with cocktails and wines (or alcohol-free alternatives). You might try seafood tostadas, beef tartare, and even gold-flecked pizza, finishing with some immaculately presented desserts.
Cycling tour of Ottawa, Ontario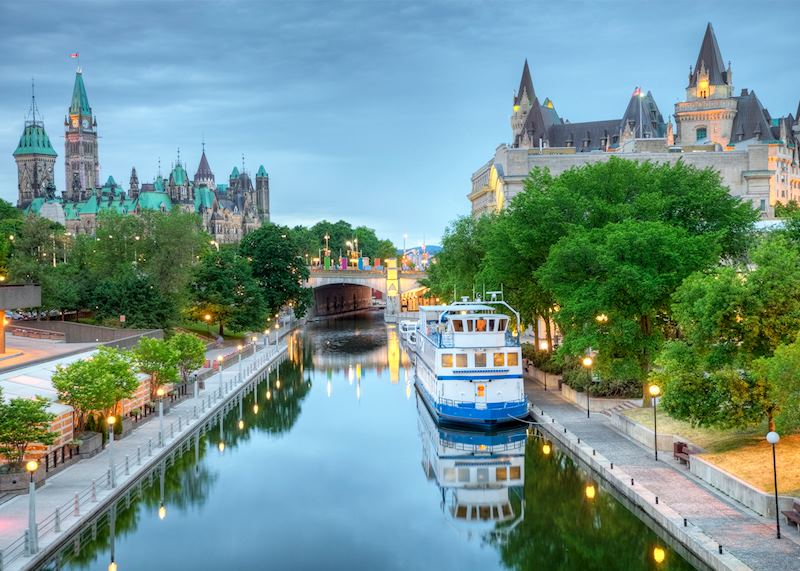 It's almost like Canada's capital was designed with cycling in mind. There are over 980 km (609 miles) of bike lanes and multi-use and off-road paths, making exploring on two wheels a breeze. To make the most of your experience, you could join a three-hour guided ride that takes in many of the city's landmarks.
Following a mostly flat 24 km (15 mile) route, you'll venture beyond the downtown area to get a more authentic perspective of the city, with your local guide on hand to answer questions and share more about Ottawa's sights, history, and culture.
Along the way, you'll pedal past the Rideau Canal, the National Gallery of Canada, Byward Market, and the National War Memorial. There's time to pause in Little Italy if you wanted to grab some food before continuing along the Ottawa River Pathway, which takes you past Chaudière Falls and Parliament Hill.
Best active experiences for families
Zip-lining in Whistler, British Columbia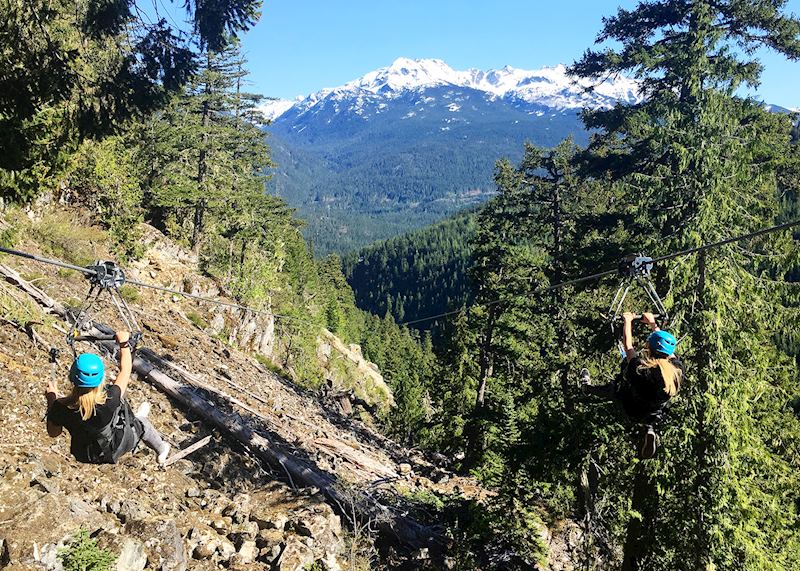 Just outside Whistler Village is Fitzsimmons Creek, a river valley between Whistler and Blackcomb mountains that's strewn with rocks — and crisscrossed overhead by a network of zip-lines. In a small group led by experienced and enthusiastic guides, you'll get the chance to head up into the old-growth rainforest canopy to navigate steps, suspension bridges, and wooden platforms connected by wires of different lengths and heights (there are different routes to choose from depending on your age and bravery).
Taking a deep breath and stepping out onto thin air gets most people's hearts pumping, and the feeling of whizzing across the creek is invigorating — you might even decide to flip upside-down for some added adrenaline.
It's not all about the action though — you'll also learn about the region's ecology and soak in the natural beauty of this untamed environment. Look out for sightings of black bears along the river, too.
White-water rafting in Clearwater, British Columbia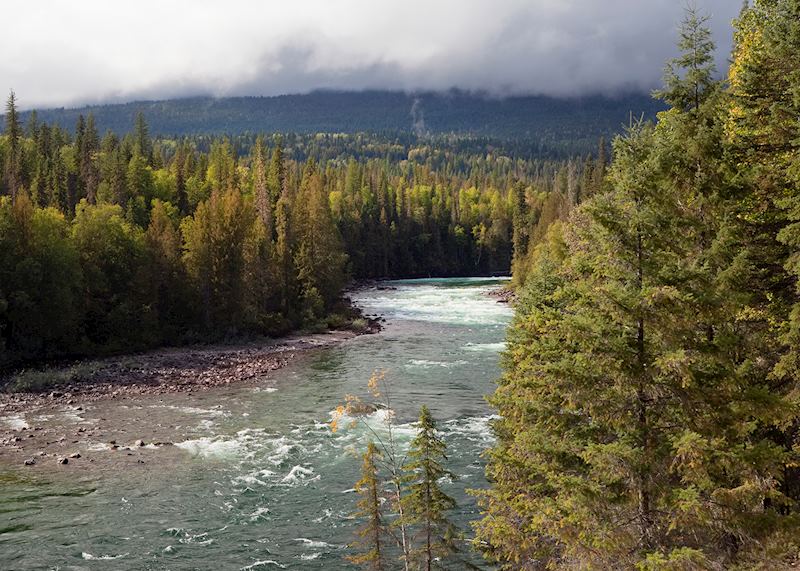 Surrounded by the waterfalls and wilderness of Wells Gray Provincial Park, the town of Clearwater is also home to a sparkling blue lake and a pristine river that gets a little turbulent in places — ideal for some white-water adventure.
You can choose from a variety of levels depending on how roiling you like your rapids, including more gentle float options for families. Your professional guides will help you hone your paddling technique on a tranquil stretch of water before you venture into slightly rougher sections of mostly Class II or Class III rapids.
As your raft dips and dives along the river, you should get a chance to take in the passing scenery of forested canyon walls, looking out for wildlife like otters and ospreys.
Clayoquot Sound Bear Watching, British Columbia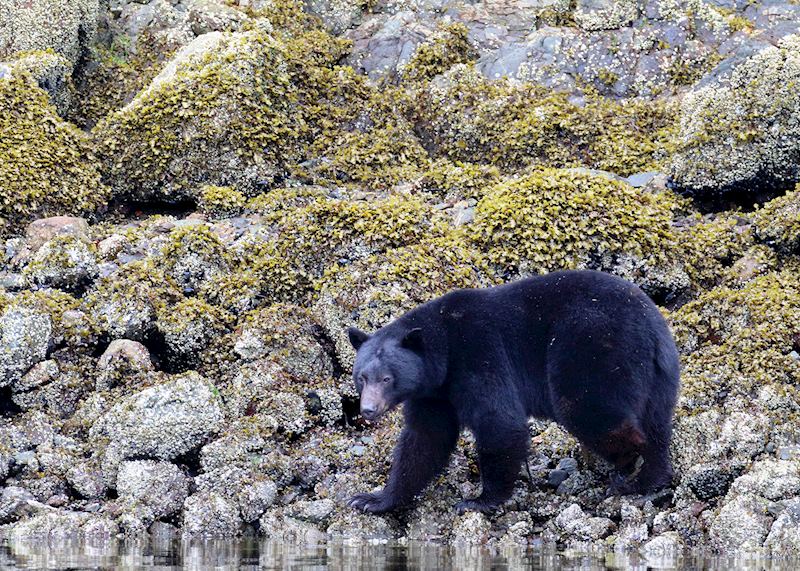 A UNESCO Biosphere Reserve, Clayoquot Sound boasts sheltered waters and a fir-lined, rocky shoreline. Here, at low tide, black bears forage for clams, crabs, and barnacles that have been left behind, carefully turning over rocks in search of a tasty morsel.
From Tofino, you can head out to spot them on an early morning Zodiac boat trip with a local guide who'll know the best places to find them. Their knowledge is so deep that they'll often be able to identify individual bears, and will help to give context to what you're seeing.
The shallow, low-impact vessel you're on means you're able to navigate corners of the shoreline larger boats can't get to, and with no engine noise you can get up close to wildlife with minimal disturbance. Your guide will help you spot the bears as well as seals, porpoises, orcas, and eagles, all while sharing more about the wider ecosystem.
Visiting Canada in winter?
Discover our top five active winter experiences to make the most of your time exploring the country under ice and snow.
Read more about trips to Canada

Start thinking about your experience. These itineraries are simply suggestions for how you could enjoy some of the same experiences as our specialists. They're just for inspiration, because your trip will be created around your particular tastes.
View All Tours in Canada