By Audley Oman specialist Sarah
Whether you're eating dates in the middle of a busy souq or spending the night in a desert, Oman offers a family-friendly introduction to the Middle East. Parents can be reassured by the country's peaceful history, while children feel like they're on an adventure of discovery.
Things to see & do in Oman
Visiting Muscat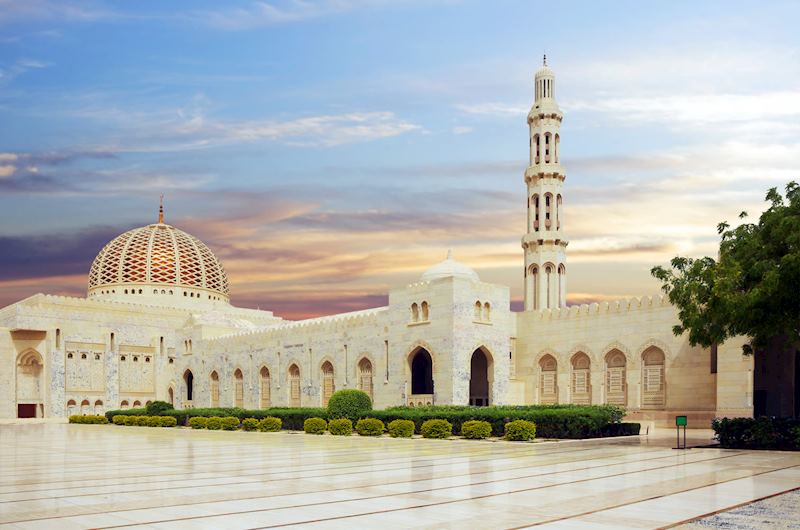 Crowded into the space between the sandy shores of the Gulf of Oman and the Hajar Mountains, the Omani capital provides a good introduction to the country. Spotlessly clean, the city has an architectural style that's remarkably consistent — the buildings all sport traditional elements, even if it's just a few arabesque windows.
The city takes full advantage of its many sandy beaches and you can sail, dive and snorkel in the clear blue water. I took a dolphin-spotting cruise on my last visit and saw a few of the sleek grey animals frolicking in the waves.
Built out of cool white marble, the Sultan Qaboos Grand Mosque seems to float on a watery haze where the sun shimmers off its long low walls and towering minarets. The mosque accommodates 20,000 worshippers and the prayer hall is richly decorated with finely detailed mosaics that combine abstract and floral designs. The vibrant handwoven prayer carpet is vast — it took more than 600 weavers over four years to create.
This modern masterpiece of Islamic architecture was completed in 2001, a gift from Qaboos bin Said al Said to commemorate his 30th year as Sultan of Oman. If older children and teens aren't interested by the cultural and religious significance, the sheer size and presence of the building might still impress. Visitors to the mosque must dress modestly, with all limbs covered, and women and girls older than seven should also plan to cover their hair.
Nearby, you'll find the fish souq, where fishermen sell the day's catch and you can watch residents haggle over baskets of octopus or piles of tiny silver sardines. You can also find souqs hawking a dazzling array of traditional goods, including embroidered clothing, pottery painted with geometric designs, piles of spices and ornate golden necklaces.
When I visit Muscat, I always take time to visit the Bait Adam Museum. Small but engaging, it offers a hands-on introduction to Omani history. Children can try on traditional clothing and headdresses and see recreations of the mud houses that were once prevalent in the region.
Where to stay in Muscat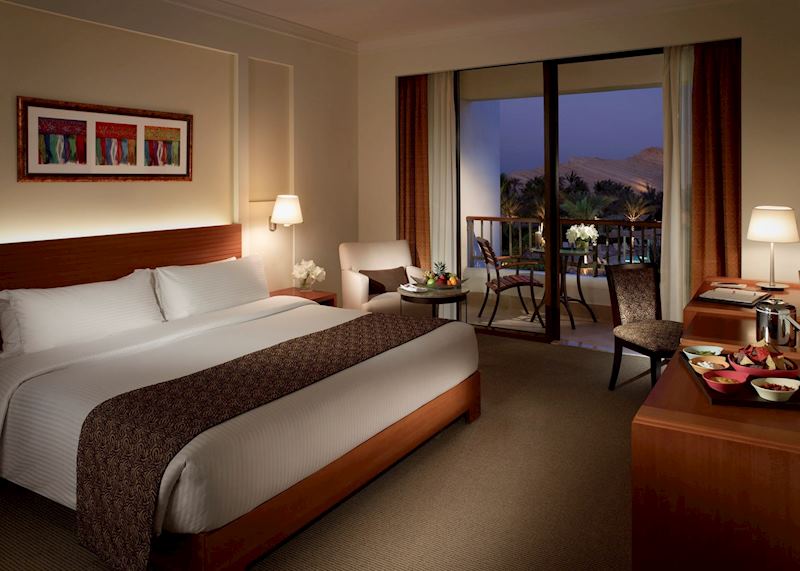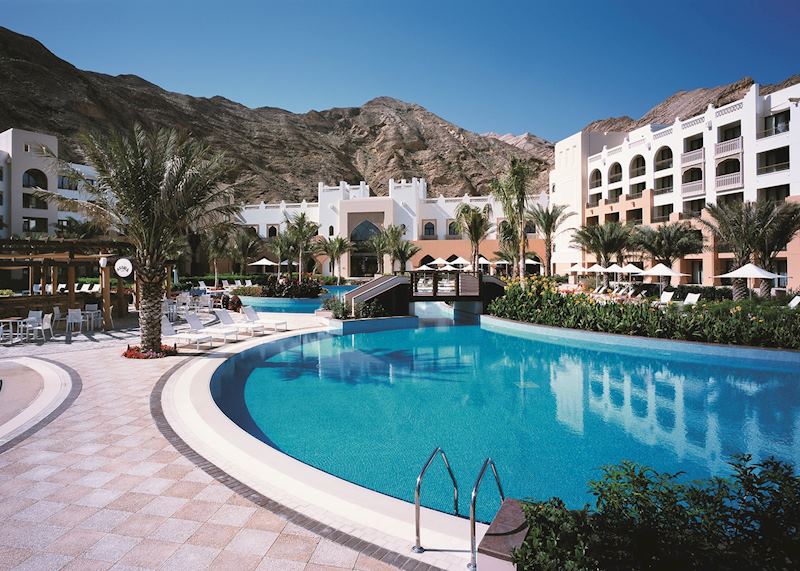 The Shangri-La Al Waha is specifically designed for families, with a children's club, several pools and tailored activities. Adults and children alike will appreciate the wide selection of more than 20 eateries.
Getting up close with turtles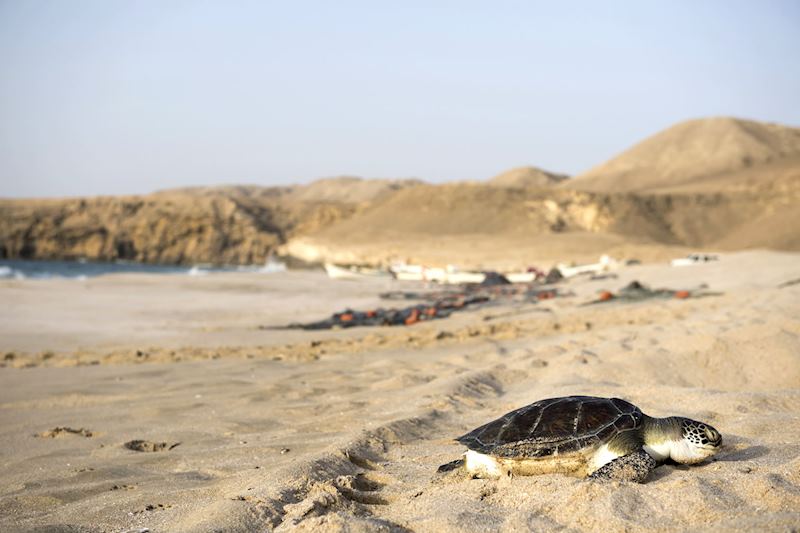 Three hours southeast of Muscat, the turtle reserve at Ras Al Jinz perches at the easternmost extremity of the country. It's dedicated to the conservation and preservation of the four species of sea turtles that nest on Oman's beaches.
A stay here helps support the reserve's efforts and gives you a chance to see these ponderous but lovely creatures in their own habitat. The very best time to see turtles is in July and August — when the heat is at its peak — but even in the spring and autumn you're likely to spot some.
Last time I visited Ras Al Jinz, it was spring, before the serious heat, but the briny wind off the ocean was warm even after sundown as my guide led me out onto the sand. Our only light was the dim glow from the screen of his phone, so I stepped carefully and slowly.
After a bit of searching, we came upon a large green turtle laying her eggs in the warm golden sands. When she was done, she used her powerful hind limbs to shovel the sand slowly over the pile of wrinkled white eggs before she turned unhurriedly to lumber down to the water.
As we turned to follow her, my guide gestured behind me. In the darkness, I could just make out a flock of tiny hatchlings swarming down to the water. The baby turtles seemed confused at first, but my guide used his phone light to lead the awkward, endearing creatures down to the inky black water, where they swam away into the night.
Where to stay in Ras Al Jinz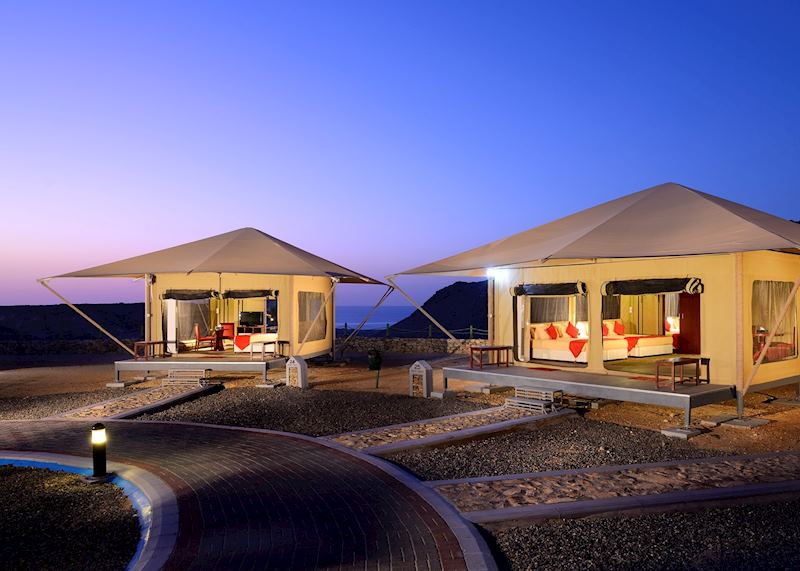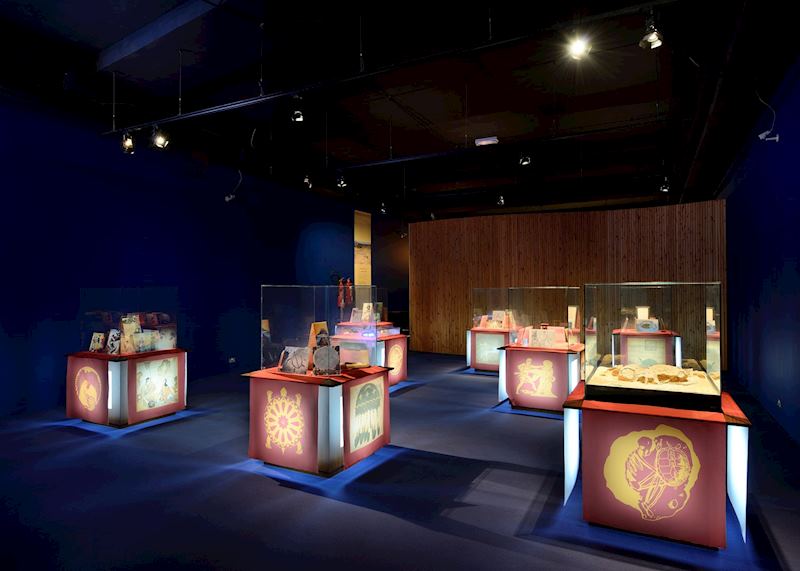 For families, I suggest Carapace Lodge, whose interconnecting rooms are simple but comfortable. Best of all, it's very close to the beach, which means you can wake up before dawn, when turtles are most active, and head down to the water to get another glimpse of them.
Night in the desert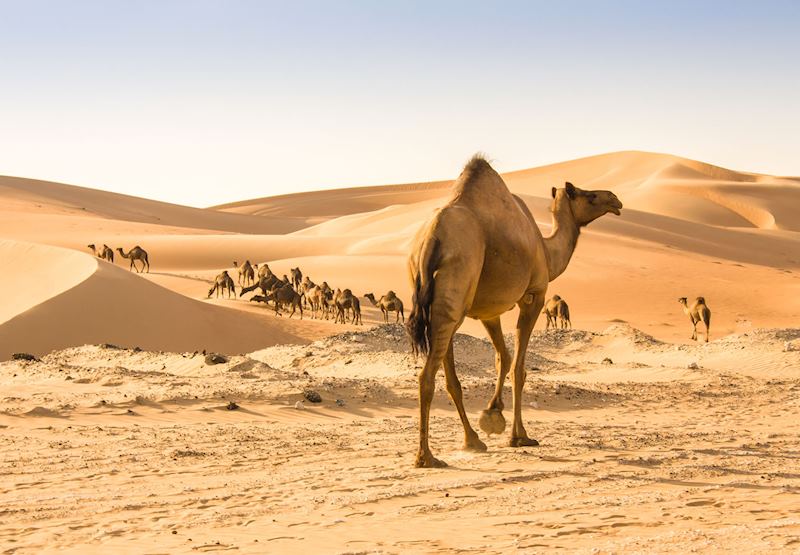 If you have never visited a desert before, little can prepare you for the vast and empty sea of sand that meets the sky in the far distance at a heat-hazed horizon. Spending a night in the desert is a big part of understanding Oman.
For a traditional form of entertainment, I suggest a ride on a camel. Gangly and awkward-seeming, camels are perfectly evolved to their harsh environment — the comically wide hooves keep them from sinking in the sand and the long, unwieldy legs lift them high above the sun-heated surface. Useful as beast of burden, mode of transportation and for eating, camels have long been a component of life in the Omani desert and to ride one is a jouncing, swaying journey into the country's past.
But, for me, the real pleasures of the desert come at night. You can watch the sun sink into the west from on top of a dune, and then laze around a fire as the sparks fly up into the velvety darkness. In the desert, far from light-polluting cities, the stars are thick and bright in the deep night sky.
Where to stay in the desert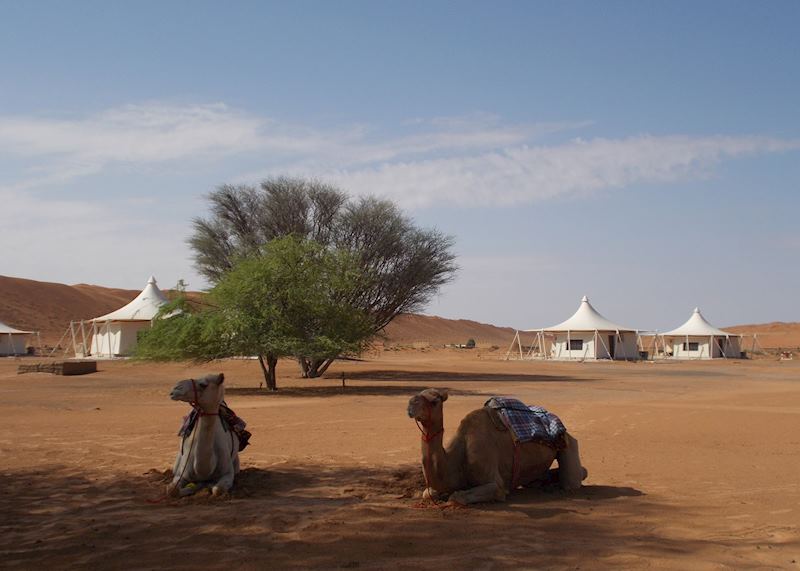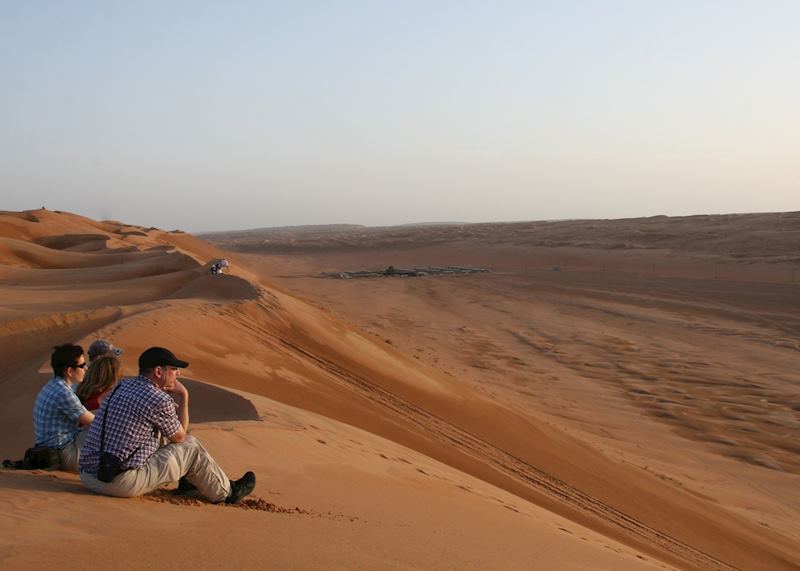 Desert Nights Camp in the Wahiba Sands provides an indulgent base for your desert adventures. The richly appointed tents are air conditioned and have connected bedrooms, a bathroom and a lounge area, with a fire pit outside.
Nizwa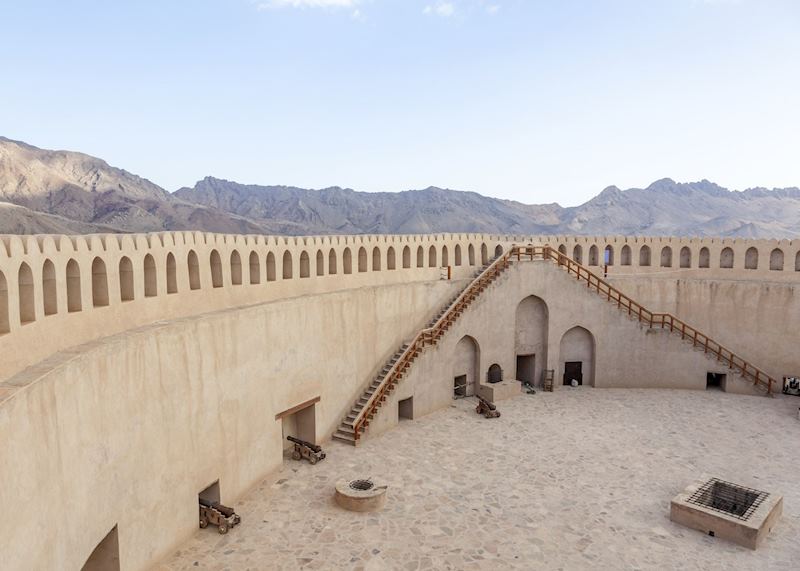 From the flat-topped buildings that seem to blend into the sandy countryside to the warren-like souqs, Nizwa seems only lightly touched by modern life.
I always try to time my visit to Nizwa for Friday to see the livestock market. Goats, bulls, sheep and the odd camel are brought in from the countryside, some of them herded in the traditional way and others arriving in the back of pick-up trucks. Owners then walk the animals around in a slow, sometimes noisy parade in front of white-robed buyers before the brisk bargaining begins.
Be forewarned — so many living animals (and their inevitable manure), baking under the hot sun, can result in an eye-watering smell.
The livestock market is hard up against the warren of souqs. These aren't carefully curated markets intended for tourist photographs, but places where you'll find locals buying their daily necessities — fishmongers butchering huge slabs of tuna, meat sellers with carcasses hanging from hooks, piles of nuts in roll-top bags, unpainted pottery and handwoven baskets.
I'm particularly fond of two markets. The huge date souq is stacked high with mounds, boxes and bags of the sticky dried fruit. Children can sample the many varieties, which range from semi-sweet to outrageously saccharine.
If that doesn't satisfy their sweet tooth, a visit to the halwa souq almost certainly will. A local confection, halwa is particularly popular during Ramadan. It's made from honey and sugar and scented with rosewater, cardamom, saffron or nuts, all boiled in copper pots big enough for a child to bathe in. You can watch the candy makers stir the bubbling syrup with their long wooden poles and smell the fragrant spices wafting up on the steam before sampling their wares.
Just beyond the souqs, Nizwa Fort seems to have been sculpted from the desert sands. The 17th-century fortress's smooth, almost-blank walls are topped with curved crenulations, presenting an intimidating façade. The most prominent feature is a huge round tower, which offers a commanding view of the date plantations in the surrounding countryside and the Hajar Mountains.
Where to stay in Nizwa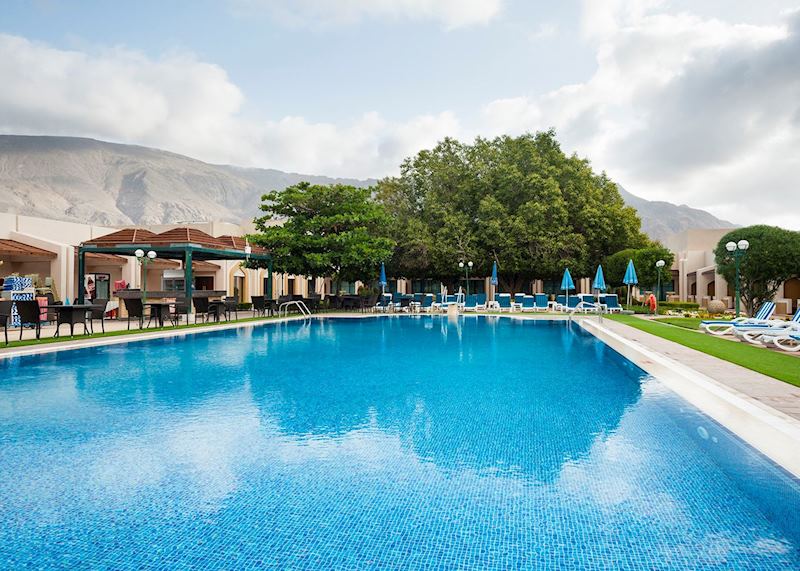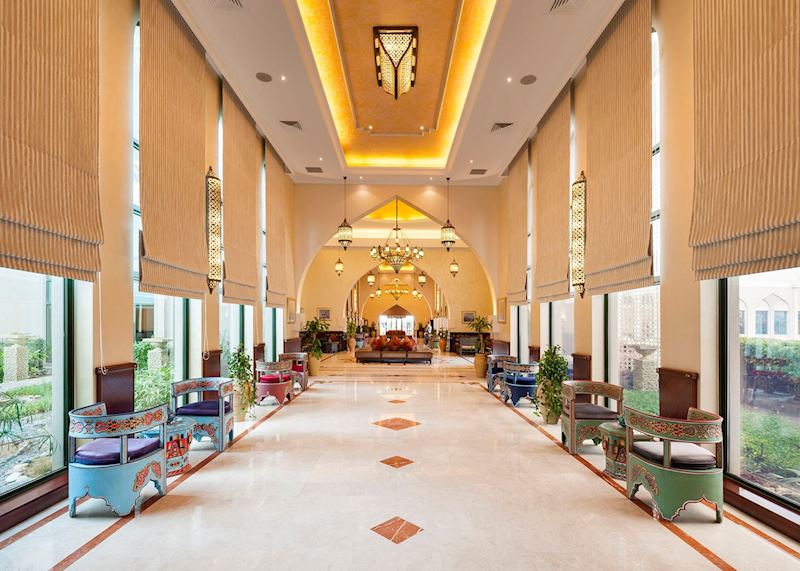 Nestled in the mountains just outside the city, Golden Tulip has interconnecting rooms and a big pool, which the hotel hosts a barbecue around once a week.
Oman's Grand Canyon
West of Nizwa, you'll find Jebel Shams, the highest peak in the country at 3,009 m (9,872 ft). You can't climb to the top, which is a military zone as well as fairly uninspiring. Instead, visit the so-called Omani Grand Canyon, a massive wadi (dry riverbed) carved from the mountain's raw stone. Sheer and sere, the towering cliffs seem made from rippled layers of grey and dun.
Despite the nickname, you won't find hordes of tourists or a geological museum here. What you will see are a few goats picking their way carefully along the vertiginous cliffs, and some rock huts that seem to cling to the walls. Now abandoned, these buildings were once the summer homes of local nomads, who'd come here to escape the desert heat.
Where to stay in the mountains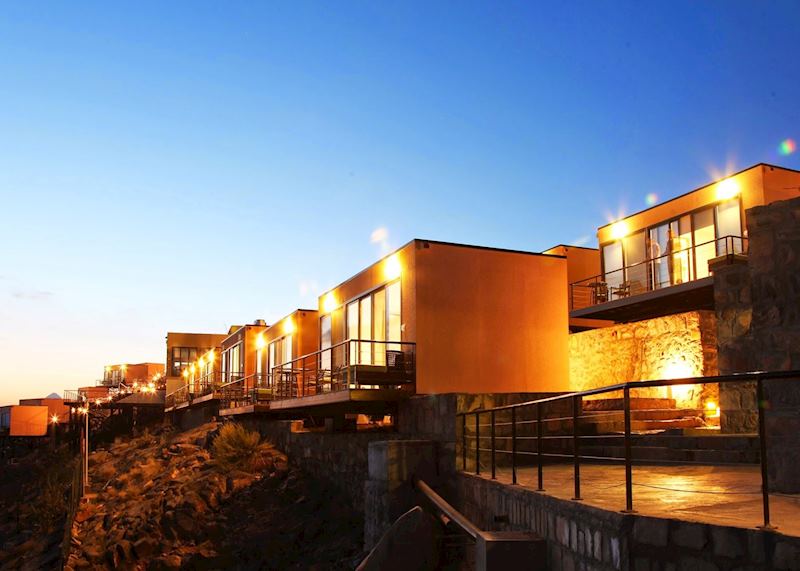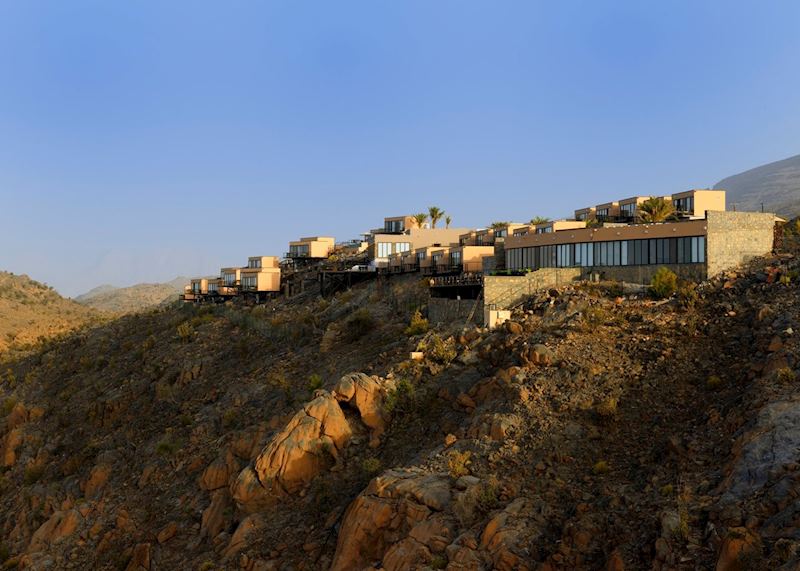 The rooms in The View hotel are comfortable and stylish, but, as the name implies, you come here for the view. Each room is perched at the very edge of a cliff, providing a panoramic vista over a receding landscape of stark red-rock mountains, brush-covered slopes, stone-littered wadis and, at night, glittering rivers of light that outline the streets in Al Hamra Valley.
What to eat in Oman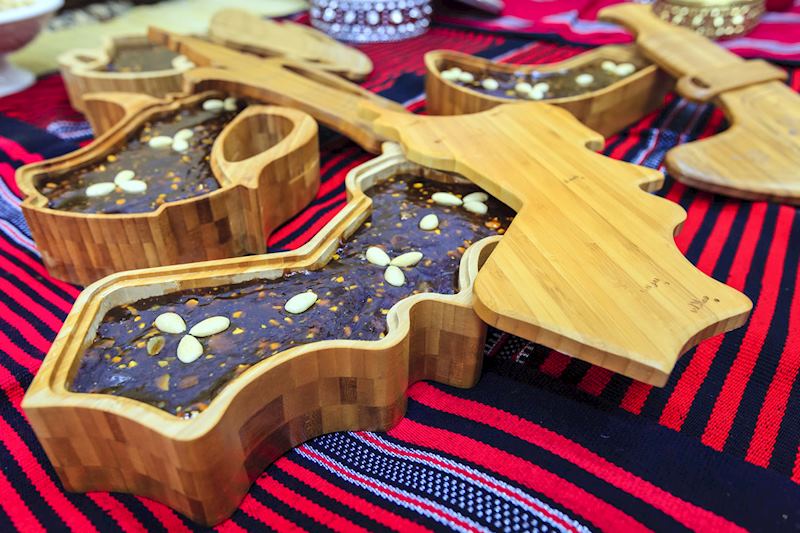 Oman has an international approach to food. Most restaurants are in hotels and serve a wide range of Arabian and Indian dishes, as well as Western and Chinese options. The most common menu items are shawarma, kebabs and curries, as well as dates and halwa for dessert.
Authentic Omani dishes are somewhat hard to come by in restaurants, but if you get a chance to try a version of the local dish called shuwaa, I suggest you do. Lamb is thickly coated in spices and wrapped in palm leaves, then buried in an underground oven to cook slowly until it's fall-apart tender. The highly seasoned meat is served over fragrant rice.
Best time for families to visit Oman
October to April brings endless sunshine and warm, dry weather to Oman, making it an excellent time to visit with your family. I suggest avoiding the country between May and September, when the heat becomes brutal. Also, Ramadan moves around the calendar and it can impact your visit, so plan accordingly.
Trip idea: family holidays in Oman

Start thinking about your experience. These itineraries are simply suggestions for how you could enjoy some of the same experiences as our specialists. They're just for inspiration, because your trip will be created around your particular tastes.
View All Tours in Oman