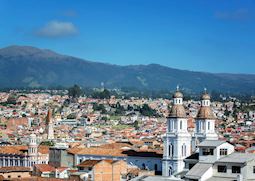 Ecuador is my favourite destination as it is a beautiful little country which offers a snapshot of South America as a whole. Coast, Andes, jungle, spectacular wildlife, fascinating people, rich history - it has it all.
As an avid admirer of jewellery and textiles from around the world, Ecuador's markets and indigenous cultures are a feast for the eyes. I love coming home with fluffy alpaca socks or delicate silver earrings and being reminded of Ecuador every time I use them.
The jewel in Ecuador's crown lies 604 miles off the mainland: the Galapagos Islands. These incredible islands really do have to be seen to be believed. A seven night cruise to the Galapagos is the best way to explore the islands, sailing overnight to reach new destinations every morning.