My first visit to the United Kingdom in 2016 was an experience that I will always treasure. Accompanied by a friend, we were both struck by the captivating charm and cultural significance of England and Scotland. We explored a range of scenic sites such as Seven Sisters cliffs and Brighton Beach, as well as the lively cities of London and Edinburgh. We were constantly in awe of all that the UK had to offer.
A few years later I had the opportunity to visit Ireland for the first time thanks to Audley. The natural landscapes, particularly the Cliffs of Moher and the Aran Islands, left a lasting impression on me.
The United Kingdom and Ireland have become my favorite destination, offering a diverse range of experiences that make for an endlessly fascinating and rewarding travel experience. The depth of culture and history, the natural beauty and the warmth of the people all contribute to make it a place I never tire of visiting.
Speak to Janna

Start planning your trip to Europe with Janna
Q&A with Janna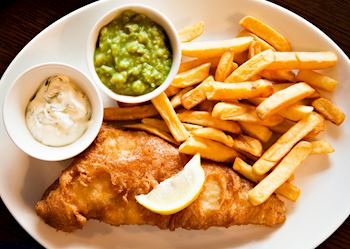 What's the best local dish you've tasted?
Definitely Scottish fish and chips. Unlike Cod, a fish that is commonly used in England, Scotland instead uses Haddock, which is superbly delicious. The fish was crispy on the outside and flaky on the inside, paired with the tasty tartar sauce. It was truly a memorable meal and it reinforced my belief that Scotland has some of the best seafood in the world. I was amazed by the freshness of the fish and how it was cooked to perfection. It is a classic that should not be missed when visiting the UK.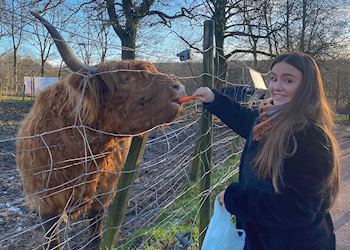 What's your most vivid travel moment?
One of my most mesmerizing experiences was the opportunity to feed deer and Scottish Highland cattle. As a big animal lover, it was a dream come true for me to be able to interact with these beautiful creatures up-close. The Scottish Highland cattle, in particular, with their shaggy coats and friendly personalities, were one of the highlights of my trip; being able to feed and pet them was unforgettable. It was a reminder that nature has a lot to offer and it was a real privilege to be able to connect with these animals in such a personal way, while also enjoying Scottish scenery.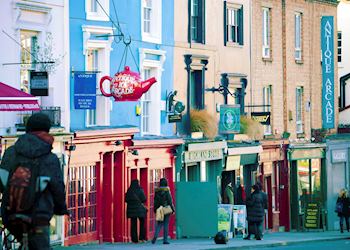 Which book, film or artwork captures the UK the most?
"Notting Hill" (1999) directed by Roger Michell. The romantic comedy starring Hugh Grant and Julia Roberts is set in the charming neighborhood of Notting Hill in London, and showcases the city's vibrant streets, colorful houses, and famous landmarks such as Portobello Road and the famous blue door. The film also includes scenes shot in other parts of London, such as Oxford Street and the British Museum. It gives a glimpse of the city's bustling atmosphere, as well as its quaint, residential neighborhoods. It also highlights the city's diverse cultural offerings, from its street markets to its art galleries. The film's depiction of London is both authentic and romantic, making it a great representation of the city as a travel destination.