Our Hidden Beaches collection gives you the option of a relaxing beach break at hotels and resorts hand-picked by our specialists. And if you'd also like a touch of exploration, you can combine your beach time with another activity, such as a wildlife or cultural experience, a city visit, or island-hopping.
The beach properties below have been selected by our Hidden Beaches specialists for the added value they offer you as a guest. This could be the incredible wildlife you can see close by, fantastic perks such as daily spa treatments or access to truly hidden beaches.
Bahia del Sol, Costa Rica
Bahia del Sol is a small hotel in a peaceful location, surrounded by tropical gardens with colourful birdlife and one of the best swimming beaches on Costa Rica's Guanacaste coast.
For a small hotel there are many excursions available including fishing, snorkelling and catamaran tours, and a small indoor spa offering a range of treatments.
Many of the rooms have their own private terraces or gardens with their own Jacuzzis and hammocks and there are breathtaking views at sunset.
Combine it with the Arenal Volcano region: Discover lush tropical rainforests and lava rocks created by past eruptions, look for sloths and squirrel monkeys, and walk the hanging bridges in the rainforest canopy.
Plan a beach escape at Bahia del Sol, Costa Rica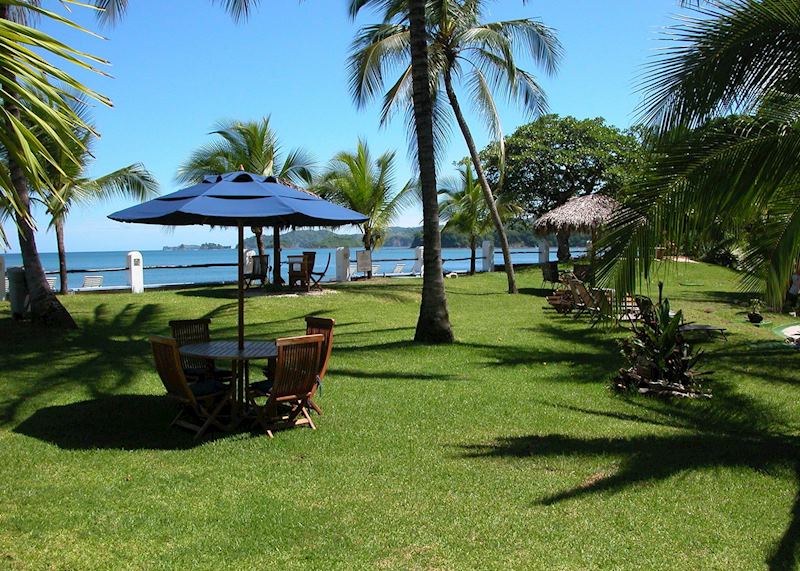 Jungle Beach Resort, Sri Lanka
Head to the undeveloped east coast of Sri Lanka for a relaxing escape at Jungle Beach, where you can enjoy excellent snorkelling and swimming in the calm seas of the natural harbour.
This resort is truly off the beaten track, away from the busier stretches of coastline, so you're guaranteed a relaxing stay. There is also the option of visiting the forest with an in-house naturalist to learn about the myriad of colourful birds nearby.
Combine it with the Cultural Triangle: Explore the UNESCO World Heritage Sites of Sri Lanka's Cultural Triangle including Sigiriya Rock, the temple caves at Dambulla and the ancient capital of Polonnaruwa.
Plan a beach escape at the Jungle Beach Resort, Sri Lanka
20 Degrees South, Mauritius
This mountains and beach combination allows you to experience two very different sides of Mauritius. Less expensive than many of its neighbouring hotels, 20 Degrees South is a firm favourite with our clients and specialists.
It offers a highly personal service. The hotel has a private catamaran, pool, spa and a variety of water sports available. And Grand Baie is close enough for you to take advantage of its bustling restaurants, bars and shops.
Combine it with a stay in the scenic Chamarel Mountains: This area is in easy reach of the Black River Gorges National Park where you can spot kestrels, brightly coloured parrots and the rare pink pigeon, only found in Mauritius.
Plan a beach escape at 20 Degrees South, Mauritius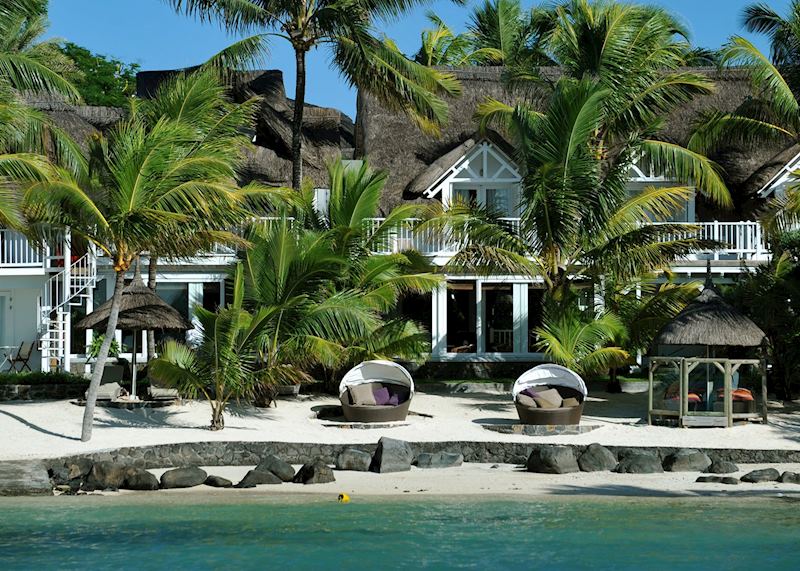 Spa Village Resort, Tembok, Indonesia
Stay at the secluded Spa Village Resort on the peaceful north coast of Tembok to enjoy free, daily spa treatments, yoga and meditation sessions beneath the waving palms.
Built with traditional Balinese materials, this sophisticated resort is full of local character and charm. You can star gaze on a floating platform on the ocean, go squid fishing by moonlight on a traditional Balinese jukung, dive among the coral gardens or just relax in the infinity pool overlooking the ocean.
Combine it with a few days in Ubud: Visit the cultural and spiritual heart of Bali, including the Ubud Palace, still home to the local royal family, and the bustling Pasar Seni Market where you can watch the talented traditional craftspeople at work.
Plan a beach escape at Spa Village Resort, Tembok
Tugu Lombok, Indonesia
Set on a beautiful beach, Tugu Lombok is a relaxed and intimate place to stay. Decorated with traditional antiques and sculptures that reflect Lombok's rich cultural history, this hotel receives consistently good feedback from our clients and specialists.
Take a short boat ride from Tugu Lombok to the tranquil Gilli Islands to make the most of the diving and snorkelling. We can also arrange for you to dine privately on the beach, in a temple or on a traditional dragon boat.
Combine it with a visit to Singapore: A fascinating contrast to the quiet island of Lombok, tour the city's bustling streets and wander through Chinatown for a taste of the delicious local cuisine.
Plan a beach escape at Tugu Lombok, Indonesia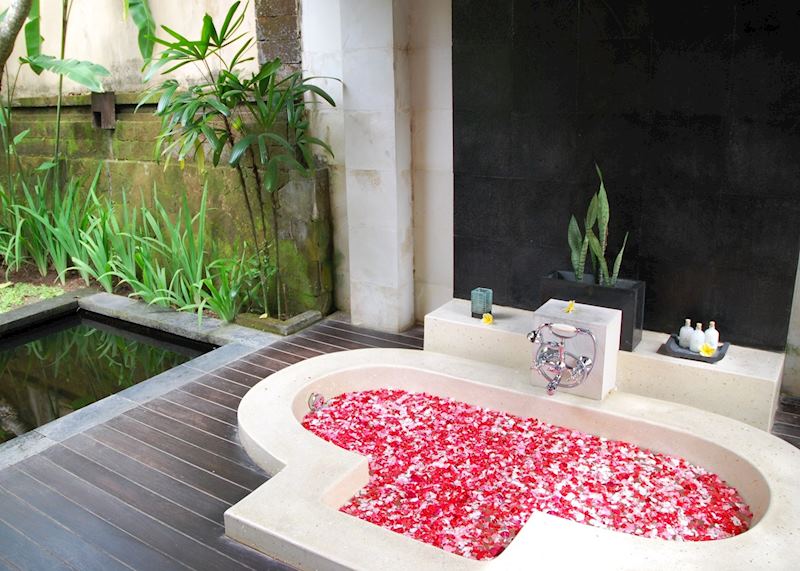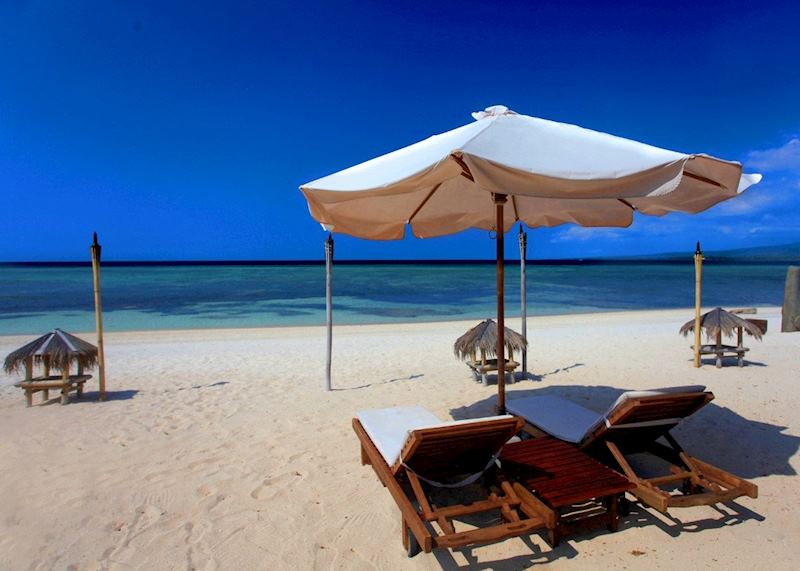 Gaya Island Resort, Borneo
Set on a small, undeveloped island covered in lush rainforest, Gaya Island is all about relaxation. Snorkel among the vibrant coral and marine life with a marine biologist, join a guided jungle walk or watch the sun set aboard a luxury yacht.
This resort is great value because of its high standards and the activities it offers. Indulge in spa treatments and yoga and take in the spectacular views from the rooftop restaurant overlooking the sea.
Combine it with a trip to see the orang-utans on Dalit Bay: Visit Shangri-La Rasa Ria Resort's orangutan rehabilitation sanctuary to observe the primates at feeding times. Set in a nature reserve on Dalit Bay, you can also explore the trails around the base of Mount Kinabalu.
Plan a beach escape at Gaya Island Resort, Borneo
Kurumba, Maldives
Retreat to the Maldives' original private island resort, Kurumba. Less expensive than many Maldive Island resorts, Kurumba is exceptional value for money.
Learn about local cuisine on a cookery course, listen to talks by the resident Marine Biologist, or sample the extensive range of spa treatments. Watch traditional boduberu dance and drum performances to gain an insight into local life and culture.
Combine it with Dubai: Immerse yourself in Dubai's gleaming modern architecture, buzzing souqs and scenic dunes.
Plan a beach escape at Kurumba, Maldives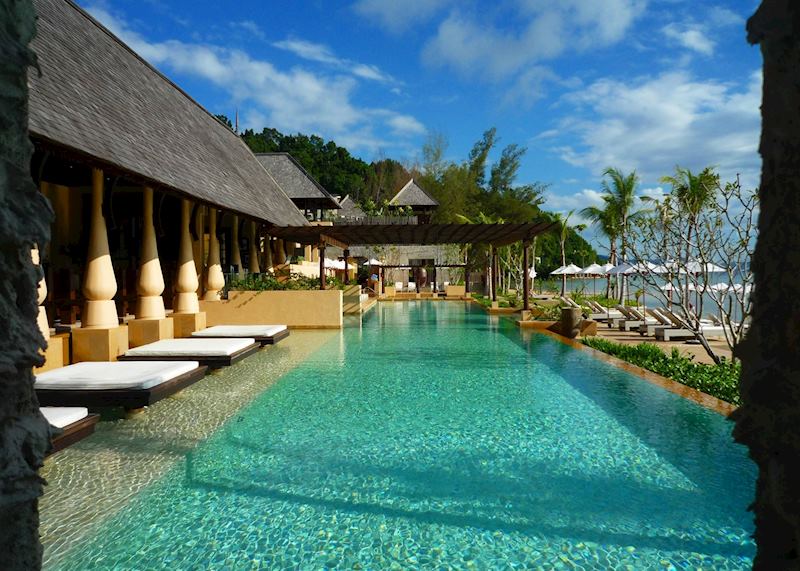 L'Archipel, Seychelles
Small and enchanting, L'Archipel in Praslin offers excellent value for money. Set in a secluded bay and surrounded by mature gardens, you can take snorkelling trips from the hotel's private boat, try your hand at kayaking or go windsurfing in the crystal-clear waters. This is a friendly hotel with great charm and character.
Combine it with another island in the Seychelles, sleepy La Digue: Observe island life where ox-carts and bicycles are the main form of transport. Explore the La Digue Vev Reserve like the locals do — from the saddle of your bike.
Barefoot Resort, Havelock Island, India
Get off the beaten track at the Barefoot's eco-friendly hideaway tucked away on the edge of pristine rainforest. Local materials, organic food and a strong commitment to the indigenous community are hallmarks here.
Take a yoga class, dive in the coral gardens or take an escorted nature walk through the dense rainforest in search of exotic birds and wildlife. All cabins have views of the jungle canopy and are built from responsibly sourced indigenous materials.
Combine it with a visit to Mahabalipuram: Explore the superb temples of this UNESCO World Heritage Site.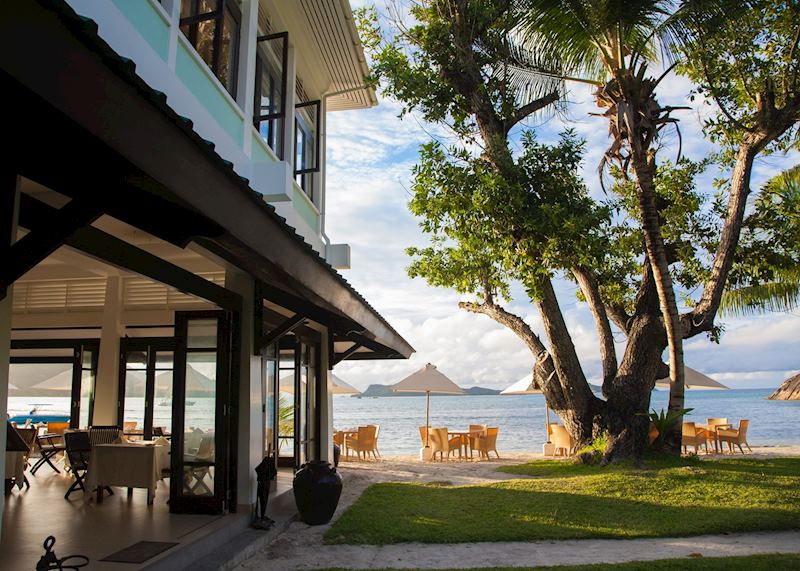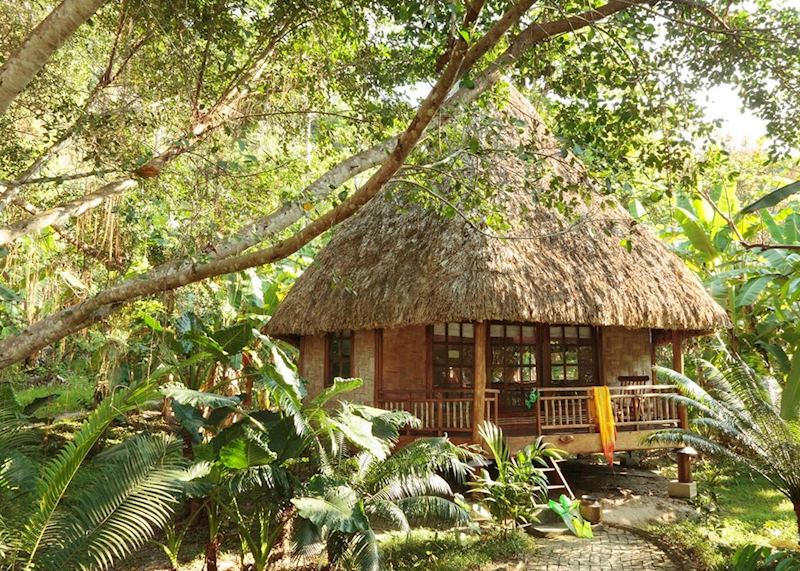 Further Reading