I first visited Peru in high school on one of my first trips outside the US. I was fascinated by the history, culture and cuisine and I knew I wanted to go back one day. Since then, I have studied Spanish, and visited many more Spanish-speaking countries, experiencing everything the language is connected to. I spent last year teaching English in Spain and touring around Europe, exploring different cultures and languages.
Through teaching English, my appreciation of languages and their impact on culture continued to grow. I still wanted to see more of South America, learn about Peru's history and discover the food and wildlife in Ecuador and returning with improved Spanish meant I got so much more out of my travels. As well as Peru and Ecuador, I'm also excited to share my love of both Hawaii and Alaska — having visited and experienced both.
Speak to Charlotte

Start planning your tailor-made trip with Charlotte
Q&A with Charlotte
What's the best local dish you've tasted?
One of Peru's more unusual dishes is cuy, guinea pig. Considered a delicacy since Incan times, there are many regional variations in the way it is prepared: in Arequipa they fry it whole, in the Sacred Valley, it's grilled on a stick, and in Cuzco, Jesus is even depicted eating roast cuy at the Last Supper in a painting in the cathedral. In a Cuzco restaurant called Chicholina, I ate it shredded on top of mashed yuca and lime-infused potato with a chili-mayo drizzle. Gamey, tender and low in fat, it was a great way to try it without having to eat it whole.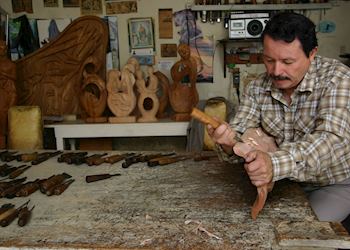 Where would you love to travel next?
I would love to visit the villages of northern Ecuador to see their artisans at work. Calderón is known for its masapán figurines, detailed mini sculptures made from bread dough, the people of San Antonio de Ibarra create intricate wood carvings, and Peruche's weavers use historic shuttle looms to create beautiful textiles.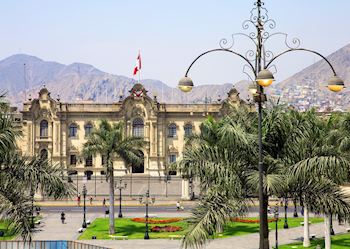 Which book, film or artwork captures Peru the most?
Conversación en la Cathedral, or Conversation in the Cathedral, is an ambitious novel written by Mario Vargas Llosa, a Peruvian author and winner of the Nobel Prize in Literature. It portrays different social classes in Peru during President Manuel A. Odría's dictatorship from 1948 to 1956 and focuses on the relationship between a minister's son and his chauffeur. Examining themes of corruption, the underworld and the workings of a dictatorship, it offers a fascinating insight into the history of Peru and its class structure during those years.