Liz, Argentina & Chile Specialist
I grew up enjoying road trips with my family all over the United States and later spent time living in Europe. I knew it was time to explore another part of the world however, and set off for South America with a friend. We spent six weeks making our way through Chile and Argentina and upon seeing the towers of Torres del Paine for the first time, I knew it wouldn't be my only visit to the national park.
I was smitten by the landscape and hiking the W Circuit in Torres del Paine and refilling our water bottles with glacial water flowing from the streams and rivers is one of my most memorable travel experiences.
I've started learning Spanish and it's been a great way to gain more insight into the cultures of Latin America and makes me even more eager to share my knowledge with others.
Speak to Liz

Start planning your trip to South America with Liz by calling 1-855-734-0456

Argentina
At the heart of Argentina's wine country, Mendoza is a handsome city of tree-lined boulevards and large plazas. The region, in Argentina's midwest, is blessed with a mild climate perfect for grape-growing. To the west the Andes form a natural border with Chile and on clear days you can see Cerro Aconcagua, South America's highest peak from the vineyards. When I visited, I was astounded by the incredible views and gorgeous weather and left with a very strong impression of the great hospitality ay local vineyards and the wonderful Mendoza wines.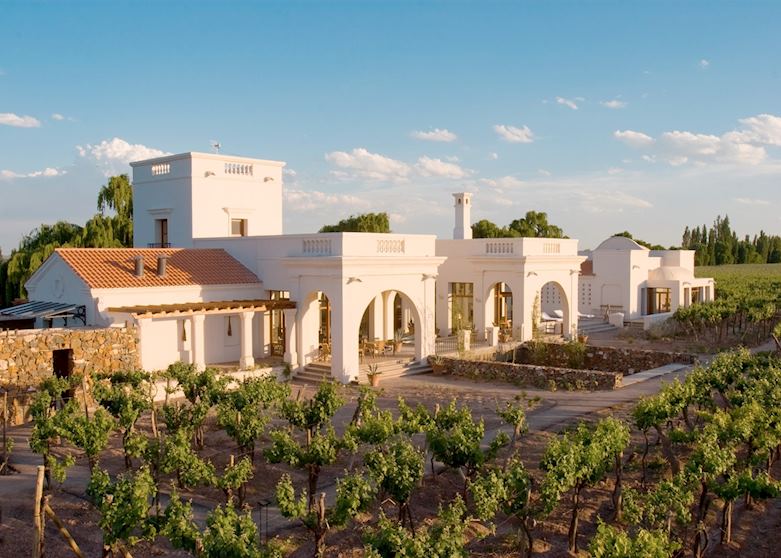 Argentina
A special place nestled among the vines of Mendoza, the Cavas Wine Lodge is an exceptional Relais & Chateaux property in the heart of Argentina's renowned wine region. Each of the sleek, adobe-walled rooms is secluded among the vines and features a private pool, terrace, and rooftop sun deck with a fireplace. The food and service are superb and in addition to the great hospitality and world-class, locally produced wine, you'll be treated to vivid sunsets over the Andes Mountains. If you're visiting this region of Argentina, don't miss it.
I'll never forget when…
Kayaking through the glacial waters of Lago Argentina for the first time was one of those moments in life where nature leaves you speechless. The turquoise-blue lake is home to the monumental Perito Moreno Glacier and we wore full-body dry suits to protect us from the cold. As we kayaked towards the glacier, we saw a massive piece of ice fall into the water, our kayaks bobbing up and down in the waves made by this giant freed berg. It was then I knew that Mother Nature was showing off, just for us!