Many of our Hidden Beaches hotels have been chosen because of their complete seclusion. You can forget the hectic world outside and just immerse yourself in an atmosphere of peace and tranquillity.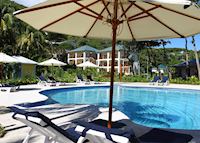 Discover the very different characters and landscapes of 3 different islands with a few days in Barbados and Grenada before heading to sleepy Bequia's beautiful beaches.
Visit La Digue, one of the most charming islands in the Seychelles, before escaping it all for a week on the exclusive and private Denis Island.