My passion for travel was ignited on an 18-month round the world trip in 2005. I have now visited over 40 countries and am always daydreaming about my next trip. On return to the UK, I set up my own business, an organic cafe in the historic city of Bath, as I love food. After five successful years of trading, I sold the business and decided to turn my passion for travel into a career.
I first joined Audley as a Southeast Asia Specialist in 2011, and became a Japan Specialist in 2016. I had an incredible time in Japan on an extensive research trip to experience the country as an Audley client would. I immediately fell in love with Japan's fascinating history and culture, spectacular scenery and of course the most delicious food.
Japan has so much to offer whatever your interests and I thrive on working with my clients to craft the perfect Japan itinerary for them.
Speak to Laura

Start planning your trip to Japan with Laura
Q&A with Laura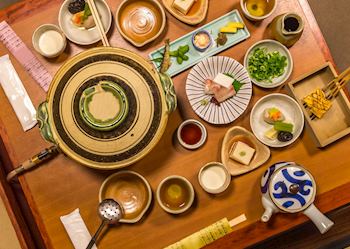 What's the best local dish you've tasted?
Japan is a foodie's paradise, from street food to fine dining you really can't go wrong. My favourite food experience was a traditional Kaiseki dinner usually served in ryokan (a traditional Japanese inn). I stayed at a small family run ryokan in the small Edo village of Tsumago in the Kiso Valley. After a wonderful afternoon walking the historic samurai trail, I sat down to an immaculately presented meal of about 8 small dishes including vegetable tempura, sashimi, the most tender beef which you grill on the flame yourself, a delicate miso soup, soba noodles, steamed rice and pickles — heaven!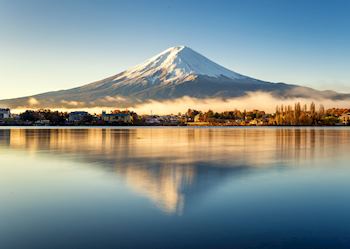 What's your most vivid travel moment?
I love walking and mountains so I was delighted to have the opportunity to climb Mount Fuji as part of my research trip to Japan. You can only do the climb in July and August so I felt so lucky to be there in the right season. The two-day trek is challenging due to the altitude and relentless climb, however the views from the summit at sunrise are simply magical. As the sun rose through the mist, the sky illuminated in other worldly shades of yellow, orange, blue and purple. The triangular shadow of Mt Fuji was cast against the sky, it was truly mesmerising.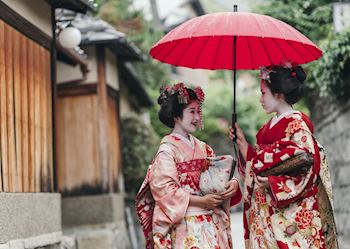 Your best piece of travel advice
If you are interested in learning more about Geisha as well as other aspects of traditional Japanese culture, I would highly recommend a guided tour of the Gion, the Geisha district in Kyoto. With one of our expert guides you will hopefully have the opportunity to discreetly observe Geisha as you stroll through the atmospheric backstreets and learn more about the elusive and often misunderstood Geisha. I was thrilled to see authentic Geisha in the flesh in their exquisite kimono and learnt so much about traditional Japanese culture.