I first visited Japan in 2008, taking the 'Beetle' ferry from South Korea to Fukuoka. I had become interested in East Asia via a history course I took while studying abroad in the United States and was immediately captivated by Japan's language, culture, people and scenery. This eventually led to me spending five years in a rural fishing town on the Japanese government's JET Programme. I taught English at a junior high school, became fluent in Japanese, carried a portable shrine in my town's festival, climbed Japan's Three Holy Mountains and toured the country extensively. After returning to the UK, I trained as a teacher, taught Japanese at a secondary school and continued to participate in cultural exchange schemes. Determined to follow my passion for Japan but keen for a new challenge, I was delighted to join Audley to help others explore, experience and discover the many wonderful things about this enriching country.
Speak to Malcolm

Start planning your trip to Japan with Malcolm
Q&A with Malcolm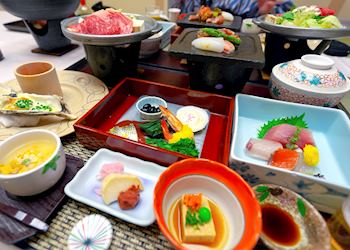 What's the best local dish you've tasted?
When in Japan you simply have to try kaiseki ryori, a traditional Japanese multi-course dinner. Staying at a ryokan, or Japanese inn, presents a great opportunity to try this elaborate form of Japanese haute cuisine. Locally sourced ingredients are always used so you're sure to encounter something new every time, and fresh vegetables feature heavily. One particular course at Biyu No Yado ryokan stands out for me. It featured a (very neat) log from which several mushrooms were growing, which the staff instructed me to twist off and grill over a little barbecue which was provided. They were delicious and, needless to say, extremely fresh.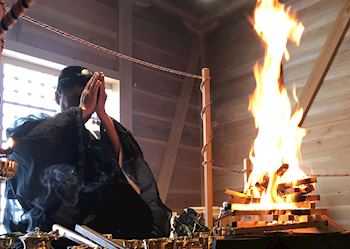 What's your most vivid travel moment?
My most vivid experience in Japan was staying overnight at a Zen Buddhist temple that functioned as a training centre for acolyte monks. Following the same schedule as the acolytes, I was woken at 4am and attended morning prayers with the other monks in the mountain prayer hall. The crisp, pine-tinged morning air mixed with the incense to create an ethereal atmosphere, and in combination with the monks' chanting and the dull boom of the bronze gongs, made for an unforgettable experience.
Which book, film or artwork captures Japan the most?
David Mitchell is best known in the UK for The Cloud Atlas. But for a Japanophile, The Thousand Autumns of Jacob De Zoet is more interesting. As well as being a good story, it's set in locations I love visiting myself. One of these is the must-see artificial island of Dejima in Nagasaki harbour, made by the Shogun to separate troublesome foreign traders and their new ideas from his subjects. The other is a fictionalised version of Mount Koya, the atmospheric mountain temple complex near Osaka in which Audley's clients can enjoy a temple stay. If you read the book, you needn't worry though — the monks we deal with are very friendly and kind, nothing like the nefarious fictional abbot Mitchell created.