Rebecca, Japan Specialist
Rebecca first visited Japan aged 16 as part of a school trip, and was immediately drawn to the unique clash of the very traditional and the ultra-futuristic. This trip inspired her to study Japanese language, culture and film at the University of Leeds, including a year living in Tokyo as an exchange student. During this year, she fell in love with the people, the vibrant city life, and developed a taste for sashimi and sake.
After graduation, Rebecca spent a year living in Osaka as an English teacher. She quickly found Japan's second biggest city to be a mecca for foodies, and particularly loves okonomiyaki and takoyaki. As well as struggling to learn the local dialect, Rebecca enjoyed finding great independent cafes, bars and watching local bands practice by Osaka castle.
After reluctantly returning home, Rebecca decided to turn a life-long passion for Japan into a career, by joining Audley Travel. When she isn't travelling, Rebecca is an avid movie goer, pub quiz enthusiast, and a lover of live music.
Speak to Rebecca

Start planning your trip to Japan with Rebecca by calling 01993 838 280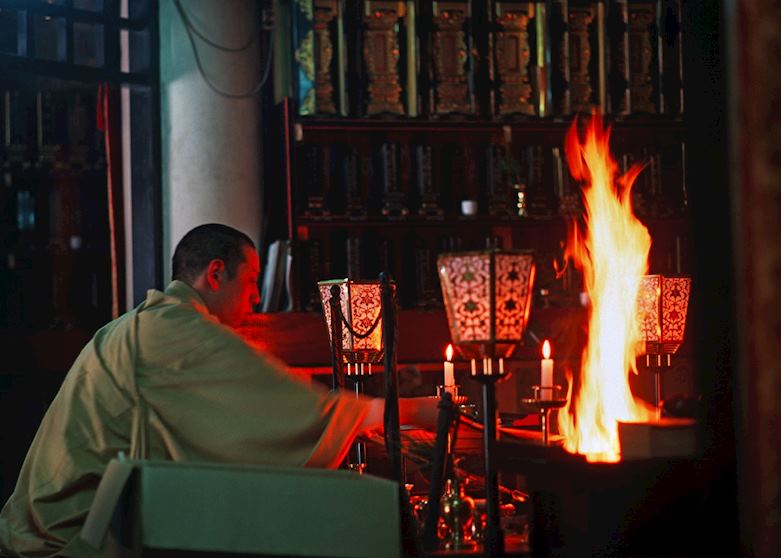 Japan
My first visit to Mount Koya was with Audley Travel, as part of a familiarisation trip. Upon stepping off the cable car to the summit, I quickly realised that this was a very special and sacred part of the world. Boasting literally hundreds of temples, Mount Koya is a World Heritage Site, bursting with history and authenticity.
I particularly recommend visiting the Okunoin cemetery - the largest in Japan. At dusk, the sprawling graves and lanterns (some over 1000 years old) are at once atmospheric, peaceful and otherworldly - there is simply nowhere else quite like it. If you're staying at a local monastery, we highly recommend taking a monk-guided evening tour of the graveyard, to explore the vast history of this mysterious and beautiful place.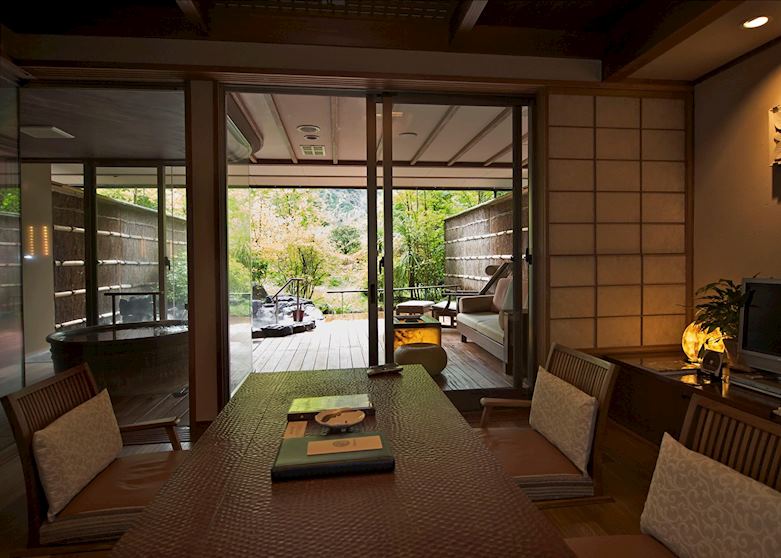 Japan
Whilst there are many things to see and do in Hakone, such as the national parks and museums, the real reason to visit is for the show-stopping mountain views. It's definitely worth spending a little extra on accommodation here to enjoy the breath-taking mountain views from the comfort of your own room, and private outdoor hot spring. For these reasons, my absolute favourite place to stay in Japan is the Hakone Ginyu Spa Resort.
This special place is the perfect combination between Japanese style ryokan, and opulent luxury. The Ginyu has an unbeatable Cliffside location, with all rooms facing a gorgeous, panoramic mountain vista. Every room here has a private veranda with comfy lounging chairs and your very own private hot spring. There is simply no better way to relax and take in the views - you'll never want to leave your room. I highly recommend visiting in the autumn, when you can enjoy the changing colours of the mountain leaves, and a cool breeze whilst bathing.
I'll never forget when…
My most memorable experience in Japan was during my first trip there with Audley. I was lucky enough to go on a Geisha walk in Kyoto with our top Geisha guide, Duncan. Walking the back streets of downtown Gion, we watched Geisha and trainee Maiko emerge from the machiya houses. The sound of their wooden geta on the cobbled streets brought me back in time, and their elaborate silk kimonos and graceful mannerisms were simply enchanting to see.