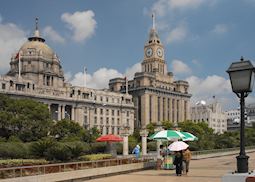 Shanghai epitomises China's economic success but there's a whole lot more to this dazzling mega city than designer thoroughfares and business high-rises.
The colonial architecture of the Bund and the leafy streets and villas of the French concession, reveal a charming character woven with excellent cafes, restaurants and boutiques. Chinese culture pulsates in busy laneways with open front eateries and food carts, locals playing card games outside their homes and weaving purposefully on bicycles. The diversity to be found within the city is a reflection of China itself.
I lived in Shanghai for almost two years so I'm pretty biased towards it, but in all that time I never tired of the Pudong skyline, which in my opinion, is the most impressive in the world.