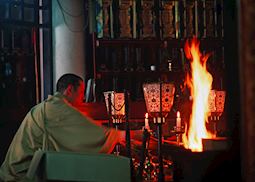 Mount Koya is the spiritual heartland of Japan and the birthplace of Shingon Buddhism. Now a UNESCO World Heritage Site Koya stands as a centre of pilgrimage for visitors from all over the world.
Uniquely, you can stay overnight in one of the authentic Buddhist temples dotted throughout the town and witness first-hand the monks chanting their fire rituals and way of life. The tomb of Kobo-Daishi, the founder of Shingon Buddhism, also lies here at the centre of the atmospheric Okunoin Cemetery.
Making a night pilgrimage to his tomb through the cemetery grounds with a local Monk to guide you is a profoundly atmospheric and spiritual experience.