Our free-of-charge Honeymoon Gift Service lets you organize your wedding gift list on your own personalized website.
How the Honeymoon Gift Service works
Once you've confirmed your honeymoon, we'll set up your honeymoon website.
You personalize it as little or as much as you'd like with details about your wedding and honeymoon.
Your family and friends visit to contribute to your honeymoon and check wedding details.
Guests can make a general contribution or buy a particular extra that's on your itinerary, such as a balloon trip.
Log in to a secure account area to update your website and keep track of contributions.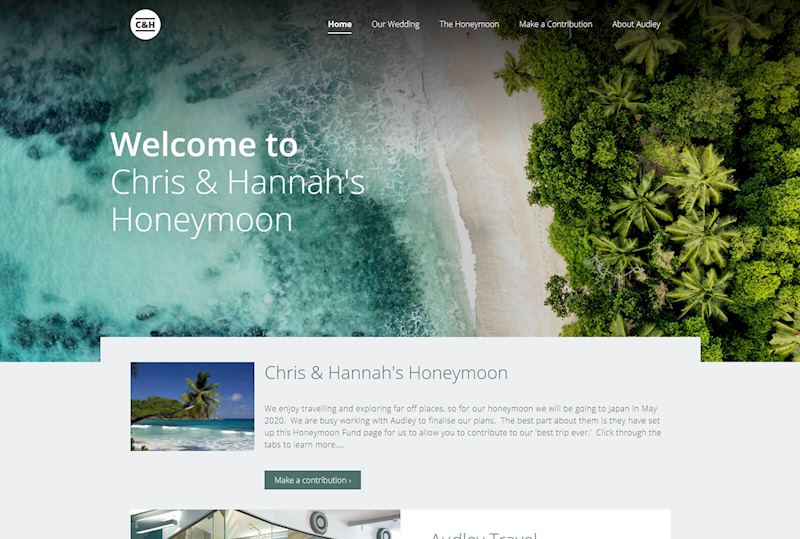 Telling your guests about the Honeymoon Gift Service
We'll send you honeymoon gift cards to put in your invitations. The cards have all the details your guests will need to contribute to your honeymoon through your website.
The cards come in a range of designs. Just pick the one you like best and we'll send you as many cards as you need.
Ways you can personalize your honeymoon website:
Choose an overall theme to tie in with your honeymoon destination, picking from a library of our photos.
Add details about the wedding day, including the schedule of events.
Include useful information for your guests, such as places they can stay and directions.
Upload a photo of you both.

How you'll receive your gifts
Eight weeks before your honeymoon, we'll ask you to pay your final balance less the contributions already received. Your guests can continue visiting your website and contributing until 3 days after you return. At this point, we'll reimburse you with all additional contributions.
Speak to us about your honeymoon
If you're not sure where to go, we can help you choose your honeymoon destination. Please talk to one of our specialists, who can also tell you more about our Gift Service.
Make a contribution
Making a contribution to a honeymoon account couldn't be easier.
Choose from one of the two options below to contribute to a friend or family member's trip and help them on their way to a truly unforgettable honeymoon.
Online. Visit our honeymoon website and log in using a surname and the date of the wedding to make a secure contribution online.
By telephone. Call our honeymoon team on 1-855-234-2083 to make a contribution over the phone.