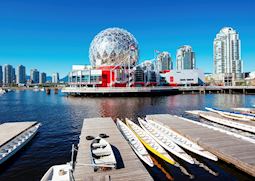 It comes as no surprise to me that Vancouver is considered one of the greatest cities in the world in which to live. The bustling seaport is surrounded by towering mountains and endless lush rainforest, and you can choose whether to explore it on foot or take in its natural beauty from above by seaplane.
Vancouver has something for everybody, with its rich First Nations history, diverse culture and cuisines, world-renowned vast Stanley Park, and downtown bars, restaurants and shops.
While in Vancouver I climbed the 'Grouse Grind', a challenging hike to the top of Grouse Mountain. The views are unbelievable and it's certainly the best place to look out over the city.