I first went to Ecuador and the Galapagos Islands 16 years ago as part of an expedition and have been lucky enough to return three times since. The Galapagos archipelago is a magical spot and arguably the best place in the world for close-up wildlife watching.
Having fallen in love with Latin America, I moved to Lima as an exchange student in 2011 as part of my master's degree in international development and took the chance to travel all over Peru.
I returned to South America on my most recent adventure as part of the crew on the GREAT Britain yacht during the Clipper Round the World sailing race. We crossed the Atlantic twice and sailed over 10,000 nautical miles between Liverpool, Uruguay and South Africa.
Travel is now simply part of who I am and I'm looking forward to sharing my passion and using my experience to help others plan their trips.
Speak to Antonia

Start planning your trip to South America with Antonia by calling
01993 838 679

Peru
The Sacred Valley in Peru combines dramatic scenery, indigenous culture and ancient ruins but remains a tranquil place with quiet villages and carpets of wild flowers on the plains. Even the drive here from Cuzco is impressive with scenic views and lots of Inca ruins along the way. Many of the ancient constructions are still used for farming and visiting local villages is a great way to get to know the Quechua people. The valley is also a great place for activities with gentle hikes along the valley floor, challenging treks and rock climbing in the foothills, and rafting on the Urubamba River.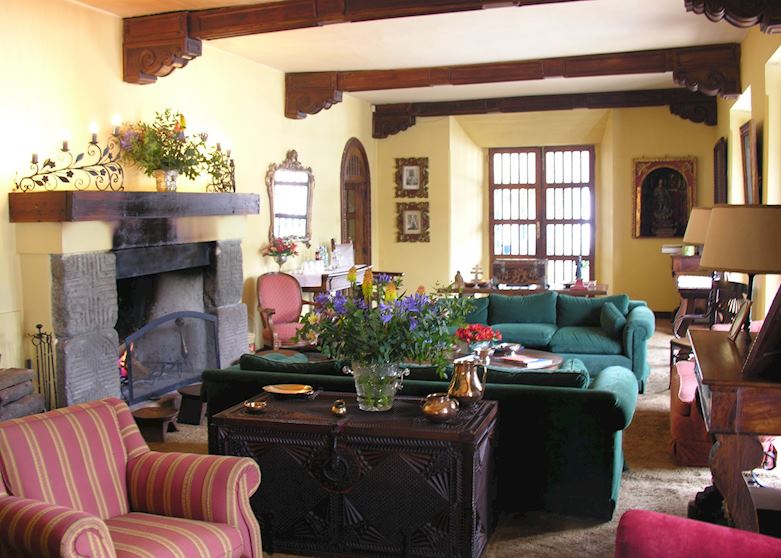 Ecuador
Built in the 17th century, Hacienda Zuleta was home to the family of former Ecuadorian president Galo Plaza Lasso. It is set in the Ecuadorian highlands close to the market town of Otavalo and is still a working farm. Everything here is made with love from the beautifully-decorated rooms to the delicious food and homemade cheese. There's a vast organic garden, stables with their own breed of horses, and a wealth of activities to choose from including horse riding, hiking, cookery or embroidery classes. If you can, I'd recommend staying at least three nights.
I'll never forget when…
My first ever multi-day trek through the Peruvian Andes was an incredibly challenging but rewarding experience. We were trekking for several days through valleys and mountain passes to Huascarán, Peru's highest peak, and sleeping in tents up to 4,800m above sea level. Getting up early in the morning to find cows and horses surrounding your tent and then watching the sun rise was amazing but the feeling of reaching the highest point of the trek after an exhausting climb was unforgettable. The view into the valley was framed by snow-capped peaks and crater lakes and was beyond spectacular and made the challenging hike up absolutely worthwhile.