After working as a teacher for several years in his native New Zealand, Matt decided it was time to finally explore the world. Several months of travel through Canada and Japan only strengthened his desire for further travel, so he decided to retrace his Dutch heritage back to Europe. Nine years later, he's still here — and every year that little bit more European. The one thing that hasn't changed in those nine years is his continued passion for travel.
He has established himself in the travel industry, working in several different roles including coach driver, tour guide and travel operations. This allowed him to work and travel extensively around Europe and the world, and now at Audley, taking him full circle back to New Zealand.
Matt has a unique understanding and in-depth knowledge of New Zealand that can only be achieved by growing up and living in the country for over 25 years. He is especially passionate about local cuisine, adventure activities, history — and like all kiwis — he loves a good barbeque.
Speak to Matt

Start planning your trip to New Zealand with Matt by calling
01993 838 796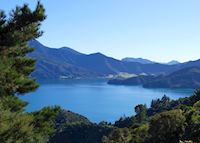 New Zealand
For as long as I can remember, Wanaka has always been my 'go-to' place to visit and the ideal location for both summer and winter trips.
Situated on the edge of pristine Lake Wanaka and watched over by the neighbouring Southern Alps, it has something for everyone all-year-round. Thousands of kilometres of trails and hikes make it the perfect spot for the day hiker and the adventurous mountaineer alike.
There's skydiving or Spitfire flights for the adventurous all the way through to golf and upmarket spa clinics for the more relaxed traveller. The list of activities on offer is endless from fishing to cycling, canyon adventures to horse riding, as well as Lord of the Rings tours.
Long been considered the little brother of Queenstown, Wanaka has its own charm and attractions that easily rival it. With so much to do, you'll never be bored.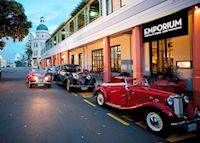 New Zealand
If you're looking for a hotel that has a character that perfectly reflects it's environment, look no further than the Art Deco Masonic Hotel.
First opened in 1861, the hotel has suffered fires and renovations, and in 1931, it suffered though the infamous Hawkes Bay earthquake, before succumbing to the fire that followed; a fire that destroyed most of the town. In 1932, the Masonic Hotel was redesigned and rebuilt, incorporating the latest art deco designs and resulting in the hotel we see to this day.
This hotel has been recently renovated with a range of room types all the way through to the Royal Suite, aptly named after its most famous guest, Queen Elizabeth II, who stayed here during her coronation tour of New Zealand. Add to this its fantastic central location and its award-winning onsite restaurant — called Emporium Eatery and Bar, you'll really feel a part of the art deco era during your stay in Napier.
I'll never forget when…
New Zealand is one of those countries that looks amazing from all angles. My most memorable experience was viewing the mountains, dense forests and blue waters from the air.

Flying from Wanaka to Milford Sound on a light aircraft, I experienced New Zealand from a completely new angle. Soaring over hanging glaciers and between snow-capped peaks, this remarkable flight gave me glimpses of Mount Aspiring, Mount Cook, and into mysterious Fiordland. From the air it was easy to pick out the sheer rock walls of Milford Sound and the tiny Alpine fishing and climbing huts.

Being able to land on the small runway in Milford Sound and experience a boat trip in this remarkable part of the world really was also special, and so much better than taking the alternative 13 hour return bus journey. I would totally recommend this option to everyone.