Linzi's passion for travel started when she moved to Spain for a few months at the age of 18. This gave her the travel bug and she started venturing farther afield, spending time in Europe, northern Africa and the USA, while also studying for her degree. This passion subsequently became Linzi's career and after working in the travel industry for two years she decided she didn't just want to provide trips for clients, she wanted to really experience a life abroad.
As soon as she had her work visa she set off for New Zealand, exploring the west coast of America on the way. Once in New Zealand, she quickly set-up home in Auckland and used this as a base to explore the country on her weekends. During her trips in New Zealand she explored further afield in the South Island and even hopped over to Australia.
On her return to the UK her love of travel meant she returned to the travel industry, providing luxury trips around the world — until she discovered Audley, which offered her the chance to really specialise in her favourite country. She has since returned to New Zealand, as well as spending time in the South Pacific Islands where she relished the scenic beauty and the laid-back lifestyle.
Speak to Linzi
Start planning your trip to Australasia with Linzi by calling
01993 838 827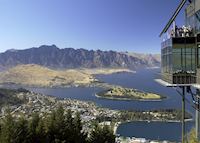 My favourite destination is Queenstown, which manages to meld both striking beauty and a reputation as the adventure capital of New Zealand. It's not often you find yourself in a place where can stroll around the shops and be surrounded by snow-capped mountains.
If you want to escape the hustle and bustle there are many scenic walking tracks in the surrounding area with some of the most picturesque views you could imagine.
Whether you like peace and quiet, plenty of activities, adrenaline sports or sightseeing, Queenstown really does have it all.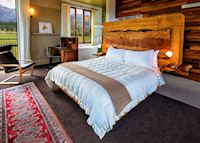 My favourite accommodation is Hapuku Lodge in Kaikoura. As soon as you walk into the lodge you know you are somewhere special.
The accommodation is unique in that some of the rooms are built up in the trees. It has some incredibly beautiful rooms from which you get both mountain and ocean views — but whichever room type you stay in you'll not be disappointed.
At Hapuku you really do feel completely isolated from the rest of the world, which for me was blissful.
Linzi's Most Memorable Experience
My most memorable travel experience was in the Coromandel in the North Island of New Zealand. There are so many scenic flights and tours available but my day spent with the tour company Kiwi Dundee really showed me the beauty of this country. They absolutely ooze adoration for New Zealand and everything that is natural to it; it's difficult not to walk away without being absolutely in awe of its landscape. It wasn't only the guides' enthusiasm but also their humour and the light-hearted tricks they played on us during the tour that made it such a wonderful time.