Miriam's passion for adventurous travel emerged from as young as 18 years of age, when she embarked on a hitchhiking tour of Europe, spanning ten different countries.
Since then, she has chosen to take a more immersive approach to travel, by living and working in Spain and Australia. However, it was during her law degree that she was presented with the opportunity to make a long-held dream a reality: to live and study in New Zealand.
Captivated by New Zealand's varied and unspoilt wonders, she took every chance to explore the landscape and delve into the kiwi culture. Horse riding through Lord of the Rings film locations, sighting a wandering albatross, and cruising through the magnificent Milford Sound, are just some of the many highlights.
Miriam is delighted to now share her knowledge and passion for her favourite destination by joining the team of New Zealand specialists at Audley.
Speak to Miriam

Start planning your trip to New Zealand with Miriam by calling
01993 838 703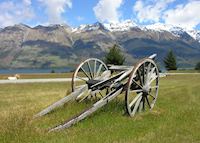 Irrespective of the direction in which you approach the unique settlement of Glenorchy, the journey alone will inspire.
This quaint town acts as a gateway to the Mount Aspiring National Park, which can be explored on horseback along the Dart River, or accessing some of the country's best walking tracks. However, my preferred way to experience the dramatic views is to take to the river itself. The Dart River Jetboat Safari provides an adrenaline-filled experience in a tranquil and secluded setting.
There is also the option to kayak on the iconic braided river and settle at a remote part of the valley for a picnic lunch. In my opinion, Glenorchy's bucolic landscapes are certainly befitting of the name "paradise".
Consistently one of the world's top retreats, Huka Lodge is an experience in itself.
Comprising 20 individual suites, the property is designed to maximise privacy and showcase the outstanding river views. The retreat effortlessly blends vibes of an authentic country lodge with modern luxury, binding it all together with unrivalled service.
With 21 unique and separate dining locations throughout the property, you are sure to experience a new perspective each evening.
I'll never forget when…
From the quaint airport of Kerikeri, I took a scenic flight by light aircraft to the northernmost extremity of New Zealand. I could smell the sweetness of the grass as we landed in a remote field, from which we walked to the iconic lighthouse of Cape Reinga. This is the significant point at which the Tasman and the Pacific seas collide, giving spectacle views.