Visit Mara Naboisho Conservancy, Kenya
Lion battling for territory, rutting and grunting wildebeest flooding the plains and hyena packs whooping their whereabouts under cover of darkness. Spend just a short time in the Mara Naboisho Conservancy and you soon forget there's a world beyond the animal kingdom.
Naboisho means 'coming together' in the Maa language, symbolic of the 500 Maasai landowners who joined to contribute land for the conservancy's creation. The result? A large area of grassy plains and rocky hills on the eastern edge of the Masai Mara National Reserve that has become a haven for animals big and small, while also benefiting local communities.
The Mara Naboisho Conservancy is the second largest of the Greater Mara's conservancies, and one of the most beautiful. The Ngama Hills rise in the distance, streams run across the open grassland and acacia trees dot the landscape, some showing tell-tale signs that elephant have recently passed through.
The conservancy is probably best known for its big cats, particularly lion, with a pride of around 20 (the largest in the Greater Mara region) roaring, prowling and snoozing their way through the land. This doesn't put other wildlife off, and you'll see large numbers of wildebeest, twitchy Thomson's and Grant's gazelles, topi (which are only found in the Masai Mara and the Serengeti) and dazzles of zebra populating the plains as you explore on game drives.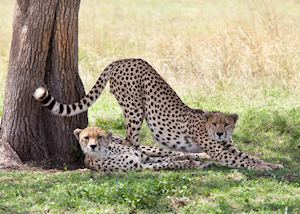 With the help of experienced guides, many of whom were born and raised in the area, you also have a good chance of seeing elephant, Masai giraffe and cheetah on your twice-daily game drives. The conservancy covers a migratory corridor between the main Masai Mara National Reserve and the Loita Plains, allowing hundreds of thousands of animals to continue their natural migratory patterns.
A safari here feels more exclusive than in the main reserve. Fewer camps means fewer visitors, so you're unlikely to see many other vehicles while out and about. And, just four vehicles are permitted at any wildlife sighting, ensuring animals remain undisturbed and your safari experience isn't tainted by big crowds.
Staying in a conservancy rather than the main reserve has other advantages, too. You have a wider choice of activities here, including bush walks that focus on interpreting animal tracks, listening to and identifying birds, finding out the different uses Maasai have for local plants and zooming in on smaller creatures such as insects and reptiles.
Game drives can continue after dark, giving you a chance to see nocturnal species such as bush babies, African hares, bat-eared foxes, nightjars and predators on their night-time hunt. And, your vehicle is able to go off-road to follow (from a respectful distance) big cats and other wildlife you come across.
The conservancy fees from your stay are fed back into the local Maasai communities, providing them with an income and improved education and healthcare. This not only ensures a sustainable livelihood, but also provides the Maasai with an incentive for conserving wildlife.
The communities are also permitted to graze cattle on the land. You might see Maasai men and women herding sheep, goats and cows as you venture through the conservancy. It's a reminder of how humans and wildlife are interlinked and the importance of living harmoniously for the benefit of all.
Best time to visit Mara Naboisho Conservancy
You'll see plenty of wildlife whatever time of year your travel, but wildebeest numbers skyrocket during the Great Migration, which usually occurs between July and October. You're most likely to experience rain between March and May, but it shouldn't impact on your safari experience and you'll see fewer other visitors at this time.
Speak to someone
who's been there

Start planning your tailor-made trip to Mara Naboisho Conservancy by contacting one of our Kenya specialists
Map of Mara Naboisho Conservancy
Places & hotels on the map
Places near Mara Naboisho Conservancy
Photos of Mara Naboisho Conservancy