My love of travel began early on with family trips around Europe, Egypt and Canada. Since childhood I've been on several solo adventures to Southeast Asia, New Zealand, South Africa and the USA, and for the last two years I've been working abroad.
I started my USA adventure with an arts trip to New York and have been back several times since, returning to work in Maine at a summer camp, exploring the area and the surrounding states in my time off. My recent trip to the USA took me to the Pacific Northwest and California, driving down Highway 101 from Seattle to Los Angeles, stopping to search for elk in Olympic National Park, explore the food culture of Portland, gaze up at the giant redwoods and hike the waterfalls of Yosemite. I'm excited to be able to share my local knowledge and inspire others to visit these incredible places.
Speak to Meg
Start planning your trip to the USA with Meg
01993 838 755
Q&A with Meg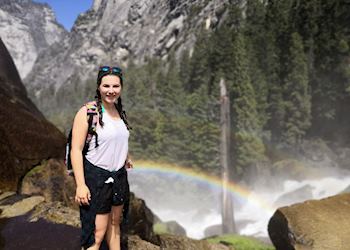 What's your most vivid travel moment?
I hiked the Mist Trail in Yosemite after a late snowfall. The water level was higher than normal and within minutes of arriving at the first waterfall I was absolutely soaked through from the mist, but this, along with the sun shining through and creating rainbows in the mist, made it feel like more of an adventure. Reaching the summit of the second waterfall, we dried off our clothes and had lunch looking out over the valley as we listened to the thundering falls, and in that moment I had a sense of contentment, satisfaction and awe that I had never felt before.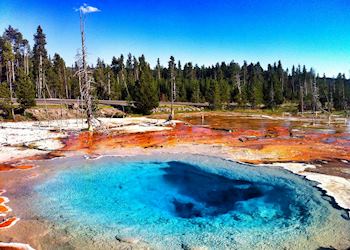 Where would you love to travel next?
Next on my list is Yellowstone National Park. As an avid lover of nature, I'm eager to see the park's geysers, the bison roaming and the Grand Prismatic Spring, the largest hot water spring in the country. It's one thing to see it all in pictures but going there would be a whole different experience.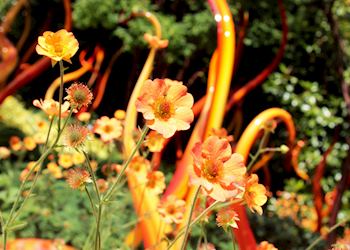 Which book, film or artwork captures the USA the most?
While in Seattle I visited the Chihuly Garden and Glass at the Seattle Centre. Dale Chihuly is an American glassmaker who draws inspiration from the Pacific Northwest and in this garden you can see glass baskets inside each other, canoes filled with glassworks inspired by local Native American tribes, a towering sculpture that reflects the space needle, and a garden of glass flowers native to the region. His artwork captures the local area in an unusual and eye-catching way and the exhibit is definitely worth stopping to see.