My passion for travel sprang from a three-month road trip to California and Nevada after I finished my history degree. Touring national parks such as Yosemite, relaxing on the beaches of Los Angeles and San Diego, and driving across the desert, the diversity of the landscape just blew me away. Since then, my passion has blossomed into a career and I've experienced a huge variety of destinations and cultures along the way. I spent two years working in the travel industry in Australia and Canada and was lucky enough to stay at a floating grizzly bear lodge in the wilds of British Columbia and explore the remote backwoods and scenic mountain routes aboard the Rocky Mountaineer and the Alaska Railroad. I simply love the landscape of Canada and Alaska, its sheer scale puts your place in the world into perspective and offers an intriguing insight into how our landscapes are formed.
Speak to Richard

Start planning your tailor-made trip with Richard
Q&A with Richard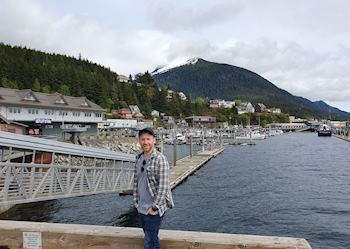 What's the one thing you always pack?
I simply can't travel without my power bank. It has saved me countless times when my camera and phone batteries have been close to running out. It's so frustrating not being able to take a photo of a place you've dreamed of visiting simply because your battery is low, and a power bank solves the problem instantly.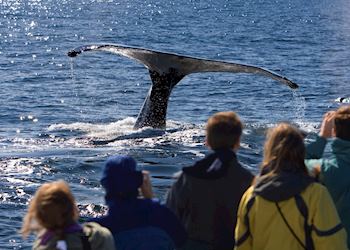 What's your most vivid travel moment?
Relaxing in an Alaskan hot tub while watching whales slap their tails against the surface of the sea just beyond the shoreline is something I'm unlikely to ever forget. It really was an exhilarating experience watching these majestic animals in such a scenic location. The mountains beyond were topped with snow and mirrored in the calm waters of the Inside Passage as the whales swam about seemingly oblivious to our presence. They were so close I could hear them breathing through their blow holes as I sipped on a glass of prosecco.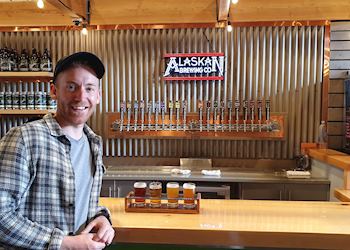 Which book, film or artwork captures Alaska the most?
I'd recommend watching the American biographical survival film, Into the Wild, for some inspiration before a trip to Alaska. The main character, Christopher McCandless chooses to embark on a journey into the wilderness after becoming increasingly discontent with the modern, capitalist world. The film captures the natural drama of Alaska and the lure of its wide-open landscapes wonderfully. You can visit a replica of the bus from the movie in Healy, just north of Denali. It's located at the 49th State Brewing Company which is a popular spot for locals and tourists alike.