Sally's love of travelling started from a young age, having lived in America and Germany as a child. Over the years, her interest in the exciting world around us and desire for an adventure has taken her trekking in northern Africa, rowing in Malaysia and volunteering in Honduras.
Travelling to India for the first time, she fell in love with the people and the colour of this vast country. Spending time working in a Tamil orphanage gave her a unique insight into the Indian way of life. Whilst volunteering she had the unique opportunity to explore some of the lesser-discovered rural parts of Karnataka and Maharashtra. She has also enjoyed travelling from the tip of Kerala up the west coast all the way to Mumbai, discovering the beauties of this part of the country and becoming a seasoned traveller on the Indian trains.
At university, Sally seized the opportunity to find out more about the countries she loved travelling to, and decided to study international relations in Nottingham. On completing her degree it was an easy choice for Sally to join Audley, where she could share her love of India with others and facilitate trips to the country she knows and loves so much. Since joining Audley, Sally has revisited her beloved South India as well as getting the opportunity to spend time in Rajasthan, where she fell in love with the colourful cities and rich history of this vast state.
In her free time, Sally enjoys staying as active as possible, be it preparing for her next 'Tough Mudder' or heading out into the countryside on her bike.
Speak to someone who's been there
Start planning your tailor-made trip by calling one of our destination specialists on 01993 838 300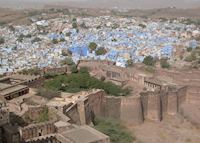 I absolutely loved the city of Jodhpur. Compared to other cities in India, Jodhpur feels untouched by time due to its maze of tiny streets and ancient, crumbling buildings painted bright blue. The 'blue city' makes a fascinating place to wander through, with everything you could possibly imagine on sale and groups of retired men sitting out in the street playing cards.
With the centrally located clock tower acting as a great site to get your bearings, it's an easy place to spend an afternoon browsing the market stalls and soaking up the atmosphere of this bustling city. All this activity is set within the shadow of the mighty Mehrangarh Fort, which rises high above the city and is a truly impressive sight.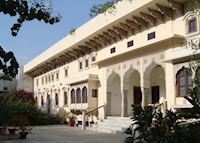 It was a real joy to stay at Dera Mandawa in Jaipur. The staff are all lovely, and Mr. Singh, the owner, is an eccentric, warm-hearted man who has many fascinating stories to tell. The property itself is bursting with character, and Mr. Singh seems to have a tale behind many of the pieces of furniture - be it a childhood woodwork project or a rusty mirror that he personally rescued and restored.
The rooms are beautifully finished, each with its own quirky features, helping to make a stay at Dera Mandawa incredibly colourful. Tables are set up in the picturesque courtyard, making meal times a truly atmospheric experience. With the 'pink city' only a short walk away, this really is a fantastic base whilst staying in Jaipur.
I'll never forget when…
My most memorable experience was taking dinner on the rooftop restaurant of Pal Haveli in Jodhpur, with its fantastic 360-degree views of the city. It doesn't get much better than enjoying the biggest Thali meal I've ever seen whilst looking onto the majestic Mehrangarh Fort; which is beautifully lit up at night.

However, what made this experience even more memorable was the fact that I was there during Diwali, meaning that I was surrounded by the sights of fireworks being launched into the night sky and the sounds of celebrations in the streets drifting up to the rooftop restaurant.