By Canada specialist Jon
Canada's Maritime Provinces have remained firmly under the radar. I like it this way. Fishing villages have maintained their character, where clapboard houses perch on stilts at the water's edge. Locals are proud of their European roots, speaking in dialects and accents that blend Irish, Scottish, English and French. And, empty roads hug the rocky shoreline, giving you far-reaching views over the ocean.
The whole region is like a country within a country. You'll find plenty to do in each province, no matter where your interests lie. Visit the place where the Canadian Confederation was signed. Go whale watching in the Bay of Fundy. Or, follow Nova Scotia's Cabot Trail — one of the most striking coastal drives in the country.
How to explore Canada's Maritime Provinces

Cape Breton Highlands National Park, Nova Scotia
With much shorter flights from the UK and Ireland compared with the west, you can often fit more into one trip. The best way to get around this region is by self-driving. Roads are quiet and generally well maintained. And, unlike the west, drives are never longer than five hours.
You could drive the loop that takes in Nova Scotia, New Brunswick and Prince Edward Island, beginning and ending in Halifax. Alternatively, you could explore Nova Scotia or New Brunswick (via Halifax) in depth on stand-alone trips.
Things to see and do in Nova Scotia
I could instantly see why this province was named after Scotland. Green hills rise and fall across the land, sliding and crumbling into the ocean. Lighthouses cling to the rocky coastline. And, pubs and bars host bagpipe playing, along with the occasional ceilidh. The whole province feels wild and untamed.
You'll find influences from both the French and British settlers here, blended with a prevailing Canadian maritime culture.
Halifax
Peggy's Cove, Nova Scotia
Despite being Nova Scotia's capital, Halifax feels more like a town, both in its size and the small-community spirit of its residents.
During your stay, you could explore Citadel Hill, a fort above the city whose outer walls make the shape of an eight-pointed star. The current incarnation dates from the 1800s, and its museum tells the military history of the province. Visit around midday, and you'll see the firing of the noonday gun.
I also recommend dining on seafood, delivered to waterfront restaurants each morning (the lobster is a particular highlight). I wasn't a big seafood lover before, but the freshness of everything I tasted changed my mind.
Strolling along the wooden boardwalk on the waterfront, you can browse shops and galleries housed in historic buildings, or visit the Canadian Museum of Immigration at Pier 21. Then, in the evening, I recommend dipping in and out of the city's British-style pubs, which often host live Celtic music.
Lunenburg and the Lighthouse Route

Lunenberg
As you drive out of Halifax, rather than sticking to the main highways, I'd follow smaller scenic roads that wind around the coastline. The Lighthouse Route between Halifax and the 18th-century UNESCO-designated town of Lunenburg sticks to Nova Scotia's southern coastline exactly, weaving around secluded bays and inlets. Make a stop at the small fishing village of Peggy's Cove to visit Peggy's Point Lighthouse. With its postbox-red lantern room, white octagonal tower and commanding position on a shelf of wave-smoothed rocks, it's one of the most photographed lighthouses in Canada.
Founded in 1753, Lunenburg was one of Nova Scotia's first British colonial settlements. Wooden buildings, painted in greens, pinks, blues and lobster-red, cluster on a slope overlooking the harbour where fishing vessels come and go.
Exploring the town's quiet streets, you can nip in and out of craft shops and galleries, and eat at restaurants serving seafood chowder, Lunenburg sausage and Solomon Gundy (marinated herrings paired with sour cream). You could also visit the Fisheries Museum of the Atlantic, which houses an aquarium and historic fishing schooners.
Kejimkujik National Park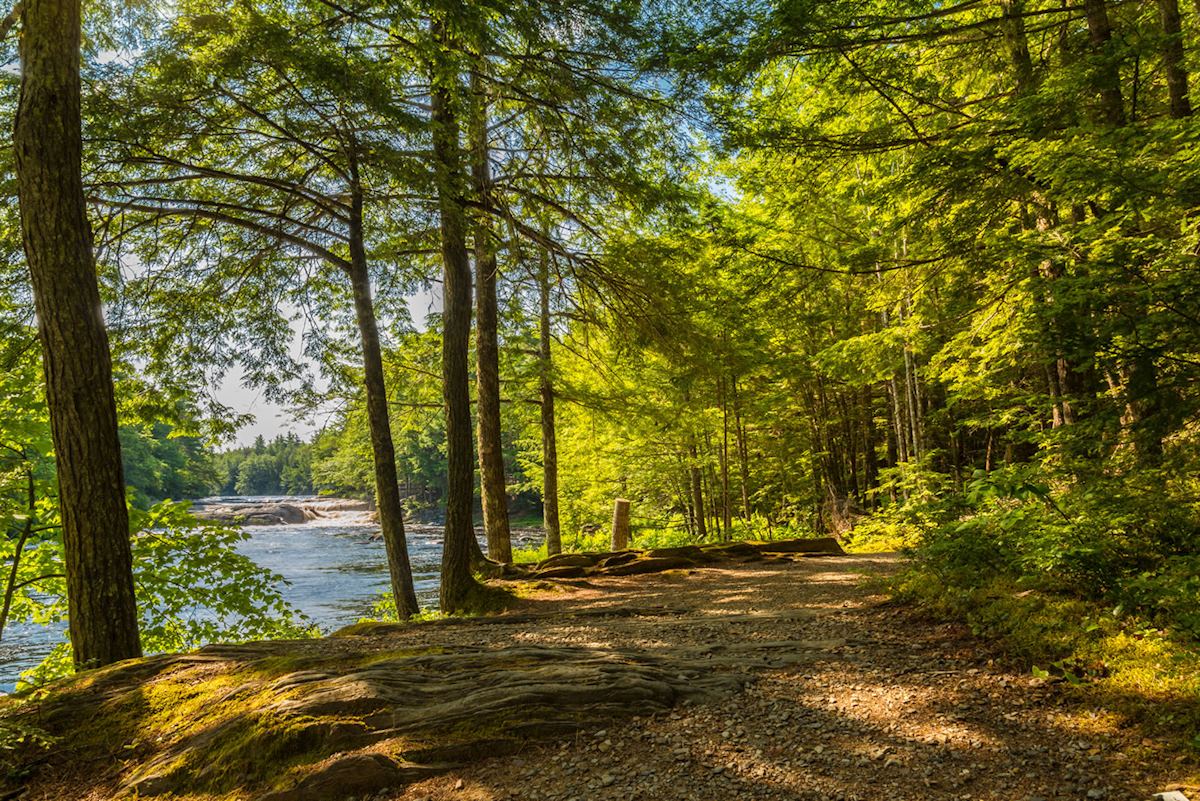 Kejimkujik National Park
This park of dense old-growth forest and glassy lakes makes a good stopping point if you're heading southwest across Nova Scotia toward Annapolis Royal. You could pause to picnic, or take longer to kayak or canoe along some of the park's waterways or follow the woodland walking trails.
I like the 2 km (1.2 mile) Mill Falls Trail, which begins from the visitor centre and traces the banks of the Mersey River. You can picnic with views over the frothing water of Mills Falls — a series of waterfalls and rapids.
Driving the Cabot Trail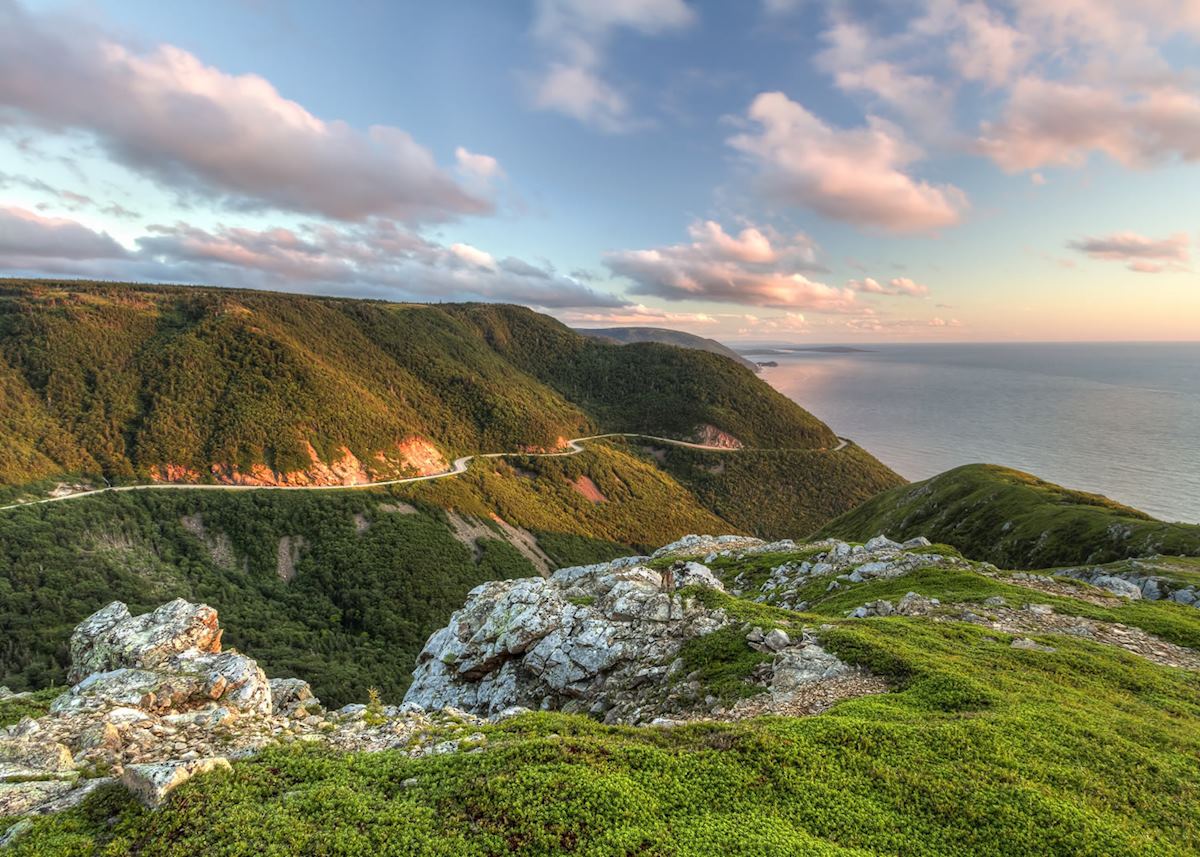 Cabot Trail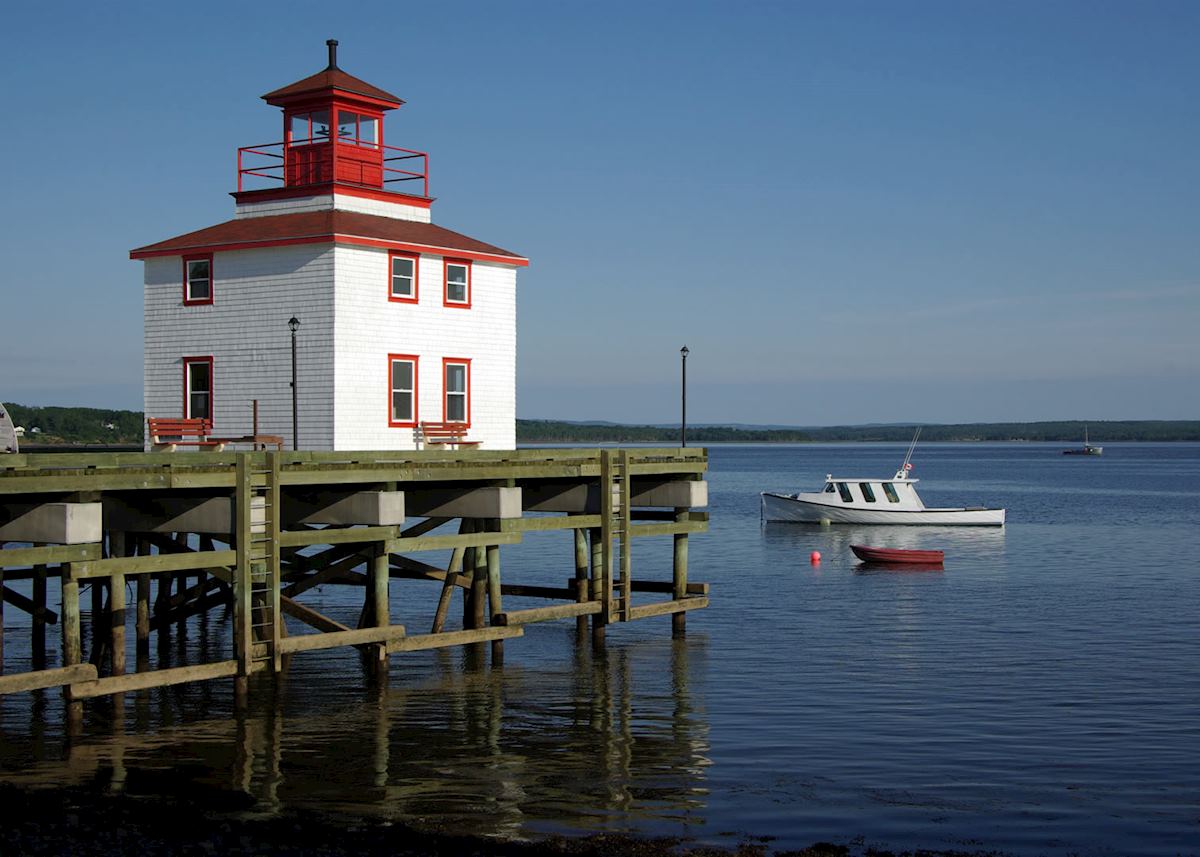 Lighthouse in Pictou
If you're driving a loop through New Brunswick and Prince Edward Island, this 297 km (185 mile) drive usually comes toward the end of your trip. A short ferry ride takes you back to Nova Scotia from Prince Edward Island, landing in the town of Pictou. The first Scottish settlers landed here in 1773, and you can see a replica of their ship, Hector, at the Hector Heritage Quay.
The Cabot Trail starts and ends just outside the village of Baddeck, curling around the ancient highlands of Cape Breton Island's northern tip. Cliffs plunge into the ocean as gulls and eagles soar overhead, and you might pass the occasional moose by the roadside. I found the best photo opportunities came when I pulled over at a bend, which opened out the next stretch of coastline with the road twisting along it.
You can drive it all in one go, which takes around four hours. But, I recommend staying overnight at Chéticamp, which gives you a couple of days to explore the trail in earnest. You could stop to follow walking trails in Cape Breton Highlands National Park, with seafood restaurants providing sustenance.
Things to see and do in New Brunswick

Prince Edward Island
New Brunswick was one of the first areas of Canada to be settled by Europeans, namely the French, in the early 17th century. It still holds onto its Acadian French culture, particularly in the north, and is Canada's only officially bilingual province.
But, along its southern coast a more British-Canadian culture takes over, with seaside towns like Saint Andrews by-the-Sea offering a quintessential Atlantic Canada stay. You reach New Brunswick via a short ferry ride across the Bay of Fundy from Digby to Saint John, sticking to the southern coast on the journey eastward toward Prince Edward Island.
Whale watching in the Bay of Fundy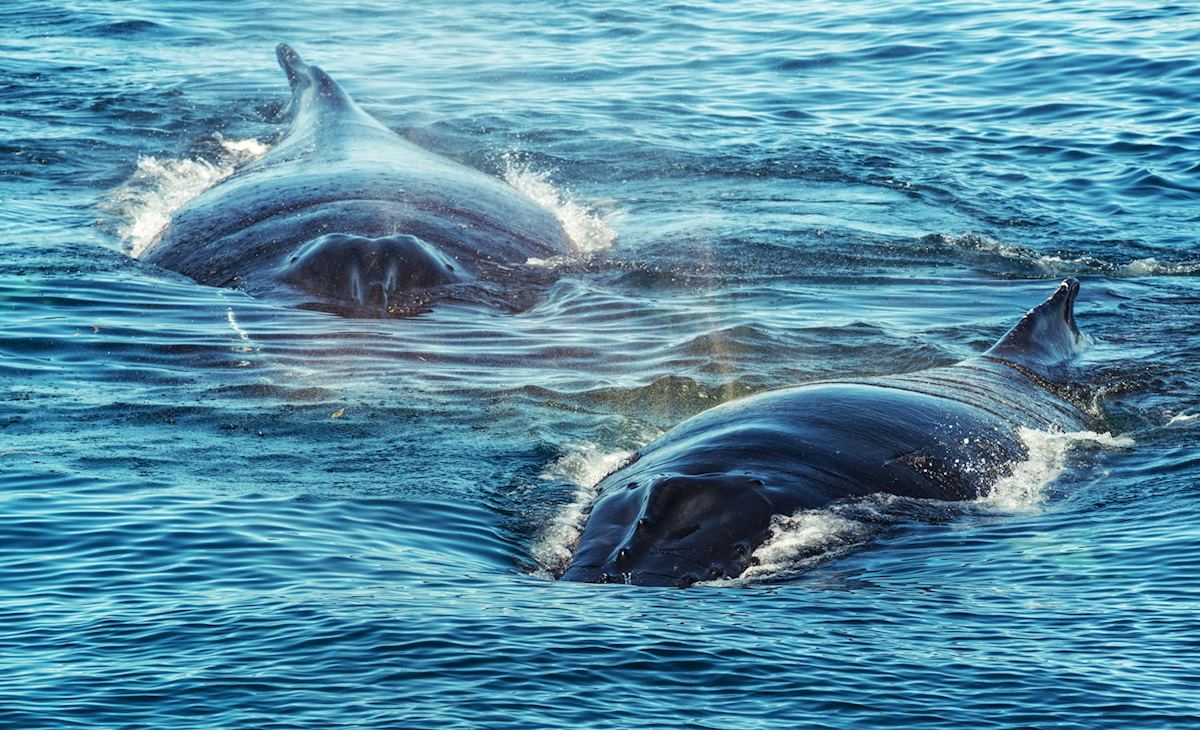 Humpback mother and calf, Bay of Fundy
The stretch of water between Nova Scotia and New Brunswick provides a summer feeding ground and nursery for humpback, minke and finback whales. You can head out on a boat trip to see them from either side of the bay. From the deck, you observe them up close feeding on plankton, spraying plumes of water and smashing their tails onto the water.
The plankton attracts large schools of herring and mackerel, which in turn brings dolphins, seabirds and seals to the bay. Your on-board guides are experienced naturalists who can help to spot and identify the different species, as well as telling you about the bay's geology and history.
The world's highest tides in Fundy National Park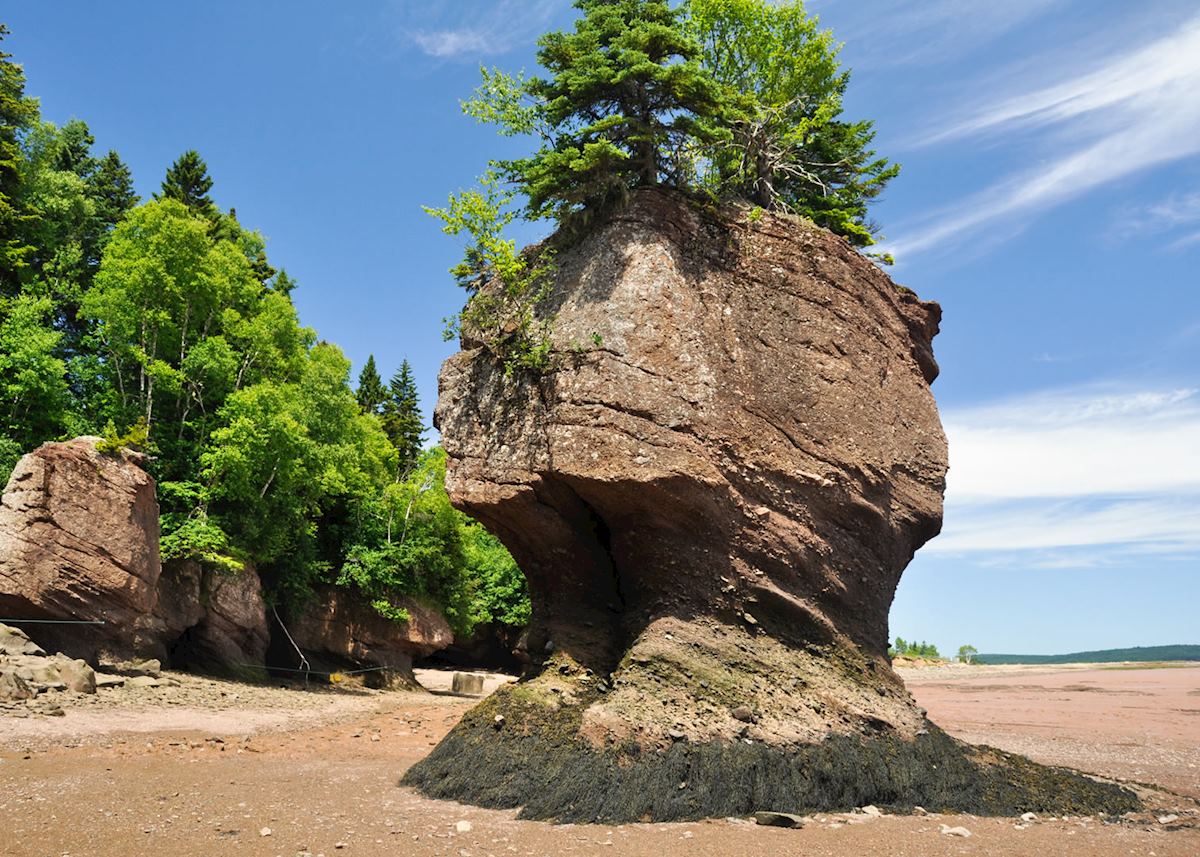 Fundy National Park
Drive east and you reach the town of Alma. Basing yourself here for a few days gives you easy access to Fundy National Park, where you can cycle or hike through forested hills to hidden waterfalls, and along the wave-lashed sea cliffs.
For me, the biggest draw of this area is the chance to witness the world's highest tides. Every day, 160 billion tonnes of seawater flows in and out of the Bay of Fundy at high tide. According to local Mi'kmaq First Nation folklore, the tides are caused by a giant whale attempting to break a dam at the mouth of the bay. The more scientific reasoning places it as the result of the funnelling effect of the narrow bay combined with exceptional tidal resonance.
I find the best way to experience this phenomenon is to visit Hopewell Rocks. At some points in the day you can kayak around these huge, weathered lumps of rock, at others they're completely exposed as the retreating water reveals a sand and shingle beach.
Things to see and do on Prince Edward Island

Confederation Bridge
To get to Canada's smallest province, you cross the 13-km (8-mile) Confederation Bridge from New Brunswick over the Northumberland Strait. Once there, you'll find an emerald land of hills, farmland, wooded valleys and a coastline studded with lighthouses where red-rock cliffs give way to soft sands.
The seafood here is second to none — the island supplies much of North America with its fresh mussels and oysters.
Charlottetown: the 'birthplace of Canada'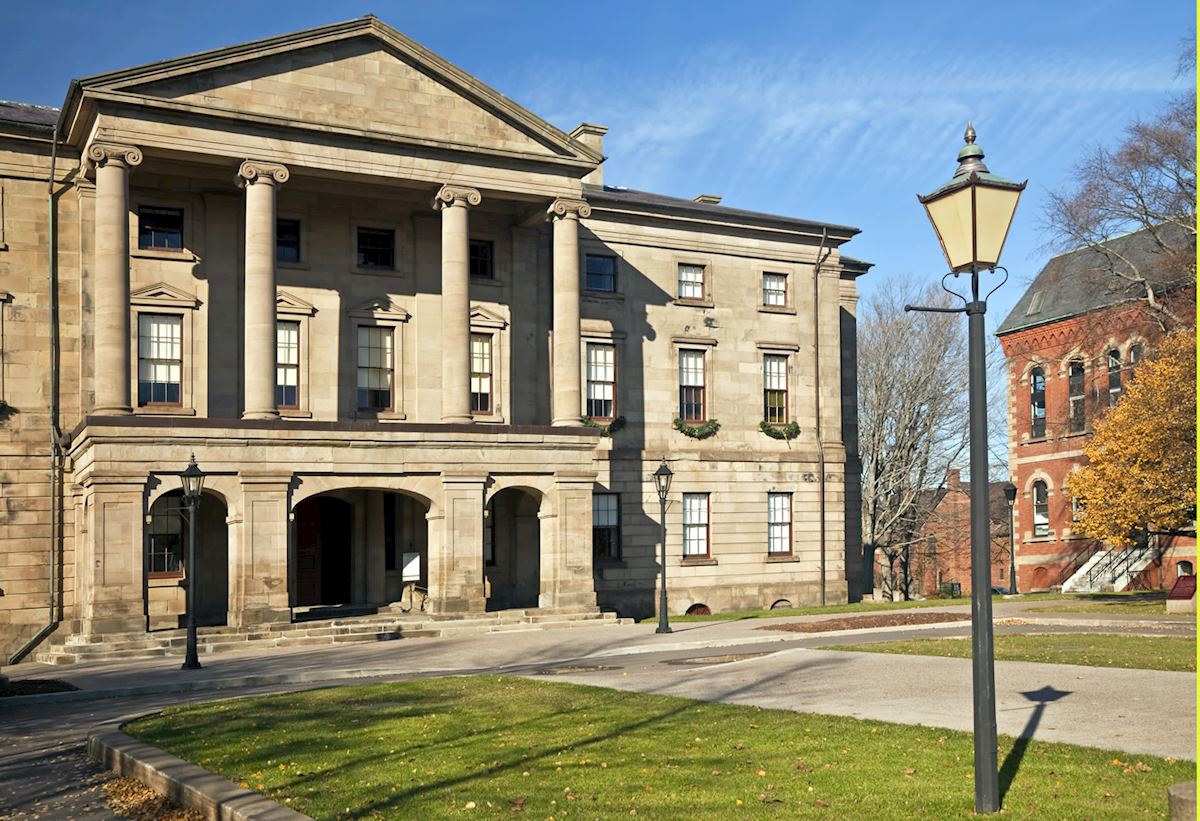 Province House, Prince Edward Island
I think Prince Edward Island's capital, Charlottetown, is the best base for exploring the island. The city is known as the 'birthplace of Canada', thanks to the role it played as the place where Canada's Confederation was negotiated. In 1864, provincial leaders gathered here in Province House for the Charlottetown Conference, laying the foundations for a unified nation.
I'd join a historical walking tour of Charlottetown for an understanding of its role in Canada's formation. As you stroll along the city's leafy avenues, you pass Victorian clapboard houses and landmarks such as Saint Dunstan's Basilica, the 19th-century Bishop's Palace and Province House itself. Your local guide can tell you the background to each sight, and answer your questions about Charlottetown and the wider island.
Touring the fictional home of Anne of Green Gables
The 19th-century Green Gables Farm at Cavendish, in the north of the island, was the setting for Lucy Maud Montgomery's 1908 novel, Anne of Green Gables. You can tour the carefully preserved white-and-green-gabled farmhouse that inspired Montgomery.
The rooms are recreated to evoke the Victorian period, with patterned wallpaper, wooden furniture and everyday household items of the time. Afterwards, follow trails through the property's grounds and woodland, where interpreters in period costume depict some of the novel's characters.
The island's parks and coastline

Lighthouse, Prince Edward Island
In my experience, much of the joy of staying on Prince Edward Island is in the driving. Whichever direction you head in, you'll eventually reach the sandy, wave-cut coastline, where coppery-red cliffs have been beaten into submission by the waves. Many of the beaches are lapped by shallow water where you can dip your toes. And, with more than 50 lighthouses blinking on the island's shoreline, there's a lot to photograph.
Prince Edward Island National Park stretches along the northern coast, facing the Gulf of Saint Lawrence. Here, you can walk among sand dunes and hike or cycle along headlands and sandstone cliffs while looking out for coastal birds, such as the endangered piping plover. Within the park's woodland, you might encounter raccoons, weasels or red foxes, while more than 400 plant species define the landscape.
Best time to visit Canada's Maritime Provinces
I recommend visiting between June and September, when you're most likely to experience drier, warmer weather. Outside these months, lots of restaurants and guesthouses close down for the winter, and it can be cold and wet.
Read more about trips to Canada
---
Start thinking about your experience. These itineraries are simply suggestions for how you could enjoy some of the same experiences as our specialists. They're just for inspiration, because your trip will be created around your particular tastes.