I have grown up visiting Thailand frequently as my father has been based there for nearly thirty years. From a young age I also visited many different countries in the region and I have also worked in Thailand and Bali for three years in the tourism industry. This has given me extensive knowledge of Southeast Asia and its culture and customs.
Travel is my main passion and I have also lived and travelled extensively around Latin America, Africa, Europe, Australia and North America which has given me a great understanding of the world.
From all the places I've been fortunate enough to visit Southeast Asia inspires me most and I take great pride in sending our clients to experience the beauty and culture for themselves. From beautiful beaches to stunning mountain landscapes and flavourful food, for me personally nothing compares to Southeast Asia.
Speak to Lee
Start planning your trip to Southeast Asia with Lee
Q&A with Lee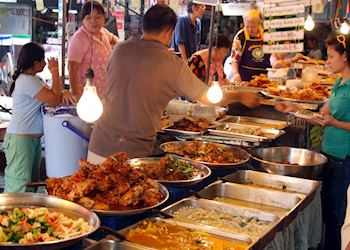 What's the best local dish you've tasted?
Growing up in Thailand for periods of my life, I love the local style of eating and sharing everything — it's great getting to try many different dishes in one meal. I love pineapple fried rice and mango and sticky rice. Being from a small town in Scotland originally, this is a world away from our cuisine. Having Asian cuisine back home doesn't compare to eating the foods within destination. I find in Thailand that the tastiest food is from cheap eateries which is around £3-£5 a dish. The mix of different flavours is mouth-watering.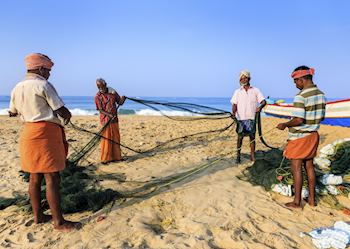 What's your most vivid travel moment?
In 2015 I completed the Rickshaw Run, an eye-opening and challenging experience where I drove across India with four friends in two small tuk tuks. I explored many parts of India that were untouched and always received exceptionally welcoming hospitality from the locals. During the run, our engine fell out and we broke down, but a kind group of locals soon spotted us struggling and came quickly to our rescue with a local engineer. The sights we saw along the journey were unforgettable, from endless stretches of beaches on the Malabar coast to tranquil backwaters in Kerala. India is definitely somewhere that will inspire you with all its bright colours, beautiful architecture and holy sites.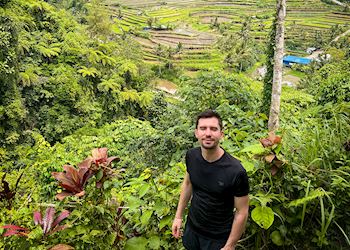 Which book, film or artwork captures Thailand or Bali the most?
Neither a book, film or artwork captures Thailand and Bali the most for me. Instead, the refreshing scent of Lemongrass represents Thailand, and the woody scents of incense reminds me of Bali as it is everywhere. Whenever I smell it it brings me straight back to these destinations.