Matthew, Japan Specialist
When I was younger, my parents took a lot of international trips and I was lucky enough to go with them, which instilled the travel bug in me as well as an ambition to live abroad. After studying geography, I spent two years snowboarding in Whistler, British Columbia, then a year in New South Wales, Australia, exploring as much as I could along the way. My mother is Japanese, and with family and friends to visit, I have been fortunate enough to travel to Japan on an annual basis with trips ranging from busy stays in Tokyo to ski holidays in the Japanese Alps and visits to tropical islands in Okinawa. I've always loved my connection with a country so culturally different and am very keen to share my passion, knowledge and experience of Japan with others and inspire them to see everything this beautiful country has to offer.
Speak to Matthew

Start planning your trip to Japan with Matthew
Q&A with Matthew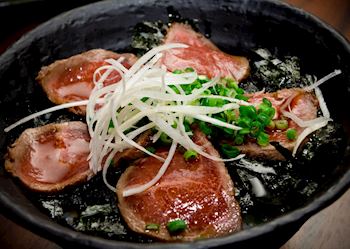 What's the best local dish you've tasted?
While visiting Ishigaki, a remote Okinawan island close to Taiwan, I enjoyed an amazing dinner of yakiniku, which translates as grilled or barbecued meat. You sit down at a booth with a central barbecue integrated into the table, and order platters of raw meat to cook yourself. As well as being a fun and interactive way to spend an evening, you also get to sample Japan's renowned wagyu beef in its original setting. Ishigaki is known for the exceptional quality of its beef and exports its cattle to other locations, some of which go on to become the legendary Kobe beef.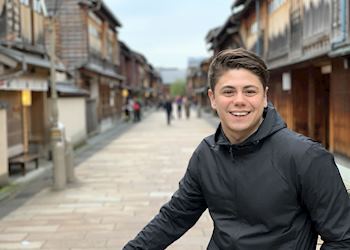 What's the one thing you always pack?
I'd never set off on an adventure without a book. We are all so dependent on technology, yet at times when you are not allowed to use your phone, or free Wi-Fi isn't available, you'll be very grateful for some entertainment which doesn't require a battery.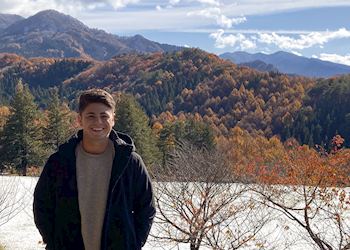 Which book, film or artwork captures Japan the most?
I was brought up watching Studio Ghibli films and they still remain some of my most treasured viewing. The films feature a huge variety of different storylines and settings, and though not always visually representative of Japan, I have always felt the overwhelming presence of Japanese culture through Hayao Miyazaki's anime creations. Specifically, the two films My Neighbour Totoro and Spirited Away, offer a beautiful illustration of the Japanese countryside, religious spirits and Japanese cuisine. Miyazaki is said to have emulated the countryside of Tokorozawa in the Sayama Hills for Totoro, and from personal experience it represents rural Japan very accurately.