Caitlin, Japan & China Specialist
Caitlin has spent more than half of her life as a student of Japan. She became interested in Japan in junior high school, when the first friend she made after moving to a new school was a girl from Japan. Through that friendship, she became interested in Japanese pop culture, which ultimately blossomed into a life-long love of Japan. Caitlin graduated from UMass Amherst with a degree in Japanese Language and Literature. She spent her junior year abroad at Hokkaido University in Sapporo. Most memorably, Caitlin joined a Yosakoi Soran dance club while at the university, and spent summer vacation traveling around Hokkaido performing in local festivals.
Caitlin moved back to Japan in 2010 to teach English in elementary schools in the small city of Tenri, located in northern Nara Prefecture. She stayed for 4 years, and traveled extensively around the county, experiencing the warm hospitality of Japan, trying all the local specialty foods, enjoying the distinctive beauty that each season brings.
Speak to Caitlin

Start planning your trip to North Asia, China & Japan with Caitlin by calling 1-844-349-3060

Japan
When you've spent as much time in Japan as I have, traveling is less about what to go and do, and more about what to go and eat. Takayama, located in the Hida Region of Gifu Prefecture, has the best of the best cuisine! One of the few cities in Japan with a street food culture, you can wander around the Edo Period Merchant Quarter of Old Town trying all sorts of snacks. Takayama is famous for its Hida Beef, regarded in Japan as being equally if not more delicious than Kobe Beef, which is serves up as Beef Skewers, Beef Buns, Beef Croquettes, and my personal favorite, Beef Sushi. For non-carnivores, Takayama offers Sake Flavored Ice Cream, Soy Sauce Dango and Sweet Bean and Sesame Buns, all which are delicious!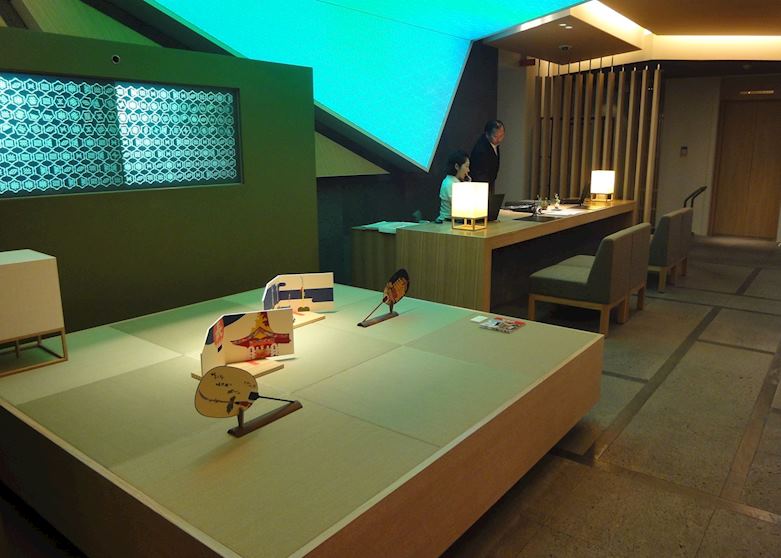 Japan
I would recommend that anyone spend a few nights in Hotel Kanra Kyoto in Kyoto. It has the best of both worlds- a distinctive Japanese feel with all the comforts of a western hotel. Exiting the elevators into the hall leading each guest room, you can't miss the small rock gardens and sliding Machiya style doors that mark the private entrances to each guest room. The rooms have a distinctive Japanese vibe with a tatami sitting area and a luxurious cedar soaking tub, but modern western comforts such as western beds. The mix of traditional and modern reflects the city of Kyoto itself, and makes Hotel Kanra the perfect retreat.
I'll never forget when…
My most memorable experience in Japan was a Geisha Tour in Kyoto with expert guide Duncan Flett. Duncan is extremely knowledgeable about the lives of the young women who dedicate their lives to becoming Geisha, and is a delight to chat with. He knew exactly where to bring us, and within a few moments of entering the Geisha District, out of one of the houses popped a young Geisha on her way to work! It was like stepping into a time machine to a time. On a way to another district, Duncan brought us into a small Ukiyoe Wood Block Print studio, where we chatted with the artist himself and learning about the printmaking process. I couldn't resist buying a few prints, and the now decorate my walls and remind me of that magical night!