My travel obsession began after I studied abroad for six weeks in Valencia, Spain. After seeing a tiny slice of this new world, I was consumed by wanderlust. Always eager to see more, I decided to treat myself to a flight to Thailand as my college graduation present, and spent three weeks exploring this magical country. I was quickly smitten. After my trip, my desire to learn more about Southeast Asia and its culture grew and I took every opportunity I could to explore its food, landscape, temples, beaches and national parks. I'm delighted to be working as a travel specialist for Thailand and Indonesia, and look forward to helping others experience a place that now feels like a second home to me.
Speak to Kendall

Start planning your trip to Southeast Asia with Kendall
Q&A with Kendall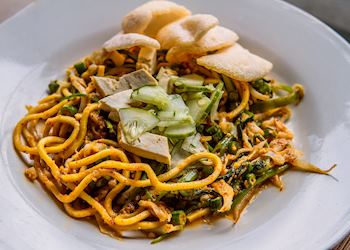 What's the best local dish you've tasted?
While I was in Yogyakarta, I had the opportunity to learn how to make lotek, an Indonesian salad similar to gado-gado. The key to lotek is to prepare it right before it's eaten, so the steamed vegetables and fried tempeh are fresh from the pan. Then you add lime and a homemade peanut sauce as a dressing. The combination of the rich sauce, sharp citrus and chewy and crunchy elements really appeals to me and I found myself craving it daily. Lotek is considered to be one of the national dishes of Indonesia and you'll find variations of it, such as gado-gado, almost everywhere you go.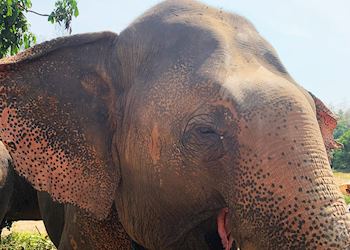 What's your most vivid travel moment?
I couldn't stop smiling the entire time I spent at Kanta Elephant Sanctuary in Chiang Mai, Thailand. It was an incredible day spent bathing and feeding these gentle giants and watching them up close as they interacted in their natural environment. I got to witness first-hand how smart they are, and learned so much about their behavior and history. By the time I left, I had a whole new level of respect for these enormous creatures. It was the highlight of my whole trip and an experience that I will remember for the rest of my life.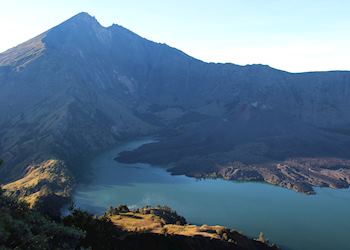 Where would you love to travel next?
Lombok Island is definitely on the top of my list. This Indonesian island has all the allure of Bali with volcanic landscapes, blissful beaches, great trekking and a rich culture but it is a little more secluded. It seems like the perfect romantic getaway. After looking at pictures and hearing stories, I imagine it's like a little slice of heaven.