Patrick, Southeast Asia Specialist
My passion for travel began in my family kitchen. Growing up, our dinner table was a place to share, learn and laugh as we enjoyed time together. As I began to explore internationally, I quickly came to understand this was a common principle of life all over the world. From chicharrón in Medellin to falafel in Beirut, sharing a meal with a local became the easiest way for me to get travel tips, exchange stories, and even learn some of the language.
After graduation, I embarked on a six-month adventure through Southeast Asia. Surrounded by the region's sights, smells and tastes, each day seemed more fulfilling than the last. Despite returning to Boston, my heart was still in Southeast Asia. I decided that if I wasn't able to get myself there, the next best thing would be to help others enjoy the same experiences I did, leading me here to Audley.
Speak to Patrick

Start planning your trip to Southeast Asia with Patrick
Q&A with Patrick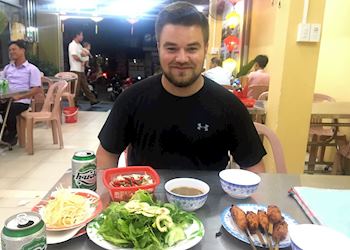 What's the best local dish you've tasted?
Given Vietnam's distinct geography and 2,000-mile coastline, it's no wonder that the food here is regionally diverse. I made a serious effort to try something different every night but during my time in Hoi An, I wasn't able to bring myself to seek out anything other than cao lau, a noodle dish made with thick, hearty noodles, barbecued pork, and fresh greens like Vietnamese cilantro, bean sprouts and a dash of mint, all suspended in a pork broth and sprinkled with deep-fried noodle squares. As an Asian meeting point for many years, a bowl of cao lau embodies Hoi An's international influences.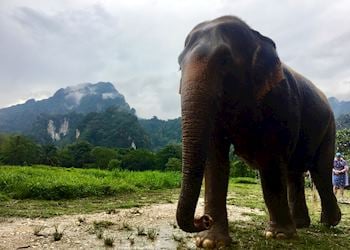 What's your most vivid travel moment?
On arrival at an elephant camp in Thailand's Khao Sok National Park I spent nearly an hour walking around, admiring the limestone cliffs and dense rainforest. I was due to see the elephants later in the day, but rain clouds loomed in the distance. Lo and behold, the moment we caught a glimpse of the elephants, the skies opened up. My heart sank, but instead of running for shelter, a symphony of trumpeting erupted from the herd. My guide explained that elephants love the rain as it provides an escape from the heat and seeing these huge animals frolic and play was quite a privilege.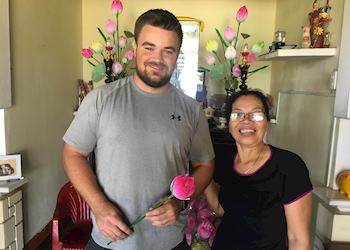 Which book, film or artwork captures Vietnam the most?
French photographer, Réhahn's book Vietnam: Mosaic of Contrasts is a collection of 150 photographs that I came across while waiting out a rain storm. I quickly lost track of time as I examined each wrinkle on the cheeks of an elderly woman, lingered over the development of Vietnam's celebrated rice terraces, and tried to guess the destination of a lone cyclist in Hoi An. The incredible imagery and the insights offered by the detailed captions offers a revealing depiction of the people and the country and offers a great introduction to Vietnam or a wonderful way to reminisce after a trip.