Grace, Thailand & Vietnam Specialist
I grew up in a family that loved to explore new and exciting destinations around the world and this sparked my passion for travel and adventure. At the age of 19, I decided that university could wait, but travel could not. I deferred my place at Leeds University and set off on a six-month trip around Southeast Asia to explore Thailand, Laos, Cambodia, Vietnam, Indonesia and the Philippines. I completely fell in love with the region, the people and the food. I returned home but found it difficult to stay away for long, returning to Indonesia the following summer to continue exploring.
My most recent adventure saw me returning to Thailand and Vietnam during my first Audley trip and this reignited my love for these countries and all that they have to offer.
Speak to Grace

Start planning your trip to Southeast Asia with Grace by calling 01993 838 401

Vietnam
Ninh Binh, commonly known as Vietnam's inland Halong Bay, is a region of limestone karst outcrops surrounded by vast paddy fields and winding rivers. It's one of the most unusual landscapes that rural Vietnam has to offer and can be explored on foot, by bike or by boat. I'd recommend hopping on a bike and weaving among the paddies to get right into the tranquil rural scenery found around the protruding karsts. The reflection of the outcrops against the water makes for great photo opportunities and if you're brave you can also go below ground and explore the dramatic scenery of the region's many caves.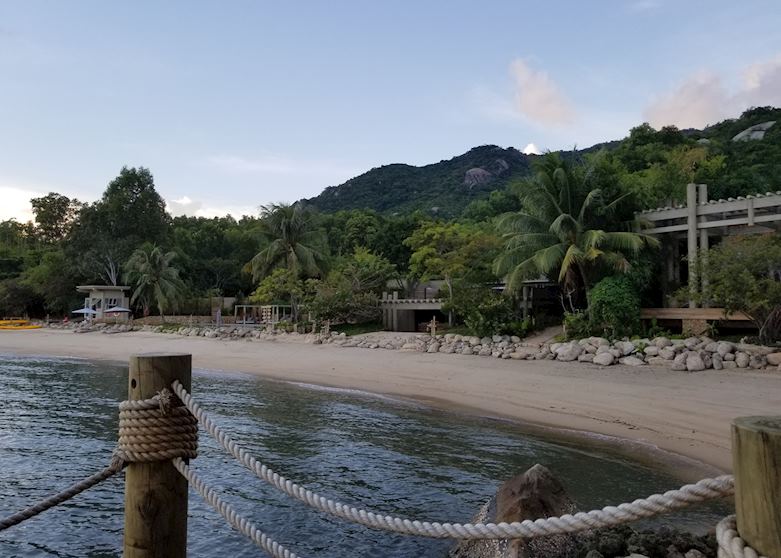 Vietnam
Located on a private peninsula on Ninh Van Bay, An Lam Retreat is accessible only by boat. It's a wonderfully peaceful and romantic location and on arrival you'll be met with the sight of the hotel's restaurant, which is built in the shape of a lotus flower, and protrudes over the sea offering panoramic views while you dine. The villas all boast absolute privacy with the most extravagant rooms found up in the tree tops, providing striking views of the surrounding bay. The hotel also has a great selection of activities such as yoga, waterfall walks, snorkeling and kayaking.
I'll never forget when…
Learning how to ride a moped in Pai in northwest Thailand was quite thrilling. I spent the day exploring the town and its surroundings, aimlessly following the winding roads. I eventually ended up at Pai Canyon where giant rock walls snake out into a forested canyon. I made my way across the narrow trails, the canyon sides dropping precipitously below me, and was rewarded with the most magnificent sunset. With time, I came to understand that these vivid Thai sunsets were a regular occurrence across the country, but that first one sticks indelibly in my mind.