After spending three years in the fast paced London Estate Agency business, Ellie decided it was time to concentrate on what she truly loved best, travel. Having finished work she took the summer off for some exploration of Europe, horse riding through Mongolia and dancing in Cuba, before joining the Southeast Asia team at Audley.
Throughout her childhood and after finishing Loughborough University with a degree in Politics and English, Ellie had journeyed through Central America, Peru, the US and Caribbean, Southeast Asia, China, much of Europe and worked on an estancia in Argentina for seven months. The rich diversity of culture, food, history and nature in a relatively small and easy to tour area really drew Ellie specifically back to Southeast Asia where she re-visited Indochina in 'the Audley Way.'
Since working for Audley, Ellie has been sent back to the weird and wonderful Japan and now specialises in putting together personalised tours of this fascinating and varied country.
Speak to someone who's been there
Start planning your tailor-made trip by calling one of our destination specialists on 01993 838 100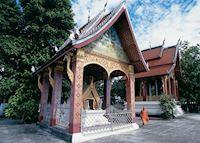 Laos
I love everything about this peaceful colonial town on the banks of the river Mekong, the former capital city of Laos. Luang Prabang boasts the perfect mix of understated, relaxed luxury in the hotels and fantastic restaurants, combined with a feel for the lives of the local people, easy access to the beautiful surrounding countryside with fantastic trekking options and almost countless excursions available.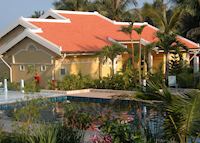 Vietnam
Located down a narrow lane and opening out onto the beach in Phu Quoc, Le Veranda is a real hidden gem. It's elegant thanks to its low-key, tastefully decorated colonial style, it has every amenity you need and the service is second to none. It has a wonderful restaurant with balcony which simultaneously overlooks the lush gardens, sea and swimming pool. It's a wonderful place to relax and unwind for a few days without ever needing to leave the hotel.
I'll never forget when…
Mai Chau in Northern Vietnam is an incredibly scenic, lush area with many unusual limestone mountains and rice paddies to explore, but with slightly unpredictable weather. My planned trek was called off but my guide was very adaptable and he arranged a lunch with a local family in their home. It was delicious, brilliant fun, very authentic (with lots of homemade rice wine!) and it ended up being an accidental highlight.