Poppy prioritised taking a gap year before starting university. During this time, she travelled extensively across Southeast Asia, where she discovered her love for the region and ignited her passion for travelling off the beaten track.
During her time in Thailand, she travelled throughout the southern islands, explored the hustle and bustle of Bangkok as well as enjoying an elephant experience before crossing the border into Laos and continuing her journey through the region.
After graduating from Newcastle University, Poppy pursued a career in marketing, however her passion for travel led her to Audley where she has enjoyed travelling "The Audley Way" across Thailand and Burma. She has explored these countries far and wide, from the crystal clear waters of the Thai beaches to the untouched landscapes of the Golden Triangle.
Poppy is an enthusiastic cook and during her free time she enjoys cooking for her friends. She has a keen eye for good quality food and restaurants and loves exploring new places on her travels.
Speak to Poppy

Start planning your trip to Southeast Asia with Poppy by calling
01993 838 121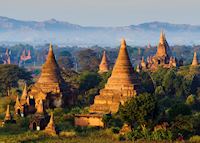 I don't think you can prepare yourself for the sheer beauty of Bagan - 26 square miles with over 3,000 temples, pagodas and stupas dating back to the 11th and 12th centuries - and located in a unique bend of the Irrawaddy River.
Sunset in Bagan is one of the best in the world. It's an unforgettable experience which in my opinion is best enjoyed with a bike ride through the local villages, before climbing a pagoda to watch the sun setting; turning the vast landscape a burnt orange colour as the cicadas' hum fills the air.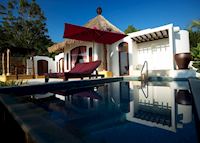 My favourite hotel in Thailand has to be the Paradee Hotel on the island of Koh Samet. It is set in a private and peaceful location with stunning white beaches on both sides and crystal clear waters. The service is fantastic and the staff are extremely attentive and welcoming.
The Paradee has a beautiful sunset bar which provides the perfect location for sundowners before dinner in the fantastic restaurant with views over the pool and beach. The property also boasts a famous spa, offering a variety of treatments to enhance your time to truly relax and unwind.
I'll never forget when…
My favourite memory is visiting the Green Valley Elephant Sanctuary in Burma (Myanmar) to spend the day with rehabilitated elephants in their natural environment.

During the morning we learnt about the history of the sanctuary and the elephants before heading down to feed and meet the five adult elephants and one baby. Once they had been fed we walked the elephants down to the river where we were able to join them in the water to help scrub and wash them, while in return they sprayed us with water and revelled in the attention.