After completing a degree in Writing Fashion & Culture, Emily began planning her travels to North America, setting her sights on the USA and Canada. After three years of preparations she flew into New York City on what would be the start of a life-changing trip.
Embarking on a three month road trip across the States, Emily quickly realised that North America would become her home for a while and settled on the west coast of Canada. Living in Vancouver for a time, Emily then moved north to the winter mecca of Whistler for her first snowboarding season. On her return to the UK, Emily freelanced, writing travel guides for European publications.
Deciding a more permanent job in travel was her calling; she showcased her passion and knowledge of North America and is now a proud country specialist on Audley's Canada team.
Speak to Emily
Start planning your trip to Canada with Emily by calling
01993 838 692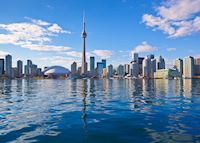 Even with my love of the Rockies, my favourite place in Canada has to be Toronto. Not usually a lover of concrete jungles, I couldn't help but be charmed by the diversity of this city, with its shiny skyscrapers, colourful graffiti and eclectic food scene.
Its location next to Lake Ontario makes for excellent views, and it's a great base to explore nearby Niagara Falls. My highlight is the CN Tower, which is a perfect spot for peering down from to watch the Toronto Blue Jays play on game day.
Following a renovation that spanned some years, the Rosewood Hotel is the preferred choice of rock stars, dignitaries and discerning Audley clients. Now boasting an exceptional fine-dining restaurant, rooftop bar and little-known speakeasy, the Rosewood is the coolest hotel in Vancouver. Its location in the heart of downtown makes it the perfect base for exploring the city.
I'll never forget when…
While in Jasper National Park I took a motorcycle tour on its winding roads. Riding on the back, or in the sidecar of a snarling Harley Davidson for the first time would have been exciting enough without the park's diverse scenery. Sitting on the back with my arms outstretched into the rushing wind was a real thrill. It was a truly exhilarating and one-off experience with knowledgeable guides.