While studying for her degree in Tourism Management, Emma worked in various tourism roles in France and Belgium as well as her home country, Ireland. And after finishing university she continued her career in tourism.
Travel has always been a major facet of her life, having lived in Australia, she also did a stint of wildlife volunteering in South Africa, and she's travelled in Egypt, Southeast Asia as well as many other countries.
She fell in love with Canada's varied landscape after journeying from coast to coast there, taking in the coastal towns of the east, glacier fed lakes, desert wine country and temperate rain forests. She also subsequently lived and worked in Vancouver for a time, again, in the tourism industry. Emma has recently completed a solo trip to Canada's Maritimes, once again travelling from east to west — this time by rail and self-driving.
Speak to Emma

Start planning your trip to Canada with Emma by calling
01993 838 739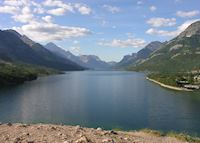 Where the prairies meets the Rocky Mountains, only a 2.5 hour drive from Calgary, lies Waterton National Park. Together with the Glacier National Park in the USA, it makes up the first International Peace Park, a UNESCO World Heritage site and recently declared a Dark Sky Preserve — it has a lot to offer.
There are good photo opportunities of glacier fed lakes, wildlife, as well as a variety of trails including Red Rock Canyon, which contrasts nicely with the local terrain of the Rocky Mountains.
If you're feeling energetic I would recommend the 2.8km Bear Hump Trail. The views on a clear day from its 200m high summit are rewarding.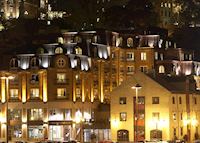 Auberge Saint Antoine is situated right opposite the St. Lawrence River in the old port of Québec City, whose buildings are steeped in history, having once been part of the wharf and used by British merchants.
I like how the hotel offers modern amenities while preserving the historic nature of the original 300 year old building. I really appreciated the hotel / museum concept, with the numerous artefacts found during construction being displayed around the property, including in the elegant guest rooms; each artifact comes with a brief description and history.
Staying at Auberge Saint Antoine emphasises the history of Québec City and enhanced my appreciation for this walled city, which oozes character and charm. I would recommend dining at the hotel's award winning restaurant, Panache. The interior highlights the historic nature of this property with wooden beams and stone walls which now create a cosy, intimate setting with views of the St. Lawrence River.
I'll never forget when…
While on Vancouver Island I had the opportunity to embark on a whale watching tour. There were several orcas in the area, some of which were breaching out of the water. It was a moment I will cherish, standing watching these large marine mammals swimming with such grace, with sudden bursts of speed as they breeched and tail slapped the water close-by. The knowledgeable guides enhanced my experience, being able to identify the resident whales by name from certain features. They also used a hydrophone to hear if any of the whales were communicating underwater. Already a memorable trip the tour finished with us watching a sunset as we made our way back, stopping occasionally to see even more sea life.